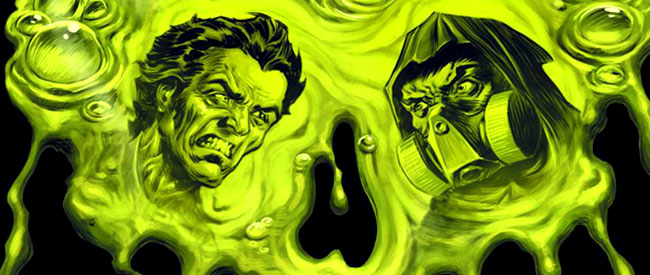 As another volume of Witch Doctor comes to a ghoulish close, Seifert and Ketner plant the seeds of future arcs in Morrow's stalwart associates.

By now, we all know Dr. Vincent Morrow's schtick: ascerbic occult MD, with a penchant for gallows humor in the midst of battle. He's also the current wielder of Excalibur. Yes, that Excalibur. Morrow doesn't wade into each case with just his supernatural medicine bag and legendary pig-sticker, though. He's accompanied by his loyal associates Eric Gast, a former paramedic and mystical neophyte and Penny Dreadful, dubbed Monster Girl, and perhaps the most powerful member of Morrow's team.
Mal Practice, the second volume of Seifert and Ketner's popular Witch Doctor property, has shone a spotlight on Gast and Penny from the opening chapter, hinting at mysterious powers and arcane secrets possessed by both cast members. Even as the driving action of the plot revolves around a vampire-like STD/curse infecting the main protagonist, Mal Practice relies upon its supporting cast, new and old alike, to provide the story with intriguing twists and exciting character moments.
This last chapter continues this trend by laying the foundational framework for future arcs promising to explore in more depth Gast's hidden supernatural powers and Penny's dark history. In both cases, Seifert suggests Morrow may know more than he's letting on. The closing pages centering on a seemingly forgotten appendage seem to foreshadow more dark knowledge of Penny's tragic history and condition than Morrow has thus far revealed.
Ketner's art, while it lacks the benefit of a huge nasty creature to breathe life into, still manages to shine. His kinetic, textured lines never get in the way of telling the story and only add to the level of action and atmosphere squeezed into each panel. Although I've yet to experience his art outside the pages of Witch Doctor, one of the many silver linings of this final issue is the opportunity to explore his other comics work.
All good things, as the saying goes, must come to an end. While Mal Practice can be considered that rarest of things – a sophomore success story – guaranteeing this most likely won't be the last time we're treated to Dr. Morrow's occult shenanigans, the time between now and Seifert and Ketner's next foray into their realm of medical mayhem will seem like the wait at your local doctor's office: interminable.
Brandon Seifert (W), Lukas Ketner (A), Andy Troy (C) • Image Comics/Skybound, $2.99, April 24, 2013.