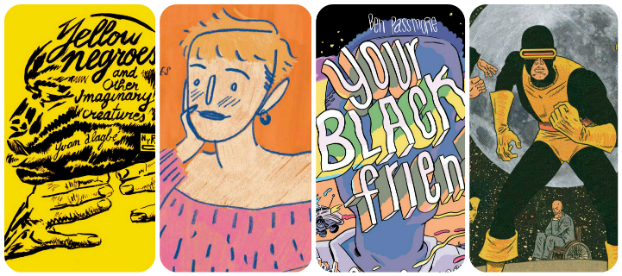 It's Wednesday, and you know what that means: a fresh load of comics and graphic novels! With so many publications hitting your local comics store, comics events or digital storefront, the BF team are here to lead you through the woods with our weekly staff picks. Satisfaction guaranteed!
Comic of the Week
Your Black Friend and Other Strangers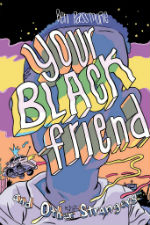 Without any doubt, Your Black Friend by New Orleans artist Ben Passmore was one of the defining comics of 2017, trousering the Ignatz Award for Outstanding Comic and hitting the critical jackpot of Best One-Shot in our very own Broken Frontier Awards. A vital, timely and accessible look at "race, racism, friendship and alienation", it even ended up as an animated short film, narrated by Passmore himself.
And if you missed it first time round, Bay Area upstarts Silver Sprocket have put together a 120-page hardback collection of Passmore's work, including the title story, previously unseen material and other comic stories and essays published by The Nib, Vice and As You Were.
In this essential collection, we're promised comics about "race, gentrification, the prison system, online dating, gross punks, bad street art, kung fu movie references, beating up God, and lots of other grown-up stuff". Ben Passmore delivers powerful messages with humour and sharp observation in a trademark vibrant style.
Ben Passmore (W/A) • Silver Sprocket, $20.00
– Tom Murphy
The Times I Knew I Was Gay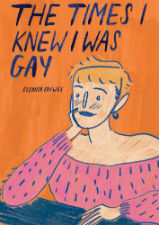 Launching this Friday at London's Gosh! Comics, Eleanor Crewes's The Times I Knew I Was Gay follows up on the short-form zine we originally reviewed at Broken Frontier last year. An autobio offering that combines comics and illustrated prose it's published by Good Comics and looks set to be a major release from the micropublisher in 2018.
A coming-of-age story that begins in childhood and takes us to the present day, Crewes explores coming to terms with her sexuality in a both witty and poignant offering. I described it here when I reviewed it last week at Broken Frontier as a book that is "undoubtedly set to be one of the year's most talked about UK small press offerings." You can pre-order the comic online here.
Eleanor Crewes (W/A) • Good Comics, £10.00
– Andy Oliver
Yellow Negroes and Other Imaginary Creatures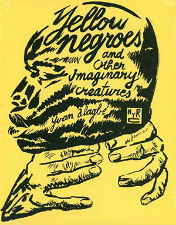 New York Review Comics are currently putting some amazing work into print for whole new audiences and this week sees the release of Yvan Alagbé's story of the lives of undocumented migrant workers in Paris which, presented here in English for the very first time.
Originally created between 1994 and 2011 this is work with a topicality that is more relevant now than it's ever been. Presented in a handsome new hardcover edition with newly lettered pages and unseen material this is essential comics social commentary and a long overdue English language version of a celebrated alternative comics masterpiece.
Yvan Alagbé (W/A) • New York Review Comics, $22.95
– Andy Oliver
Isola #1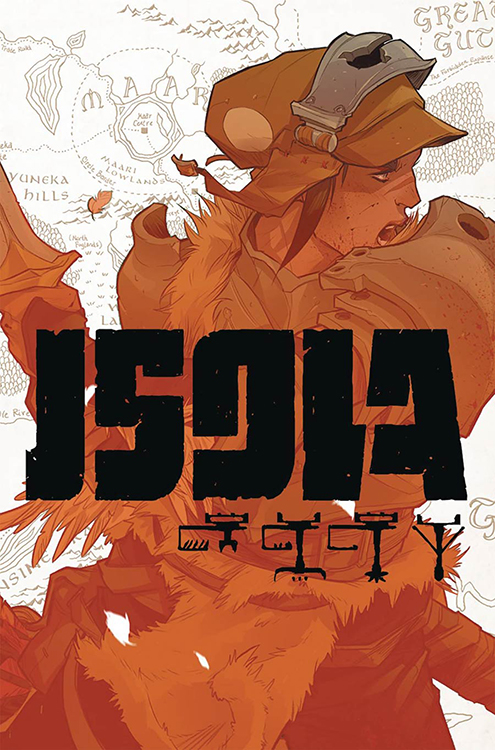 The creative team behind Gotham Academy launches a new fantasy epic clearly intended to capture the much sought-after "post-YA" audience. However, much like the classic anime (Nausicaa) from which it draws inspiration, it contains enough breathtaking visuals and strong character development to appeal to audiences of all ages.
A dark spell has been cast upon the Queen of Maar causing her to take the form of a jungle cat. Now Rook, the captain of the Royal Guard, must take her on a journey to find the one place that can restore her and save the kingdom; an island known only in myth as Isola, land of the dead.
Branden Fletcher (W), Karl Kerschl (A) • Image Comics $3.99
– Tyler Chin-Tanner
Global Frequency: The Deluxe Edition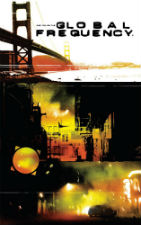 Warren Ellis is generally hailed as one of comics' great futurologists, and he was characteristically ahead of his time in 2002-04 with Global Frequency – the gig-economy Thunderbirds. In this series of 12 one-off mini-thrillers, 1,001 experts around the globe wait for the call on their special phone to prevent some catastrophe being pitched on the world (usually through the malevolence or incompetence of the military-industrial complex).
Each illustrated by a different artist, the stories highlight Ellis's restless imagination and curiosity. They go from high sci-fi concepts, such as an alien mimetic virus escaping from SETI@home and ensnaring its victims into a hive mind, to more familiar 'stories of the month', like a rogue military cyborg threatening to lay waste to LA and terrorists planning to detonate a package of the ebola virus over London.
The artwork is inevitably something of a mixed bag, although highlights include some highly atmospheric Arctic work by Jon J Muth; a Japanese horror story by Lee Bermejo; and the lush BD-style sci-fi work by Gene Ha that concludes the series.
Now available in a deluxe hardback format for the first time, Global Frequency was a strong concept that didn't outstay its welcome. The characterisation might be a bit thin and you sometimes find yourself up to your knees in exposition, but the series remains a tasty selection box of high-octane action comics.
Warren Ellis (W), Various (A) • DC Comics, $34.99
– Tom Murphy
Analog #1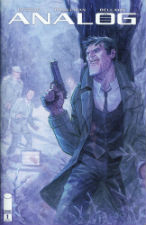 Jack McGinnis played a role in the cyber attack that destroyed the security of the Internet and changed the world overnight, and there's a target on his back. Secrets are no longer safe on the web. Hard copies are transferred between locations via the "Ledger Men," gun-toting couriers with briefcases handcuffed to their arms–men like Jack.
Writer Gerry Duggan (Guardians of the Galaxy, Deadpool) tosses Jack into every kind of danger as he punches his way past spies, mercenaries, fascists, and even an ill-tempered artificial intelligence. Artist David O'Sullivan worked in animation for ten years before moving to painting and drawing comics in 2010. Gritty and fluid, O'Sullivan's style is a beautiful complement to Duggan's fast-moving Johnny Mnemonic-cyberpunk-meets-new-age-noir script. And with the incredible Jordie Bellaire handling the colors, you don't want to miss this first issue.
Gerry Duggan (W), David O'Sullivan (A), Jordie Bellaire (C) • Image Comics, $3.99
– Karen O'Brien
X-Men: Grand Design Vol. 1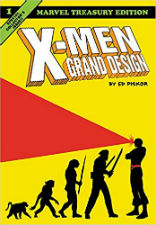 When Ed Piskor's X-Men: Grand Design – a detailed weaving together of X-Men history beginning with the team's early '60s days – was released in single issue form it flew off the comics shelves. This week a "Treasury Edition" style of the project is released collecting the first two issues alongside a newly coloured version of X-Men #1 from 1963. No doubt it will prove to be just as popular.
Presented in the style of his Hip Hop Family Tree, Piskor's contribution to the X-mythos has proved popular with hardcore nostalgists and new readers alike. Retro-style comics have never looked so fresh and innovative!
Ed Piskor (W/A) • Marvel Comics, $29.99
– Andy Oliver