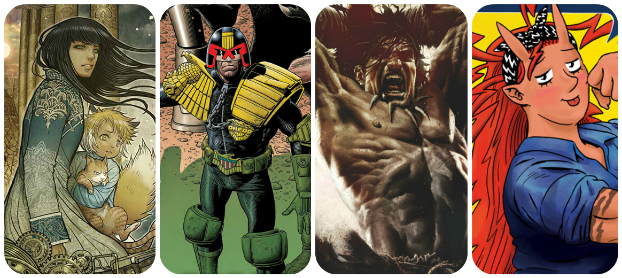 It's Wednesday, and you know what that means: a fresh load of comics and graphic novels! With so many publications hitting your local comics store or digital storefront, the BF staff is here to lead you through the woods with our weekly staff picks. Satisfaction guaranteed!
Comic of the Week
Judge Dredd: The Cursed Earth Uncensored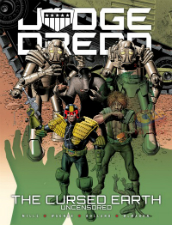 Arguably the first Judge Dredd mega-epic, The Cursed Earth is notable not just for its world-building additions to the future lawman's mythos but also for the fact that since its original 1978 publication in the British 2000 AD weekly anthology comic it has never been reprinted in its entirety.
This extended storyline follows Dredd's journey across the nuclear-ravaged wastelands that separate the great population centres of future America, as he and a rag-tag band of allies attempt to deliver a plague cure to the devastated Mega-City Two. On their way they come into contact with some of the most memorably grotesque adversaries and bizarre locales in Dredd history.
For long-term fans it's the re-presentation of two satirical stories that have remained in limbo for nearly 40 years that are the major draw of this new collection. Those lost classics are the infamous 'Burger Wars' tale in which Dredd encounters warring factions based on major fast food franchises, and a Brian Bolland-illustrated two-parter that featured versions of the Jolly Green Giant, the Michelin Man and others.
After a recent relaxing of copyright law in regards to parody these instalments see the light of day again in this hardcover, finally giving us the opportunity to read this landmark adventure in its entirety.
Pat Mills, John Wagner (W), Mike McMahon, Brian Bolland (A) • Rebellion, £25.00
– Andy Oliver
Terra Flats #1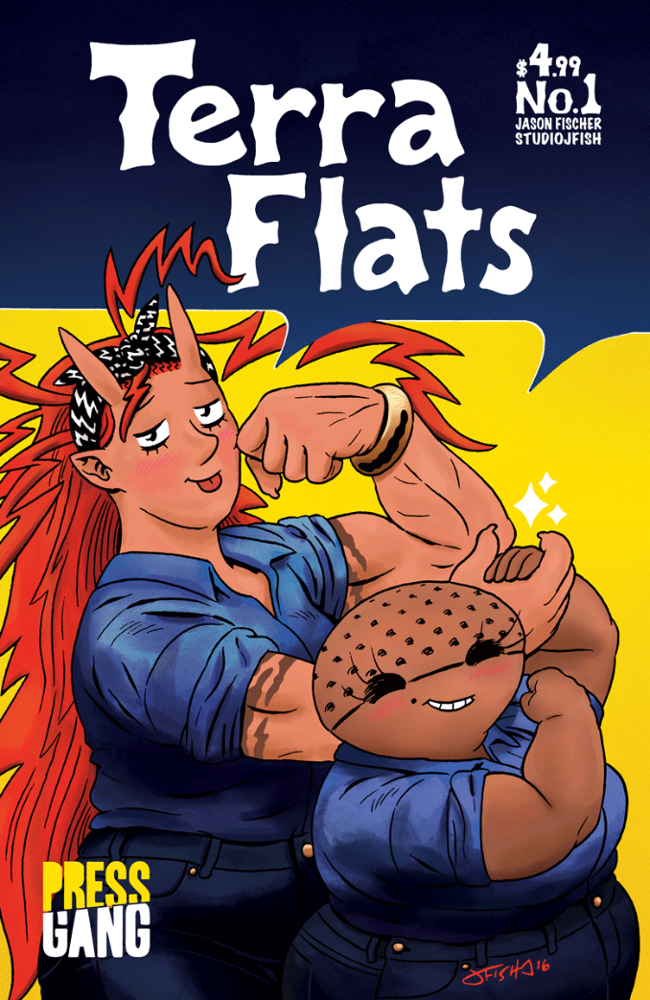 Odd couples have been the stuff of grand drama since the dawn of time, and they don't come much odder than Vee and Pony. One's navigating the challenges of life and love in the big city – the other is a good-natured but powerful demon with a fierce protective streak.
Together, they're the stars of Jason Fischer's Terra Flats. You might recognize Fischer's name from assisting Bryan Lee O'Malley on the art for Seconds, but this new ongoing series sees him growing into his own highly individualized voice.
This manga-flavored fantasy-comedy is the perfect read for those warm summer nights wondering what comes next. This first issue also features a guest comic from Hannah Ayoubi (Monsters Abroad).
Jason Fischer (W/A/C) • Alternative Comics, $4.99
– Paul Mirek
Monstress Volume 1

This past year, Image Comics struck gold with Marjorie Liu and Sana Takeda's Monstress, a high-concept fantasy ongoing set in an alternate Asia perpetually teetering on the brink of war between the subversive Arcanic Courts and the powerful witch-nuns of Cumaea. Liu's plot follows teenager Maika Halfwolf on a quest for vengeance that threatens to consume the world as she discovers she serves as the vehicle for an ancient, vastly powerful otherworldly force with its own far-reaching agenda.
Rich, complex, and visually breathtaking, Monstress has reset the bar for high fantasy comics with its superb world-building and fierce female cast. This affordable first trade paperback is the perfect place to immerse yourself in the world of Monstress but if you need more convincing, check out these three monstrously great reasons to pick up this addictive, undeniably important series.
Marjorie Liu (W), Sana Takeda (A) • Image Comics, $9.99 USD
—Jason Wilkins
Suicide Squad Volume 4: The Janus Directive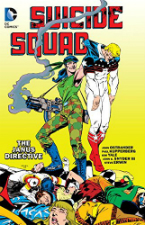 As Suicide Squad interest reaches fever pitch in anticipation for the new movie one of the most welcome results has been the continued reprints for the greatest incarnation of the team. John Ostrander's vision of the Squad in the late '80s/early '90s has never been surpassed; a motley crew of villains, manipulators and disaffected heroes whose ever-changing line-up always operated in the shadow of the grim reaper.
This volume collects The Janus Directive crossover that saw the various DC intelligence agencies of the time going to war against each other in a multi-part conspiracy thriller weaving in and out of Suicide Squad, Checkmate, Manhunter, Firestorm and Captain Atom.
As crossovers go The Janus Directive is a little disjointed in places but this ongoing series of volumes is a must-read for those yet to experience the brilliance of Ostrander and Yale's characterisation and one of the finest examples of a book that mined the rich seam of decades of DC continuity without ever being inaccessible to its core readership.
John Ostrander, Kim Yale, Paul Kupperberg (W) John K. Snyder III, Steve Erwin (A) • DC Comics, $19.99
– Andy Oliver
Gutter Magic TPB

Set in an alternate Manhattan, in a world where magic ended the second World War, Gutter Magic from newcomers Rich Douek and Bret Barkley fuses the genre traditions of epic fantasy and crime noir to present a refreshing spin on the archetypal quest tale.
When Cinder Byrnes, the heir to a vast magical legacy realizes he lacks the mojo to claim his inheritance, he decides to rectify his situation by stealing a powerful spell from the even more powerful necromancer ruling the Big Apple's criminal underworld.
A fun, atmospheric thriller that trades on its ability to weld together its source material into a new and exciting form, Gutter Magic is a sterling example of the burgeoning talents emerging from the wonderful relationship between publisher IDW and online comics community Comics Experience.
Rich Douek (W), Bret Barkley (A) • IDW Publishing, $16.99 USD
—Jason Wilkins
Conan the Slayer #1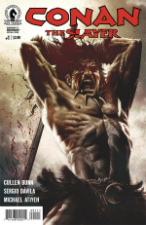 Dark Horse Comics gives everyone's favorite Cimmerian another fresh start this week with the release of issue #1 of Conan the Slayer. This new series opens with the almost-mortally wounded thief-king trudging through the desert towards his inevitable demise, while behind him lay the smoldering ruins and buzzard-harried corpses of his recent exploits as a warlord. Enemies are fast on his heels, but Conan still has a bit of fight left in him.
Before you non-fans roll your eyes and pass on this new batch of sword-and-sorcery tales, bear this in mind: Conan is a character rich with depth and history, not just in comics but also in literature. And his creator, author Robert E. Howard, embedded in his design a malleability that allows Conan to bend to the will of any writer with the desire and the skill to take up the mythology and run with it – in this case, writer Cullen Bunn (Harrow County) and artist Sergio Davila (Legenderry), both of whom demonstrate a tight grasp on the keys to Conan's kingdom in The Slayer.
Like all great long-run heroes of comics, Conan's story is an endless well from which to draw exciting, compelling, and interesting material. If you're like me and are largely unacquainted with Conan beyond the Arnold Schwarzenegger films, why not use this as an opportunity to explore this fascinating world? It's as good a jumping-on point as any, and who knows… perhaps you'll awaken your inner Barbarian.
Cullen Bunn (W), Sergio Davila (A) • Dark Horse Comics, $3.99
—Matthew Box
Brian Bolland and Mike McMahon will be signing Judge Dredd: The Cursed Earth Uncensored at Lodon's Gosh! Comics on July 16th. Full details here.