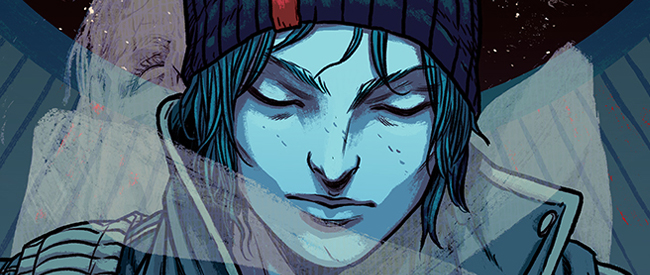 Although known for her stunning artwork, Becky Cloonan once again dons her writing cap in this taut space thriller that combines elements of sci-fi and mystery for an atmospheric journey to the stars.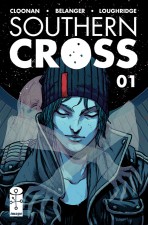 Becky Cloonan has always been known for her clean, fluid lines and stunning cover art, but the fan-favorite artist has been stretching her wings recently with well-regarded turns as a writer on such books as DC Comics' Gotham Academy.
She ups the ante this week with a bold new space thriller from Image, chronicling the journey of misfit Alex Braith as she plunges headlong into the mystery surrounding her sister's death on the refinery moon of Titan.
As the first time I've been exposed to Cloonan's writing, I was suitably impressed with the layers of characterization and suspenseful pace she infuses in this chilling, atmospheric murder mystery set in the remote regions of the solar system.
When Alex Braith's sister turns up dead on the Jovian moon of Titan, while working as an administrator for a huge, powerful interplanetary mining corporation called Zemi, she embarks on a quest for answers, taking passage on the tanker shuttle Southern Cross.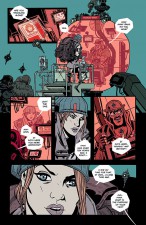 Travelling with a secretive crew of spacefarers and a cargo of seedy miners and mysterious passengers, Alex quickly discovers that getting there is half the battle of any worthwhile journey. Cloonan ably lays the foundation of her space mystery with intelligent world-building and spot-on character development.
Although somewhat unpleasant in demeanor, Alex Braith isn't an unsympathetic character, and the reader quickly comes to identify with her lost, angst-ridden persona as she learns to navigate the labyrinthine Southern Cross and its spacefaring subculture.
Her exploration of the transport ship and its inhabitants is marked by the introduction of intriguing players in the form of the unexpectedly friendly captain, a lecherous neighbor across the hall, and – most importantly – a too-friendly roommate who also turns out to have been tasked with the official investigation into Alex's sister's death.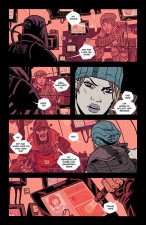 Utilizing a classic first-person narrative, Cloonan avoids cliché, as Alex and the audience can't help but get caught up in the strange new environment of the Southern Cross's shadowy decks, stunning gravity drive, and eclectic travel companions. The plot has all of the makings of a classic mystery tale but stands apart from standard conventions with its unique setting and stunning visuals.
Andy Belanger, best known for the critically acclaimed Shakespearean fantasy Kill Shakespeare, takes his work up a notch or five in the realization of Cloonan's script. Losing none of the robust expressiveness or bold lines of his previous work, Belanger infuses his art in Southern Cross with loads of atmosphere and rich detail.
This is a fictional world fully realized with distinctive, consistent designs that weave together to form a sweeping sci-fi tapestry that will keep you returning for more, long after the final page is turned on this first issue.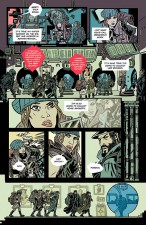 With innovative layouts that move the eye effortlessly around the page, there is a visual clarity in Southern Cross that was sometimes lacking in Kill Shakespeare. It's as if Belanger was trying just a touch too hard to be different in his past work and now has achieved a comfort level in his style that allows his experimental page designs to live and breathe naturally.
There's nothing forced or overworked here. Rather, Belanger's work is clear, atmospheric, and truly breathtaking in its breadth and scope (and aided in no small part by Lee Loughridge's striking coloring choices)
Absolutely oozing suspense amid a gritty, textured far-future setting brilliantly realized by Belanger and Loughridge, Cloonan's space mystery raises the stakes for well-crafted, original sci-fi. Consider me hooked!
Becky Cloonan (W), Andy Belanger (A), Lee Loughridge (C) • Image Comics, $3.99, March 11, 2015.