Stylish, socially relevant, and loaded with action, this debut issue from Joe Harris and Martin Morazzo launches a timely thriller that is as much a cautionary tale as it is a call to action.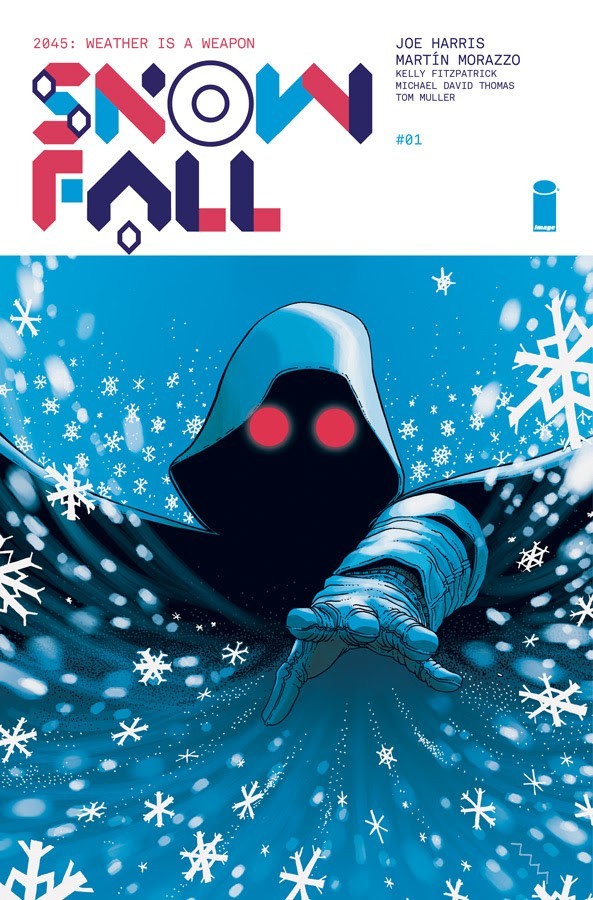 Right now, as I type this, the city of Winnipeg lies beneath a blanket of dirty, grey snow. Most years, the snowbanks reach your waist. A couple of years ago, we were colder than the surface of Mars. Yes, that's right. Mars. With a little imagination, you could be on the ice-planet Hoth.
To imagine, then, a world where it no longer snows is not so hard. In Winnipeg, we call it Mexico. Or Barbados. Or Cuba. Really, I could go on. The point being, we take snow for granted in Winnipeg. It's just another thing to bitch about, along with our notorious potholes and mosquito season (or as the rest of the world calls it: summer).
As a society, for the past several generations we, as a race of supposedly halfway intelligent sentient beings, have embarked on a terrible journey of exploitation and abuse of our natural resources. Predictably, this global plundering has had some pretty severe adverse effects on our home, not the least of which are disrupted and extreme weather patterns, and the very real threat of climate crash.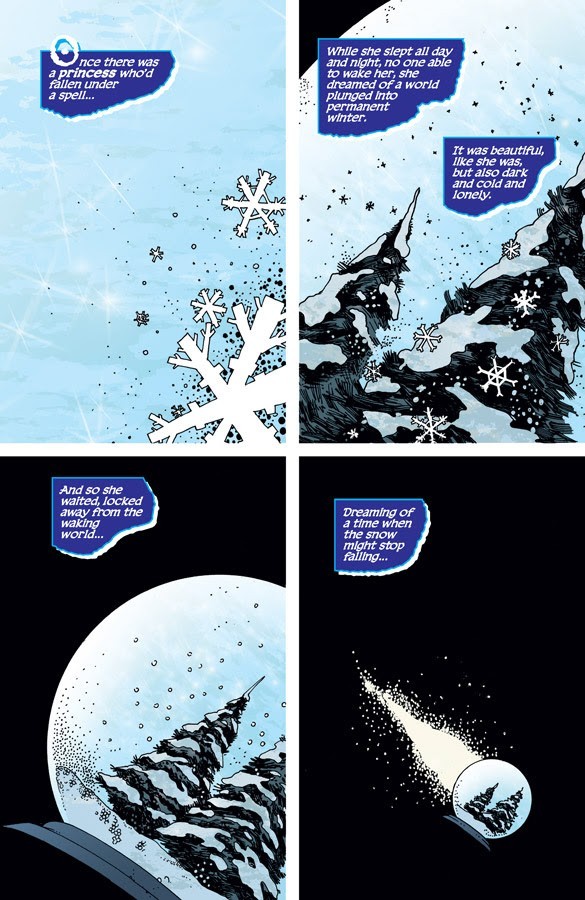 And we sit back and let it happen. Despite the numerous warning signs and calls to action in recent years, we're still more concerned about the Kardashian family's latest act of debauchery than we are the threat of ecological disaster. Like the snow in Winnipeg, we take our planet for granted.
In Snowfall, critically acclaimed Great Pacific collaborators Joe Harris and Martìn Morazzo posit a world in the very near future in which the climate crashes, causing catastrophic upheaval to every level of society. Desperate for a solution, the United States government turns to the only players left on the planet with enough mojo to preserve what remains: the very corporations who despoiled the planet in the first place.
The end result is the Cooperative States of America, where governance of the nation has been turned over to the Hazeltyne Corporation. Due to failed efforts to reverse the climatological damage, the general populace has been redistributed into resettlement zones. There, citizens are force-fed a steady diet of corporate propaganda that would drive the corporate Goebbelses at Wal-Mart mad with jealousy.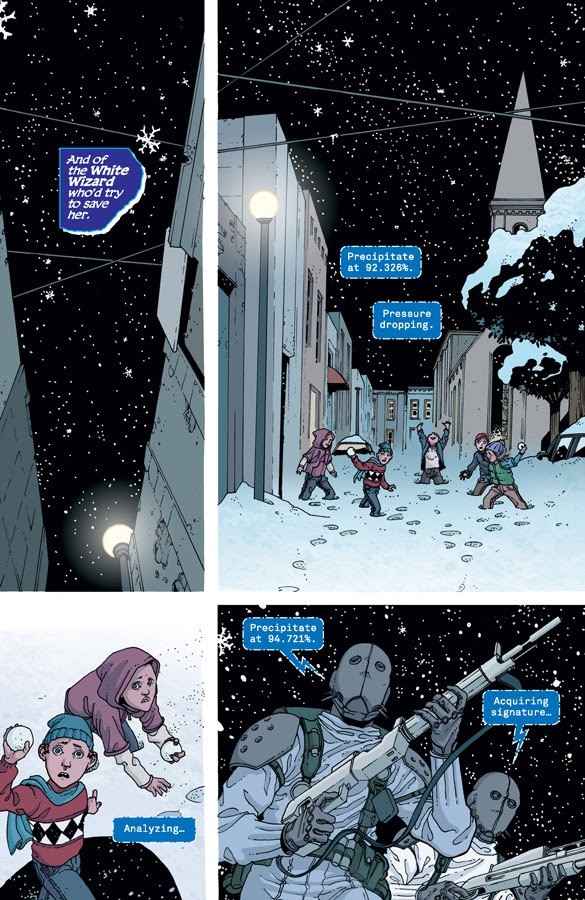 Although life in the resettlement zones appears stable and safe on the surface, there are those who see through Hazeltyne's façade of cooperation for the betterment of all and secretly toil to subvert the government. The most infamous of these radicals is the White Wizard, a former climatologist who has fought the Hazeltyne-sponsored CSA since the climate crashed, ten years earlier.
Despite touching upon more than a few scary concepts in the book, Harris takes great care not to choose sides. In fact, he purposely muddies the waters. The White Wizard and his aspiring young protégé, Anthony Farrow, are not heroes. The actions they take, not to mention the resulting death tolls, are more in line with radical terrorist organisations than they are with sympathetic environmental activists.
This added layer of complexity injects a greater sense of verisimilitude into the book's fictional setting. There are no easy solutions to climate change. The CSA, for all of its complicity in the ruination of the planet, is trying to hold the remnants of the country together the only way it knows how, through revisionist marketing campaigns and operational efficiency.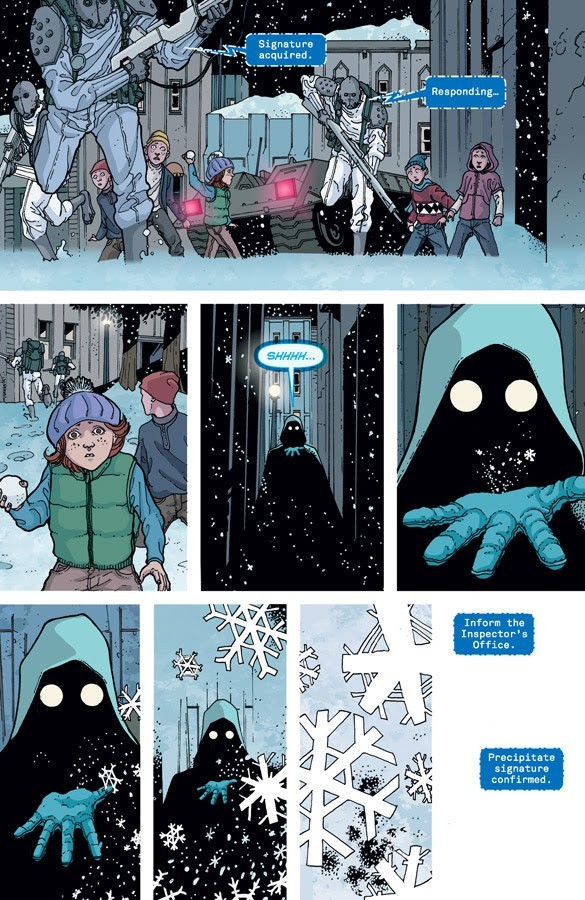 Desperate to shake society free from its brainwashed complacency, radicals like the White Wizard resort to fear and violence to deliver their wake-up call. Who's to say who's right or wrong? Harris smartly leaves that up to the reader.
Martìn Morazzo's crisp, stylish art provides the distinctive visual tone Harris's intriguing central premise deserves. Along with colourist Kelly Fitzpatrick and designer Tom Muller, he creates a world packed full of detail and nuance that seems familiar and alien at the same time.
Morazzo's use of white space not only to replicate a feeling of physical size and scope but also to underscore the emotional vacuity of Snowfall's dystopic society creates a unique sense of disquiet in the reader. It feels like the suffocating claustrophobia of an enclosed space in a room with no walls, and evokes a disturbing sense of spatial and psychological juxtaposition.
With Snowfall, Harris and Morazzo have identified the next major battlefield that we as a race have to enter. Screw the War on Terror or the War on Drugs (if that's even a thing any more): the real danger we face as a society is complacency.
Joe Harris (W), Martìn Morazzo (A) • Image Comics, $3.99.