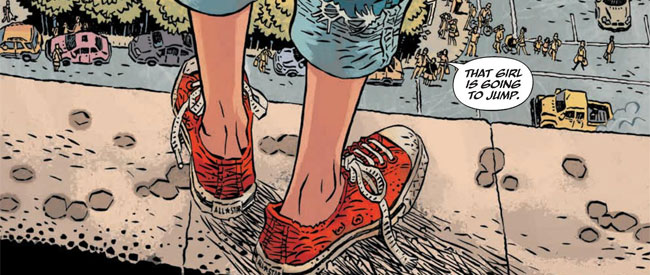 In They're Not Like Us, a provocative contemporary take on the 'teen mutants' genre that seems to have flown under the radar, Eric Stephenson's spiky script is brought to dazzling life by Simon Gane and Jordie Bellaire.
A little while ago, Nowhere Men, also written by Image publisher Eric Stephenson, was probably the book that alerted me most to that company's resurgence as the publisher of choice for creator-owned monthlies. And while the personal problems faced by artist Nate Bellegarde sadly truncated that highly acclaimed series (and we all wish Nate the best for the future), Stephenson has developed another engaging and complex monthly book that hasn't received the press it deserves.
As with Nowhere Men, They're Not Like Us is given a strong identity from the very start by Fonografiks' design. Having the first panel on the front page, along with all the indicia and other gubbins, gives the book a real sense of dramatic urgency and plunges us straight into the story.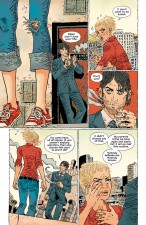 And at the centre of that story is a young woman on the edge (literally), driven to the point of suicide by the never-ending cacophony of voices in her head. However, when she's 'saved' by a charismatic stranger named only as 'The Voice', her life takes an even stranger turn.
The Voice, who looks like he might have wandered in from a Paul Pope comic or a Casanova cosplay get-together, reveals that our protagonist actually a telepath, and introduces her to a group of other young people with various superpowers.
However, the vibe at their appropriated San Francisco mansion is more Manson Family than X-Men. Like a cult, they have to leave everything of their old life behind and live by rules laid down by their leader. Their main goal is self-preservation, and they'll go to any lengths to protect themselves…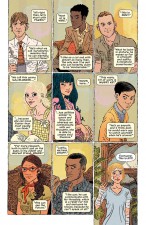 The book's provocative, confrontational feel starts with its title: whichever side of the conflict you see yourself on, it's definitely a case of 'us' and 'them'. And some of The Voice's questionable actions as he 'rescues' the young woman also invite judgement.
As in Nowhere Men, with its abridged examination of scientific ethics, the balance of means and ends is also at play here. Even if the little gang of 'super-millenials' were actually as persecuted as they'd have Syd (and us) believe, does that justify their feral moral outlook and indiscriminate retribution against the world of 'normals'?
With the addition of superpowers and a detachment from notions of right and wrong, the perennial sense of youthful entitlement moves from being just irritating to disturbing: "We take whatever we want. We do whatever we want." And, despite her earlier qualms, by the end of #2 Syd seems to be finding herself seduced by the apparently consequence-free charms of The Voice's controlling vision.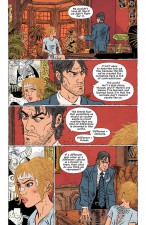 I've been a fan of Simon Gane's chunky art for 20 years, since his punky small-press stuff in the UK. However, in cahoots with superstar colourist Jordie Bellaire, this could well be career-defining stuff.
The combination of edgy linework and radiant colour reminded me at first glance of Yuko Shimizo's exquisite cover work on The Unwritten, but with an added propulsive narrative thrust. Gane's busy lines create a real sense of dynamism on the page; in his hands, I'd happily read a 24-page monthly comic about ICU equipment.
It seems to me that They're Not Like Us has been a bit unfairly overlooked; the first issue sneaked out on Christmas Eve and #2 came out in the same week as a lot of other shouty high-profile titles. However, it's strong, energetic and provocative work that deserves to be read, offering a timely and slightly uncomfortable look at what might happen if an age of entitlement was fuelled by superpowers.
Eric Stephenson (W), Simon Gane (A), Jordie Bellaire (C), Fonographics (lettering/design) • Image Comics, $2.99.