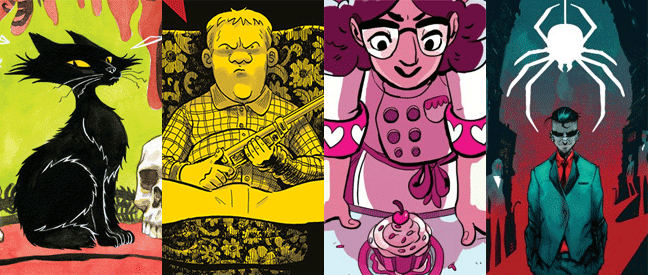 It's Wednesday, and you know what that means: a fresh load of comics and graphic novels! With so many publications hitting your local comics store or digital storefront, the BF staff is here to lead you through the woods with our weekly staff picks. Satisfaction guaranteed!
Comic of the Week
Weavers #1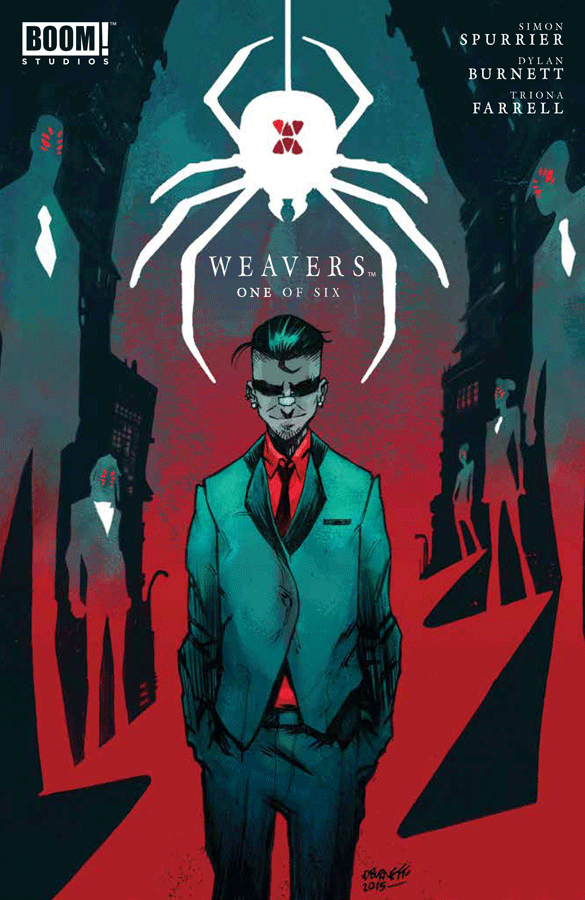 As a near-clinical arachnophobe, I'm not sure what possesses me to recommend the debut issue of Weavers from BOOM! Studios this week. However, writer Simon Spurrier (Cry Havoc, The Spire) is spinning this tale, and that's ample reason to face my fears… even if this new series is filled with psychedelic spiders.
No – this isn't some poor-man's Spider-man rehash. Rather, it's a fresh story about a dozen people who inadvertently swallow supernatural arachnids and end up with very special superhuman abilities.
Moreover, all of the victims happen to be members of a crime syndicate, meaning that their moral compasses don't exactly point them towards using their powers for the benefit of humankind. At the center of this web of intrigue is Sid, a young man with secrets (and a spider in his belly), who may or may not be at odds with the "made guys" of the mafia family in question.
Artist Dylan Burnett and colorist Triona Farrell weave their talents together to create a visually exciting book that may single-handedly usher in the "noir-grime-meets-psychedelia" genre.
Simon Spurrier (W), Dylan Burnett (A), Triona Farrell (C) • BOOM! Studios, $3.99
– Matthew Box
Beasts of Burden: What the Cat Dragged in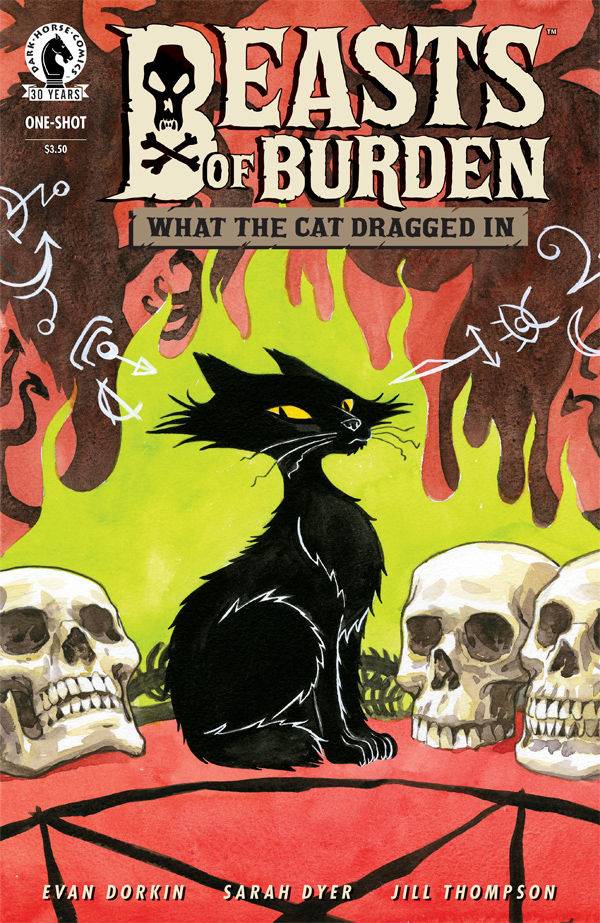 Co-writers Evan Dorkin and Sarah Dyer and series artist Jill Thompson are back with another tale of Burden Hill and its animal protectors.
No previous knowledge is needed to enjoy this one-shot adventure, which marks the first appearance of these characters in two years. This time, the group of anthropomorphic adventurers stumbles into a mystery involving demonic possession and dark rituals.
This series has always managed to toe the line between charmingly macabre and seriously sinister, and this issue is no exception. If the creative team continues with this level of consistency, I'll be happy to wait another two years for the next one.
Evan Dorkin & Sarah Dyer (W), Jill Thompson (A) • Dark Horse Comics, $3.99
– Paul Mirek
Space Battle Lunchtime #1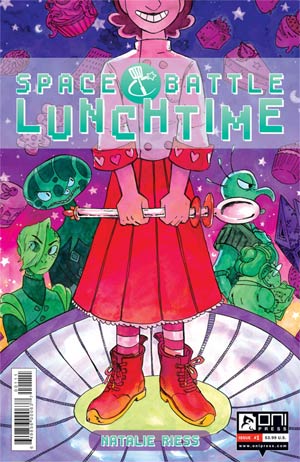 The world of intergalactic cooking is a cutthroat business, and there is no more popular reality cooking show than Space Battle Lunchtime. Just as the new season is about to start, one of the competitors suddenly withdraws. Aspiring baker (and Earthling) Peony is about to get the chance of a lifetime – if she can cut it in the universe's most popular kitchen.
Writer/artist Natalie Riess is the creator/owner of the webcomic Snarlbear. Her ability to present fully realized characters that are at once beguiling and dodgy should serve her well in her first project for Oni Press.
If you thought Space Battle Lunchtime might be a jaunty tale for the kids, think again. I'm pretty sure when Riess puts the word "battle" in a title, she means it literally — but in an entertaining fashion.
Natalie Riess (W/A) • Oni Press, $3.99
– Karen O'Brien
Rules for Dating My Daughter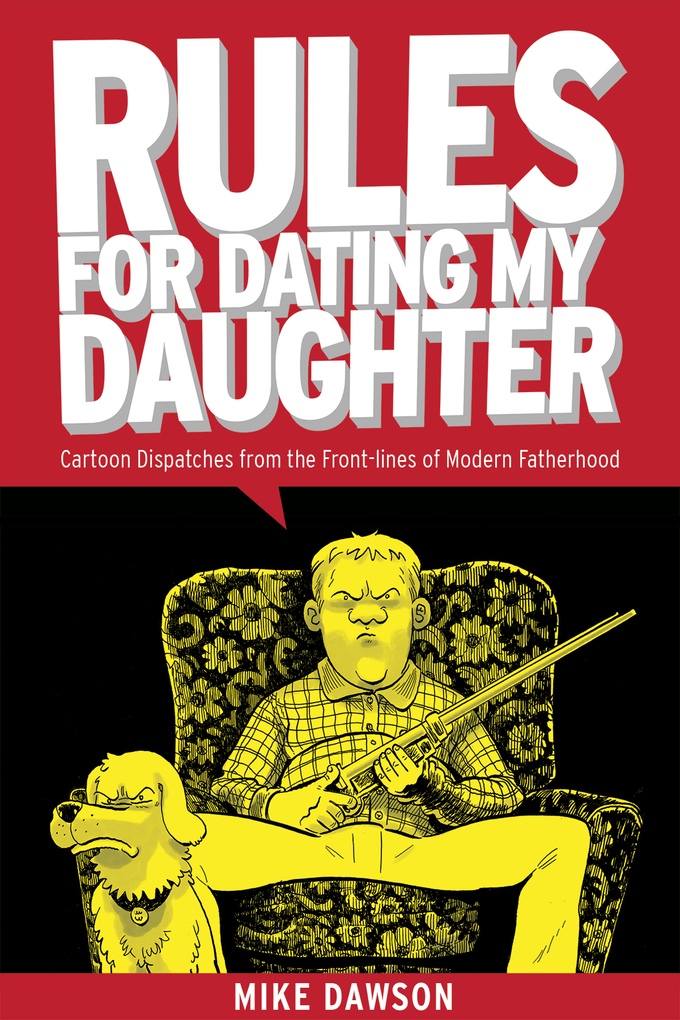 The new graphic novel by Ignatz award winning cartoonist Mike Dawson (Freddie & Me, Troop 142) collects a number of his short comics about being a parent in modern times. It's filled with personal stories and funny commentary on fatherhood, gun rights, the gender of toys, and staying sane in a world where school shootings and Disney princesses get equal billing.
Funded through Kickstarter and now published by Uncivilized Books, Rules for Dating My Daughter contains stories that originally appeared online at The Comics Journal, Slate Magazine, The Nib, Upworthy and The Daily Kos, as well as a number of brand-new stories exclusive to this collection.
Mike Dawson (W/A) • Uncivilized Books, $15.95
– Tyler Chin-Tanner
Why Would You Do That?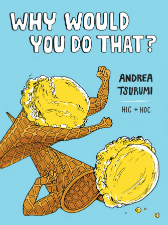 When it comes to gloriously absurd comedy (with a side-serving of the macabre thrown in for good measure) there are few purveyors of quality comics out there quite like Hic & Hoc.
The small press publisher describes its material as "mostly psychedelic comedies and psychedelic tragicomedies, with some psychedelic tragedies thrown in for good measure" – a twisting tagline that nevertheless perfectly encapsulates its output.
Andrea Tsurumi's surreal, observational-style (in the loosest sense) humour fits firmly into this tradition. Why Would You Do That? is a collection of off-centre comedic shorts that deal with warring desserts, the true nature of poodles, haunted bras and swimming pool etiquette. Delightfully bizarre and fiendishly imaginative, this looks to be another winner from the New Jersey micropress.
Andrea Tsurumi (W/A) • Hic & Hoc, $8.00
– Andy Oliver
Rebels, Vol.1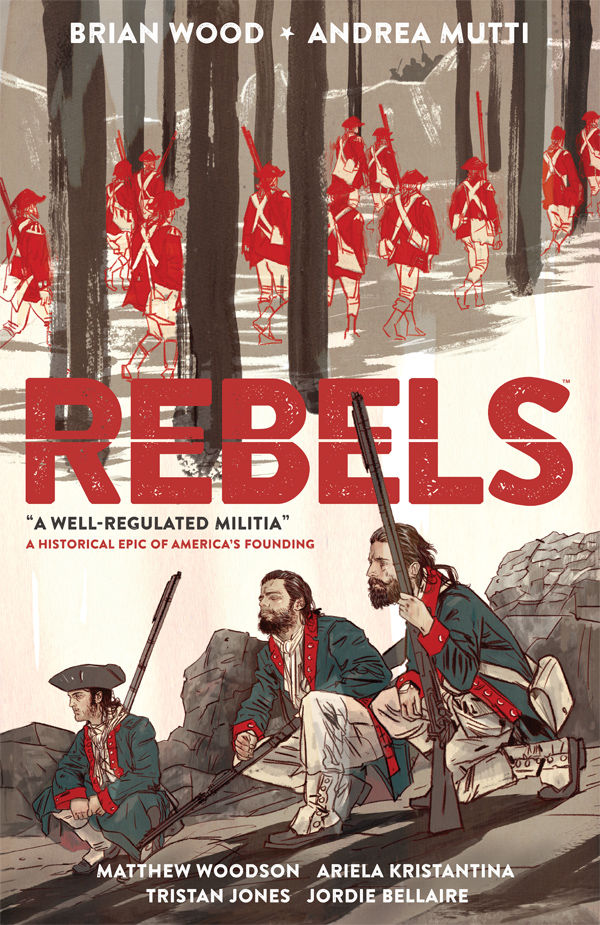 Those who don't know their history are doomed to repeat it. Thankfully, this week sees the release of Dark Horse's trade paperback collecting all ten issues of Brian Woods' American Revolutionary War epic Rebels.
If you've followed Woods' work, you know that he not only does his History homework, but he also creates characters and stories that breath with the stuff of real life. Set against the backdrop of The War of Independence (and rendered in exquisite naturalistic detail by artist Andrea Mutti and award-winning colorist Jordie Bellaire), Rebels chronicles the struggle of American colonists to wrest sovereignty of their nascent nation from the English crown. But at the heart of the story are the people whose lives are tested by the turmoil of fighting for their freedom.
Revolution remains an important theme in this modern age, so the release of Rebels may be as timely as ever. It's a book about sacrifice, family, and "a well-regulated militia". It's the kind of book that belongs in every school and public library, in addition to the collection of anyone who loves good storytelling.
Brian Wood (W), Andrea Mutti (A), Jordie Bellaire (C) • Dark Horse Comics, $24.99
– Matthew Box