It's almost Wednesday, and you know what that means: a fresh load of comics and graphic novels! With so many publications hitting your local comics store or digital storefront, BF is here to lead you through the woods. These are the books that need to be on your pull list this week.
Comics of the Week
All Things Stray Bullets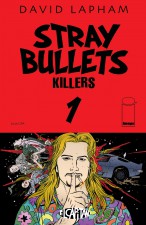 Mainstream crime comics?! Who ever thought that'd be a good idea?
Fortunately, ace storyteller David Lapham did. And back in 1995 he sat down with his wife Maria to form El Capitan Books and launch Stray Bullets – a brutal and heartbreaking series that trapped readers in its web for 10 years and 40 issues. The title hints at Lapham's narrative approach: each issue tells a complete story, but they all have consequences that ricochet through the series as a whole.
It's probably not too much of a stretch to say that the Laphams' bold move back then sowed at least some of the seeds of the creator-owned extravaganza that's in full bloom at the moment. So, it's fitting that the book is making its resurrection through Image.
Every issue of the original run is now available digitally, but this week sees Stray Bullets land with a sizeable thud back at your LCS. As well as the long-awaited #41, wrapping up the 'HiJinks and Derring-Do' storyline, the whole original series is appearing in a 1,200-page 'Uber Alles' omnibus edition. Not only that, but a new iteration of the series – Stray Bullets: Killers – is kicking off with a fresh debut issue that calls back to #2 of the original series with the re-introduction of cool killer Spanish Scott.
If ever a series sold itself, the return of Stray Bullets has to be it. But if you need any further encouragement, the first four issues of the original series are available free online, at both Comixology and the Image Comics site. Like the characters he depicts, you'll find that once you fall into the dark gravitational pull of Lapham's world, it's very hard to get free.
David Lapham (W/A) • Image Comics
Stray Bullets: The Uber Alles Edition, $59.99
Stray Bullets #41, $3.50
Stray Bullets: Killers #1, $3.50
– Tom Murphy
Cannon

Legendary EC artist Wallace Wood excelled at the female form, having it sway and bend like none other. But before there was Flasher Gordon, Malice In Wonderland or The Wizard Of Ooz there was… Cannon! A Cold War spy free of emotions thanks to multiple brainwashings from the Red Forces of Madame Toy and even the CIA itself, Cannon makes 007 and Secret Agent Corrigan look like regular pussy-willows. From naked catfights, plastic surgery, beautiful and deadly spies and nude torture by… beautiful women (can you start to see a motive here?), Cannon's rock hard facial features don't move a muscle.
Originally published in one of the earliest self-published magazines, Heroes Inc, Presents Cannon in 1969, Cannon was intended for a military audience, a crowd he got to know quite well with his erotic serial Sally Forth. Heroes Inc folded after two issues, but Cannon got serialized in the U.S. Army's Overseas Weekly soon after. Not only is this a beautifully drawn ode to action movies and the female form, it is also an important part of comics history bound by Fantagraphics in a stunning hardcover! Just buy it to support the US troops!
Wallace Wood (W), Wallace Wood (A) • Fantagraphics, $35
– Bart Croonenborghs

The Returning #1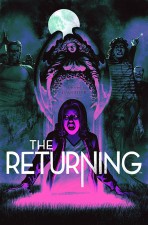 It's the not-to-distant-future and people around the world are facing near death experiences and coming back changed – violent, or even murderous – and no-one quite knows why. At least that's the premise of BOOM! Studios new four-issue original series The Returning, an eerie blend of horror, mystery and fantasy.
Into this frighteningly unpredictable new world comes Beth, a typical light-hearted teenager who has the misfortune to survive nearly dying. With the virus-like nature of the near-dying effect, the nicknaming of survivors 'Changers', and the paranoid atmosphere of the storyworld, The Returning has a vibe about it that might appeal to zombie fans. Though it remains to be seen in which direction – and into which genre – the story will lead.
Jason Starr (W), Andrea Mutti (A) • BOOM! Studios, $3.99
– Conori Bell-Bhuiyan
Magnus: Robot Fighter #1
Magnus is a man at peace; a man happy to be a husband and son, to work as a gym teacher in a small town where humans and robots live side-by-side. But this peace is shattered when he is transported in a futuristic city, a dystopian landscape where man and machine are at war.
This is an update of a well-loved comic published by Gold Key in the 60s and 70s. Both Valiant and Dark Horse have taken turns at reviving Magnus and whilst the comic has a rich history, writer Fred Van Lente has promised readers a man absolutely for our time. And – just between us – my sneak peak at this comic proves that Van Lente and Smith have delivered the goods. Don't miss this.
Fred Van Lente (W), Cory Smith (A) • Dynamite Entertainment, $3.99
– Joe Krawec
Avengers Undercover #1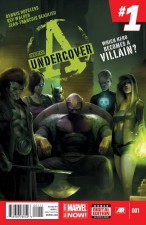 If there's one thing we learned from Dennis Hopeless and Kev Walker's previous collaboration, it was not to judge a book by its concept alone. Avengers Arena was pitched to fans as a Hunger Games ripoff, wrought with unnecessary deaths of lesser-known characters. What the book wound up being was a fascinating character study where the deaths truly mattered.
In Hopeless and Walker's new series, the remaining characters left alive after the events of Arena find themselves undercover, infiltrating Baron Zemo's Masters of Evil. The same character study aspect of Arena should carry over seamlessly to Undercover. How far are they willing to go to protect their identity, and will any of the heroes find they like the bad life? It's like a reverse take on the classic Thunderbolts concept.
Dennis Hopeless (W), Kev Walker (A) • Marvel Comics, $2.99
– Levi Hunt
Beasts of Burden: Hunters and Gatherers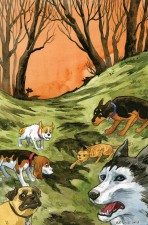 Burden Hill has more than its fair share of supernaturally inclined mysteries. Thankfully, it also has a crack team of four-legged experts at repelling everything that goes bump in the night. If you've never taken in the adventures of the Beasts of Burden, this newest one-shot from Dark Horse will be a good place to start.
The award-winning team of writer Evan Dorkin and artist Jill Thompson conjure up more of their creative magic with Hunters and Gatherers, moving their intrepid supernatural detectives through scary situations and uniting them as a family to deal with the sometimes costly consequences.
Evan Dorkin (W), Jill Thompson (A) • Dark Horse Comics, $3.50
– Karen O'Brien
Death Sentence #6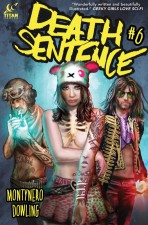 Monty Nero and Mike Dowling's miniseries reaches its conclusion as Verity, Weasel and Monty's (no relation with the writer on any level, that would be too twisted!) young heroic careers and lives reach the finish line… or is there light at the end of the tunnel after all?
The story of three youngsters who attract a sexually transmittable virus that gives them superpowers for six months before it puts them down for good, Death Sentence launched with raving praise from Mark Millar and has even drawn comparisons to Watchmen from certain outlets. It's been a thrilling ride from the start thus far, we'll give you that, and it's a comic that takes its characters to daring places… Now let's see if our trio can beat that G+ virus out of their system, or if there will be real repercussions delivered in a way only indie comics can.
Monty Nero (W), Mike Dowling (A) • Titan Comics, $3.99
– Frederik Hautain
47 Ronin HC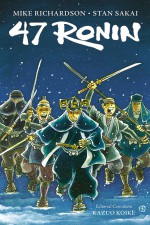 Usagi Yojimbo's Stan Sakai teams up with Dark Horse publisher Mike Richardson to deliver a comic adaptation of the classic Japanese legend. Meticulously researched and beautifully illustrated, this collection of the acclaimed miniseries recounts this sweeping saga of honor and violence in all its grandeur. Opening with the tragic incident that sealed the fate of Lord Asano, 47 Ronin follows a dedicated group of Asano's vassals on their years-long path of vengeance.
For everyone who's enjoyed Stan's nearly 30 year run on the anthropomorphic samurai rabbit, 47 Ronin gives us a chance to see him draw human characters, and it's in full-color, a process that's reserved for only covers and special editions in Usagi.
Mike Richardson (W), Stan Sakai (A) • Dark Horse Comics, $19.99
– Tyler Chin-Tanner