Titan Comics has provided BF with solicitations or February 2014, to ship in April 2014.
Listings for February PREVIEWS includes two brand-new new collections: DEATH SENTENCE – the sell-out critical hit of sex, death and superpowers by MontyNero & Mike Dowling and pulpy retro-adventure comedy DOCTOR GRORDBORT PRESENTS: TRIUMPH by WETA Workshop alumni, Greg Broadmore (The Lord of the Rings, The Hobbit, District 9)!
This month also sees brand-new creator-owned series, ORDINARY by Rob Williams (Dark X-Men: The Beginning; Madame X) and artist D'Israeli (2000 AD; Scarlet Traces), which follows the adventures of a plumber who holds the key to saving a world full of superheroes!
See below for more information or check out the Titan Comics section in the February edition of PREVIEWS – see page 366.
DEATH SENTENCE
The sell-out critical hit of sex, death and superpowers gets a deluxe hardcover collection!
Writer(s): MontyNero
Artist Name(s): Mike Dowling
Format: Hardcover
Page Count: 192pp
Full Color, B&W, or partial color: FC
Retail Price: $22.99
Street Date: June 24th 2014
What would you do with superpowers – and six months to live?
That's the dilemma facing three people who've contracted the G+ Virus, an infectious agent that gives you incredible powers – before killing you!
What will struggling graphic designer Verity, failing indie guitarist Weasel and roguish media personality Monty do in the time that remains? Fade away – or go out in a blaze of glory?
And if they choose to kick back… will there be anything left of the world when they're through?
From the streets of London to the North Atlantic, from intimate betrayals to the death of thousands, from muses lost and futures thrown away to the fall of society – Death Sentence is the jaw-dropping next step in superpowered storytelling!
Funny, fearless and frightening, packed with shocks, dialogue you can't stop quoting, and the character finds of a generation – don't miss this unforgettable comics debut!
PRESS
"A striking new voice in the superhero genre."
– Comic Book Resources
"A brilliantly original concept."
– Newsarama
"A smart, raw and relevant spin on the superhero genre."
– MTV Geek
"It's the AIDS epidemic as an X-Men book … and it's brilliant." – Comic Bastards
"Nasty, dirty and oh-so-wonderfully-wrong – and a hell of a lot of fun." – Comics Bulletin
"An edgy, moody feel, with plenty of mystery
and fear in the air."
– Danica Davidson, CNN, Los Angeles Times
"Like only the best parts of Watchmen—a social analysis that exceeds the medium of comics, easily the equal of Dostoyevsky or Dickens" – PopMatters
"As over-the-edgy as it gets. This is the stuff I want!"
– Broken Frontier
"Rating: 5/5 – Highly original with great dialogue, I can't wait to see what happens next!"
– Comic Spectrum
AVAILABLE TO ORDER NOW
FROM FEBRUARY PREVIEWS
Order code: FEB141436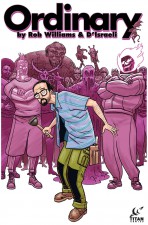 ORDINARY
What if everyone woke up with superpowers – and it was the worst thing in the world?
Writer(s): Rob Williams
Artist Name(s): D'Israeli
Format: Comic
Page Count: 32pp
Full Color, B&W, or partial color: FC
Retail Price: $3.99
Street Date: May 28th 2014
When a strange plague gives every human being on the planet special powers, it's seen as the next step in human evolution. But hope quickly turns to terror, as every war, terrorist attack, every crime, every simple street argument escalates a truly horrific point. The world is tearing itself apart – every trouble spot becomes a monstrous war zone and nuclear Armageddon looms. The plague MUST be cured if humankind is to survive.
The key lies in the blood of the only human being who DIDN'T get powers when the plague hit. A downtrodden, recently divorced New York plumber named Michael Fisher. The most ordinary man alive has suddenly become the most extraordinary person on Planet Earth.
Giant baseball players, grannies aging in reverse, a talking Grizzly bear. That's nothing out of the Ordinary!
PRESS
"Surreal and lovely, one of the most beautiful books of the year." – Warren Ellis
"Imagine a place where everyone has their own unique superpower, and you can tell just from looking at them what that power must be. Imagine a street full of people like that. Then imagine a world. Who else but D'Israeli could draw such a story? Now imagine it done with wit and wonder, and a talking bear, and a bloke who can magic beer out of thin air. Who else but Rob Williams could write it?"
– Garth Ennis
"Rob and D'Israeli craft an uncut diamond of a premise into a warm, witty and wonderfully illustrated gem. This is lovely comics." – Al Ewing
"Rob Williams and D'Israeli are masters of the big picture and the tiny details."
– Douglas Wolk, author of 'Reading Comics: How Graphic Novels Work and What They Mean'
"Ordinary is a truly extraordinary experience from two of the greatest creators in British comics." – Paul Cornell.
AVAILABLE TO ORDER NOW
FROM FEBRUARY PREVIEWS
Order code: FEB141439
DOCTOR GRORDBORT PRESENTS: TRIUMPH
Prepare yourself for tales of triumph!
Writer(s): Greg Broadmore
Artist Name(s): Greg Broadmore
Format: Hardcover
Page Count: 56pp
Full Color, B&W, or partial color: FC
Retail Price: $19.99
Street Date: April 15th 2014
Since the first word was inscribed onto parchment, man has searched for tomes that lift the lid on the inner machinations of the human condition and reveal truths about humanity and its place in the universe – there are books that teach, books that inspire and books that offer a glimpse into our very souls. Triumph, on the other hand, is full of violence, bad language, interplanetary racism and a little sprinkling of smut… but you get what you pay for.
PRESS
"Dr Grordbort is the future. And the past. Which makes an ideal present." – Stephen Fry
"Lavish, fully realized, imaginative tour de force. It's Jules Verne meets Fritz Lang meets Tintin … Greg has raised the bar." – Adam Savage (Mythbusters)
"GB's latest tome of magnificence once more separates the mere pretenders from the true originator of fantasy art."
— Andy Serkis (The Hobbit: An Unexpected Journey, The Adventures of Tintin)
AVAILABLE TO ORDER NOW
FROM FEBRUARY PREVIEWS
Order code: FEB141437