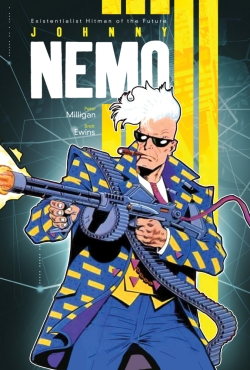 Later this year Titan – those prolific purveyors of handsome showcases for classic British originated comics material – will be compiling the long out of print adventures of Peter Milligan and Brett Ewins's Johnny Nemo. The existentialist hitman of the future's exploits were originally published in Strange Days and Deadline from the 1980s through to the '90s and this volume marks a welcome opportunity to revisit key early work from two of the most important creative voices in UK comics over the last three decades .
Titan have shared the exclusive remastered pages below from the collection with us at Broken Frontier. The book will be out this September.
THE COMPLETE JOHNNY NEMO 
WRITER: PETE MILLIGAN
ARTIST: BRETT EWINS
192pp 
ISBN: 9781782760702    
$24.99 US/ $27.95 CAN/ £19.99 UK
ON SALE 09/03/14
THE EXISTENTIALIST HITMAN OF THE FUTURE!
New London of 2921 is a crowded, filthy slime-pit awash with Death-Juice junkies, Latin-spouting armored fascists, exploding nuns and a religious cult who worship Bing Crosby's left testicle. It's also home to ultra-violent, foul-mouthed private eye Johnny Nemo – a streetwise PI who deals in death… and simple solutions to complex problems!
This classic, remastered collection features never-before-seen art and is the crowning glory of award-winning writer, Peter Milligan (All-New Doop, Hellblazer, Shadowman) and artist Brett Ewins (Bad Company, Skreemer).