Big-time writers with big-time ideas deserve big-time artists. Unfortunately, such is not the case in this mediocre offering from Dynamite's Creators Unleashed imprint.
I really wanted to like Terminal Hero. For starters, I'm a huge Peter Milligan fan. I've loved his books since Shade, The Changing Man first hit the shelves back when I was a teenager.
Along with Moore's Swamp Thing, Delano's Hellblazer, and Gaiman's Sandman, it was a book that introduced me to a whole new world of comics. It was a book I knew I would grow into and return to as I matured as a reader and fan, always discovering something new or previously overlooked.
Additionally, I like the premise at the heart of Terminal Hero. This isn't a book about superheroes. Despite the title, I'm not even sure it's a book about heroes of any stripe. In fact, judging from the events depicted in the first issue, it may just be a book about villains.
At its core, Terminal Hero is about power. Real power. The kind of power we've all fantasized about possessing at one time or another. You know what I'm talking about – especially if you've read a comic book or two.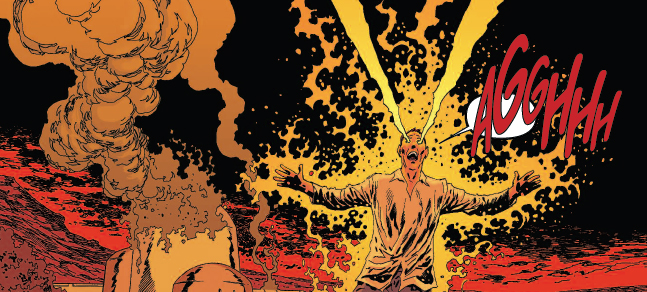 When young med student Rory Fletcher receives a diagnosis of terminal cancer, he undergoes a dangerous and peculiarly secretive treatment, the only known recipient of which died mysteriously.
The unforeseen side-effects of the treatment grant Fletcher vast powers of a particularly destructive nature. The changes Rory experiences aren't limited to the physical; his perception of reality transforms even as he tries to control his newfound powers through drug abuse and sexual deviance.
These are all themes Milligan has dealt with before, perhaps most notably in his Wildstorm series The Programme. In that book, superhuman abilities were viewed through a political lens as two economic "superpowers" vied for control of a handful of rogue operatives literally capable of destroying cities. The main thematic conflict revolved around ideology: super-patriot vs. super-terrorist – is there a difference, or is it all a matter of perspective?
Terminal Hero, on the other hand, seems to be a series about biology, about how we are wired as a species. Biology can be very unforgiving and impacts our lives in myriad ways, from how we deal with chronic pain or disease to how we drive our cars in rush-hour traffic.
This is the conflict at the heart of Milligan's cautionary tale about superpowers. He asks us to be frank with ourselves, to hold ourselves accountable. He asks: What would you do? What would you REALLY do?
Milligan's talking about some pretty heavy subject matter, though. This is the stuff we usually try to avoid thinking about. So it's somewhat confounding why Dynamite paired him up with Piotr Kowalski. Sloppy rendering, marked by weak linework and an amateurish use of suggestion to fill in the visual gaps, lends the book a rushed-to-print feel that doesn't do the script justice.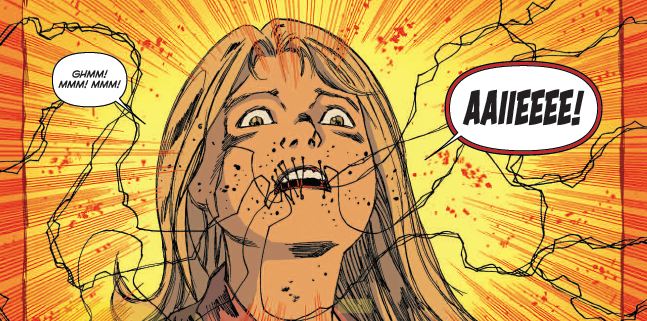 Characters lack real emotion, and some physical features appear muddy and dissolute. Kowalski isn't a terrible artist: his layouts and transitions are sound. He just seems to lack the maturity Milligan's script demands. I just couldn't help wondering what Terminal Hero would be like with someone like Steve Pugh drawing it.
Although it explores ideas integral to the human condition, especially in this era of lightspeed medical progress, Terminal Hero's lackluster visuals fail to live up to its high-level thematic thrust. What should have come off as a refreshing twist on the age-old adolescent power fantasy fizzles out because of shoddy craftsmanship.
Peter Milligan (W), Piotr Kowalski (A) • Dynamite Entertainment, $3.99, August 6, 2014