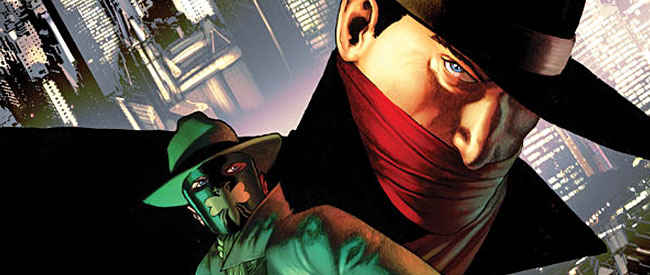 From Dynamite Entertainment comes The Shadow/Green Hornet: Dark Nights, a team-up comic scripted by veteran film producer Michael Uslan (notably associated with such comic book properties as Swamp Thing and the Batman film series) and illustrated by The Boys alum Keith Burns. This is a book that shows a lot of promise, but ultimately suffers from a case of over-writing.
The premise, not surprisingly, is reminiscent of the sort of stories that have been told in the past featuring the respective title characters. The villain is Shiwan Khan, an East Asian warlord and descendant of Genghis Khan who has secretly been the guiding force behind the major wars of the 20th century. In a flashback to the Shadow's World War I-era adventures (in the guise of a spy known as the Dark Eagle), we learn that Khan sought to arm himself with a mystical artifact known as the Girasol. And in 1939, at the dawn of World War II, he is secretly plotting with Adolf Hitler to obtain a death ray designed by the legendary inventor Nikola Tesla, to be used as an Axis superweapon.
Hoping to capitalize on the Green Hornet's perceived antagonism to Chicago law enforcement, Khan and Adolf Hitler plan to recruit he and his partner Kato as saboteurs in the service of the Axis powers. While the Hornet does not show up in-costume, we do see an appearance by his alter ego, newspaper mogul Britt Reid, when he, along with the Shadow's secret identity, industrialist Lamont Cranston, is summoned to a meeting with President Roosevelt.
It's easy to appreciate Uslan's and Dynamite's respect for the characters and (especially) the storytelling sensibilities prevalent when they first appeared, but there's a certain heavy-handedness here that leaves the dialogue feeling stilted and wooden. Where subtlety may have worked better to convey a certain plot point, Uslan has instead chosen to spell it out in detail. Overall, the interactions between characters are a little too polished, the conversations less fluid and natural than they could be, and that can be distracting.
But this isn't a bad comic, by any means. Burns' generally realistic, but not overly detailed style lends a pleasantly retro feel to the story. The story and writing are enjoyable enough, even if there are many points where a little less dialogue would have made the story a lot more engaging.
If you're not a fan of either of the heroes, this book may not win you over, but if you're already following any of Dynamite's titles featuring the characters, it's more than worth checking out.
Michael Uslan (W), Keith Burns (A) • Dynamite Entertainment, $3.99, July 10, 2013.