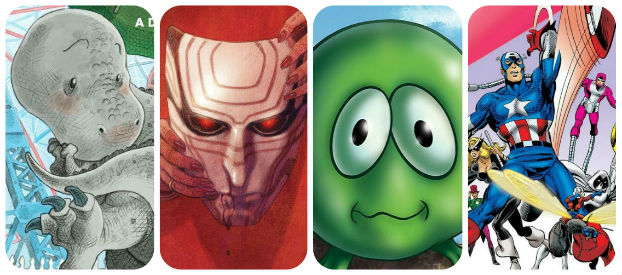 It's nearly Wednesday, and you know what that means: a fresh load of comics and graphic novels! With so many publications hitting your local comics store, comics event or digital storefront, the BF team are here to lead you through the woods with our weekly staff picks. Satisfaction guaranteed!
Comic of the Week
These Savage Shores TPB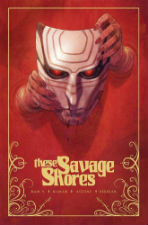 Two centuries after the first European ship sailed to the Malabar Coast and made landfall at Calicut, the East India Company seeks to secure its future along the lucrative Silk Route, in the year 1766. An old evil now sails aboard a company ship, hoping to make a home in this new found land. But he will soon find that the ground along the Indus is an ancient one with daemons and legends far older than himself. Along These Savage Shores, where the days are scorched and the nights are full of teeth.
Everything about These Savage Shores feels epic. Even the promotional blurb. A couple of months ago we described it as "one of the miniseries" of the year and this week the trade paperback hits UK shelves giving latecomers a chance to read the whole run in one package. For those who like their genre comics in serialised chunks, Vault Comics having been putting out some notable work of late and this collaboration between writer Ram V, artist Sumit Kumar, colourist Vittorio Astone and letterer Aditya Bidikar is arguably the standout to date. Vault will also be making their UK festival debut at Thought Bubble this weekend.
Ram V (W), Sumit Kumar (A), Vittorio Astone (C), Aditya Bidikar (L) • Vault Comics, $16.99
– Andy Oliver
Bolivar Eats New York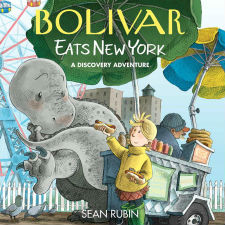 A couple of years back Sean Rubin's first all-ages Bolivar book was released to much acclaim with his "dinosaur next door" story going on to Eisner Award recognition.
This week the sequel is released with the ominous title Bolivar Eats New York. It's not quite as scary as it sounds as the premise this time is that young co-star Sybil takes her dinosaur chum around New York sampling its international cuisine in an effort to broaden his tastes beyond corned beef sandwiches. Expect another charm-filled urban adventure and one that would make a good addition to Christmas lists in the run-up to the end of the year.
Sean Rubin (W/A) • BOOM! Studios, $14.99
– Andy Oliver
365 Days with Pooh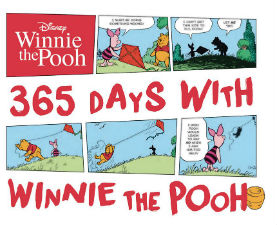 Collecting the newspaper strips from 1966-86 based on the iconic character of Pooh Bear 365 Days with Winnie the Pooh promises a bit of nostalgia for fans of the honey-obsessed bear.
The strips coloured in a charmingly bright palette featuring Pooh's everyday life in the Hundred Acre Wood. Pooh's innocent stories offer a small respite away from reality, into a much simpler world that features kites, friends, and of course a pile of honey.
Don Ferguson (W), Richard Moore (A) • Dark Horse Comics, $24.99
– Holly Raidl
Erf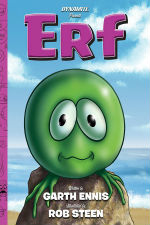 Now this one's a curiosity – an all-ages comic written by Garth Ennis! A few years back this was published through a Kickstarter campaign and this week Garth Ennis and Rob Steen's Erf returns via a Dynamite Comics publication of the original book.
Set in prehistory the story focuses on the titular Erf and his pals Figwillop, KWAAAH, and the Booper as they embark on the big adventure of leaving their undersea world and exploring the surface world, including the jungle home of the formidable Colossux. Worth picking up if only for the oddity value of an Ennis children's comic…
Garth Ennis (W), Rob Steen (A) • Dynamite Entertainment, $6.99
– Andy Oliver
Official Handbook of the Marvel Universe Omnibus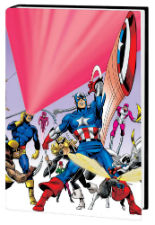 It's a peculiar choice on some levels to reprint a reference book to how the Marvel Universe looked way back in the early 1980s but this series was a groundbreaking one in many respects thanks to the much missed Mark Gruenwald. Both this original 15-issue run and its Deluxe Edition successor have never been matched by the sadly poorer iterations of OHOTMU in the years since.
A guide to characters, tech and teams this is a perfect snapshot of a more structured Marvel Universe before the crossover malaise and franchise madness had consumed our once-favourite fictional reality. Have some fun trying to find someone in the two "Book of the Dead" issues included here who actually stayed dead while reminding yourselves of what a cool place the MU was circa 1982-83.
Reference – Various Creators • Marvel Comics, $75.00
– Andy Oliver