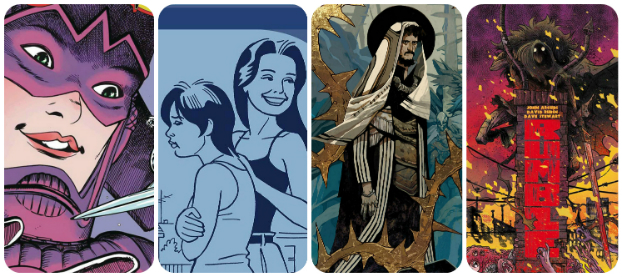 It's nearly Wednesday, and you know what that means: a fresh load of comics and graphic novels! With so many publications hitting your local comics store, comics events or digital storefront, the BF team are here to lead you through the woods with our weekly staff picks. Satisfaction guaranteed!
Comic of the Week
Angels and Magpies: A Love and Rockets Book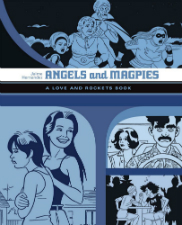 The Love and Rockets Library offers a comprehensive, accessible and economic way to get your hands on some of the finest work ever produced on the comics page. This latest volume, collecting Jaime's stories from the first four issues of the annual Love and Rockets: New Stories format, certainly lives up to that billing.
This is very much a book of two halves*. It kicks off with 'Return of the Ti-Girls' (2008-09), which picks up the more playful fantasy characteristics that defined Jaime's work in the very early days. It's a fluid, free-wheeling tale of female superheroes that entertains and delights while also drawing a line under several long-running elements of the series.
Things then move very much back to earth for 'The 'Love Bunglers' (2010-11) – quite simply one of the masterpieces of the form, as Jaime delves into the past, the present and even the future to bring Maggie's on-off relationship with Ray Dominguez to a heart-stopping conclusion. I've been reading these things 'seriously' for more than 30 years now, but I've never felt so physically shaken by a comic as I was during that crushing final sequence, afraid to turn the pages because of what the next panel might bring.
If you've ever wanted to start reading Love and Rockets but weren't sure where to start, you could do a lot worse than taking the plunge here. You'll come face to face with one of the ninth art's absolute maestros at the height of his powers, and you may well fall into an artistic love affair that, like the relationships Jaime deals with here, will last for decades.
* Three, if you include the 2006 serial from the New York Times also collected here.
Jaime Hernandez (W/A) • Fantagraphics, $19.99
– Tom Murphy
Giants #1
In Monsters #1, the brothers Valderrama unleash a torrent of giant kaiju that are the new masters of planet Earth. Humanity isn't staging a Pacific Rim-like comeback, either. We've already lost.
Driven underground, humans join gangs to share resources and fight for the scraps that are left. This is the only way of life young orphans Zedo and Gogi know, and their bid to join the Bloodwolves gang has just gone terribly wrong. They can die right now or go topside, find some valuable ambernoir, and bring it back. Good luck, boys!
Writer Carlos Valderramas Earth is a beautiful disaster where daily survival is the only order of business. Miguel Valderamma's art shows off some manga influences that will be very useful as the action heats up on a cold post-cataclysmic planet.
Carlos Valderrama (W), Miguel Valderrama (A) • Dark Horse Comics, $3.99
– Karen O'Brien
The Wicked + The Divine Christmas Annual #1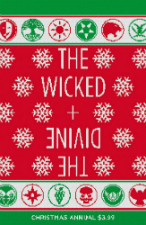 Chock full as it is with double-crossing, deicide, and death, The Wicked + The Divine doesn't have the expected makings of cockle-warming festive fun. Unless maybe you're the sort who prefers 'Christmas Card from a Hooker in Minneapolis' to carols and The Waitresses. Still, playing against type, creators Jamie McKelvie and Kieron Gillen have assembled a veritable stocking-full of guest artists for the first seasonal annual starring their unhinged, hormone-fuelled teen pop gods in happier times.
Winding back the clock to when fame was in its first blush and their impending mortality wasn't breathing down their neck, The Wicked + The Divine Christmas Annual is a collection of stories about "the gods' early funtimes," according to the solicit. I'll believe that when I see it. At least if anything bad does happen, it'll look really good, with a line-up including Kris Anka (who provides a steamy variant cover), Carla Speed McNeil, Rachael Stott, Emma Vieceli, and Blue Monday creator Chynna Clugston Flores.
Kieron Gillen (W), Kris Anka, Chynna Clugston Flores, Carla Speed McNeil, Rachael Stott, Emma Vieceli (A), Matt Wilson (C), Jamie McKelvie (CA), Kris Anka (Variant CA) • Image Comics, $3.99
– Tom Baker
Rumble Vol. 2 #1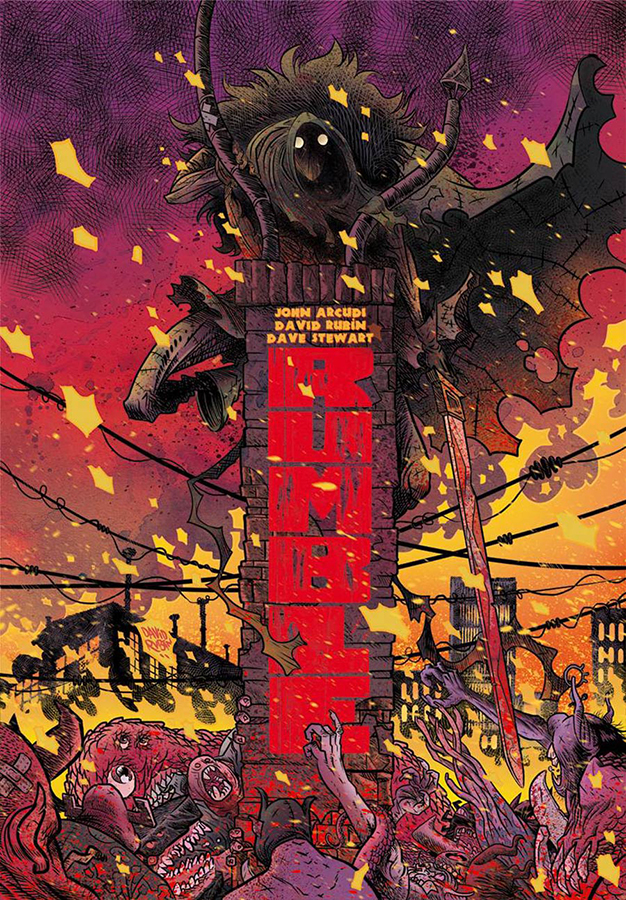 The scarecrow with a sword is back! The perfect jumping on point for new readers and a welcome return for fans of the first series.
Writer John Arcudi and colorist Dave Stewart welcome on board new artist David Rubin, who picks up where previous artist James Harren left off without missing a beat, giving the book a very similar feel despite the obvious differences in style.
Dig deeper into the mystery of Rathraq's origin as his friends Bobby, Timah and Del lament his passing. Meanwhile, in the shadows, the stranger creatures known as Esu plan his resurrection!
John Arcudi (W), David Rubin (A), Dave Stewart (C) • Image Comics, $3.99
– Tyler Chin-Tanner
The Unbeatable Squirrel Girl #27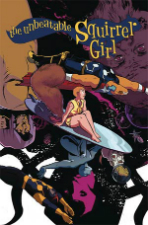 The last time Erica Henderson and Ryan North blasted Doreen Green into space, she managed to defeat Galactus, Eater of Worlds! Or rather, she convinced the big purple cosmic foodie that chowing down on an empty planet full of nuts might be more nutritious/delicious than an innocent world inhabited by chewy, sentient beings. It was great. So expectations are high for Squirrel Girl's second battle beyond the stars in the first part of new storyline 'THE FORBIDDEN PLA-NUT'.
With best friend/college roommate/fan artist par excellence Nancy and squirrel familiar Tippy Toe transported to a strange alien world, Squirrel Girl has to enlist the help of some of Marvel's more cosmically-inclined heroes to transport her there ASAFP. Knocking on the door of the Sorcerer Supreme's uptown brownstone, she's surprised to find the man answering the door is not Stephen Strange but…Loki, the trickster god?! Comics is crazy. Expect further crossover fun, with Ego the Living Planet, Beta Ray Bill and a certain silver surfing guy on the cover…
Ryan North (W), Erica Henderson (A), Rico Renzi (C), Travis Lanham (L) • Marvel Comics, $3.99
– Tom Baker
2000 AD Prog #2061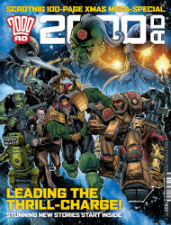 Comics Christmas wouldn't be Comics Christmas without the end-of-year 2000 AD special issue and this year's mammoth-sized edition is full of some of the Galaxy's Greatest Comic's most memorable characters and creators.
Aside from the Milligan/Dayglo Bad Company, Mills/Langley ABC Warriors, Edginton/Culbard Brass Sun and Mills/Goddard Savage we can also expect to see a notable blast-from-the-past in Kek-W and Kendall's The Fall of Deadworld, obligatory Dredd and a festive adventure for Ace Trucking Co.
And for long-term fans there's the promise of discovering whatever happened to the long-lost Starlord. A Big E revival cannot be far behind…
Anthology –Various creators • Rebellion, £4.99
– Andy Oliver
Judas #1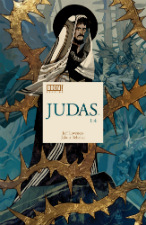 Boom are keen to pitch their new supernatural four-parter Judas to fans of Preacher and The Goddamned, but this opening issue offers a more controlled mix of the sacred and the profane. It uses the afterlife of the hellbound apostle to look at questions of faith and doubt, free will and predestination and the gap between god and man.
The story follows history's most notorious betrayer as he makes his way from the end of a rope into the underworld. As Judas ponders the events that defined his life and led him to his dismal fate, he wrestles with the age-old question of why a benevolent creator would let bad things happen, and begins to wonder angrily just who betrayed who.
Jakub Rebelka's stylised artwork is clean and precise, delivering on the story's promise of infernal horror and offering up the potential for more, as a major new player makes their entrance on the final page. The artist's original, restrained depiction of hell highlights this book's measured and thoughtful approach. Worth a look if you like your bible tales with a bit more 'brrrrr'.
Jeff Loveness (W), Jakub Rebelka (A), Colin Bell (L) • BOOM! Studios, $3.99
– Tom Murphy
Mister Miracle #5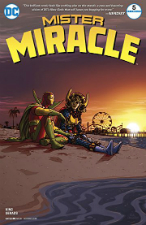 Sentenced to death by the new Highfather, Mister Miracle goes on one final date with his wife Big Barda before his return to New Genesis and impending execution. Have will the couple spend their last night together? And will this prove to be the ultimate death-trap for the master escape artist?
There's not a lot in the way of super-hero books on our nominations shortlists for this year's Broken Frontier Awards (have you voted yet?) but Tom King and Mitch Gerads' outstanding take on Scott Free and the Fourth World saga is one of the few shining beacons in a sea of contemporary super-hero mediocrity. Unafraid to experiment, and to make the reader work a little harder in their interactions with page and narrative, it's one of the true gems of serial comics this year. A book that feels like it came from DC's great mid-'80s creative renaissance and one that lives up to all the hype surrounding it.
Tom King (W), Mitch Gerads (A) • DC Comics, $3.99
– Andy Oliver