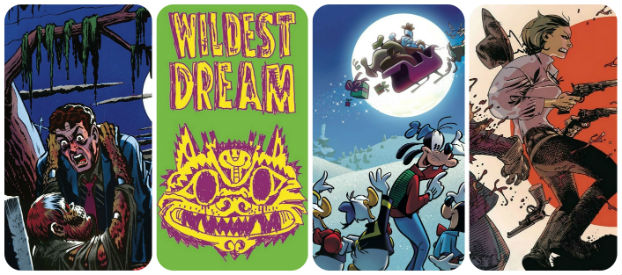 It's nearly Wednesday, and you know what that means: a fresh load of comics and graphic novels! With so many publications hitting your local comics store, comics event or digital storefront, the BF team are here to lead you through the woods with our weekly staff picks. Satisfaction guaranteed!
Comic of the Week
Choke Gasp!: The Best of 75 Years of EC Comics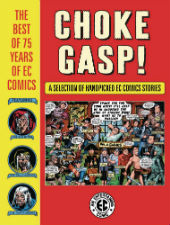 Celebrating the 75th anniversary of a publisher who will forever be remembered for both their hugely influential place in comics history and for the controversies that eventually engulfed them, Choke Gasp!: The Best of 75 Years of EC Comics collects some of the classic stories from across EC's line-up of 1950s crime, suspense, sci-fi, war and, of course, horror anthologies.
Featuring the talents of Al Feldstein, Harvey Kurtzman, John Severin, Wally Wood, Graham Ingels, Bernie Krigstein, Wally Wood and company, this is both an excellent starting point for those unversed in EC lore and an opportunity to revisit old favourites for the aficionados. As we've been saying a lot here in our Staff Picks over the last few weeks, whack this one on your Christmas gift list for that comics-loving pal this festive season.
Al Feldstein, Harvey Kurtzman, John Severin, Wally Wood, Graham Ingels, Bernie Krigstein, Wally Wood, Jack Davis. Johnny Craig et al • Dark Horse Comics, $49.99
– Andy Oliver
Mickey and Donald Christmas Parade 2019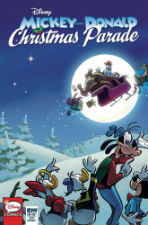 As we enter December the festive special issues begin to get more plentiful. Many BF readers may remember favourite Christmas issues that they picked up in their childhoods and this week there's an opportunity for younger readers to form their own holiday comics memories with this year's Disney anthology Mickey and Donald Christmas Parade from IDW Publishing.
The publisher have been putting out these bumper-sized editions for the last few years and they echo the approach of their monthly range of Disney books in largely presenting translated European stories and bringing them to a US audience for the very first time. Eight seasonal stories are presented here for readers young and old to get into the Yuletide spirit as the end of the year approaches.
Vito Stabile (W), Marco Mazzarello (A) • IDW Publishing, $6.99
– Andy Oliver
Thor: The Worthy #1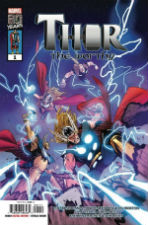 Three all-star creative teams offer up three transfixing tales of worthy hammer-wielders in Thor: The Worthy #1. A troll interrupts Beta Ray Bill and Lady Sif enjoying a quiet stroll through Asgard, as Walter Simonson's team crafted an action-packed story that managed to include a morality lesson. Tom Defalco resurrects Eric Masterson (Thunder Strike) to duke it out with the Grey Gargoyle and includes the Code Blue team. And Kathryn Immonen takes on the Jane Foster-era Thor as she receives a lesson in worthiness from Lady Sif herself. (Kathryn Immonen should pen a Lady Sif mini-series immediately.)
With retro artwork and colors, this book is the comic you wish you had in the 1980s. Thor fans won't be disappointed and should grab this book before it sells out.
Walter Simonson, Tom Defalco, Ron Ferenz, Kathryn Immonen (W), Mike Hawthorne, Sal Buscema, Keith Williams, Tom Reilly (A) • Marvel Comics, $4.99
– Karen O'Brien
Kill Whitey Donovan #1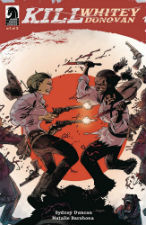 Marking the comics debut of fantasy writer Sydney Duncan (The Revelation Saga), and in collaboration with artist Natalie Barahona, Kill Whitey Donovan is a vengeance-fuelled return to that once prevalent but now seldom seen genre in comics – the Western series.
In the wake of her sister's suicide Anna Hoyt seeks revenge on the man she holds responsible – the titular Jim "Whitey" Donovan. The well-to-do Anna is joined on this quest for justice by slave Hattie Virgil as they begin the journey from Alabama to Atlanta that will change the lives of both women forever…
Sydney Duncan (W), Natalie Barahona (A/C), Jason Pearson (CA) • Dark Horse Comics, $3.99
– Andy Oliver
Wildest Dream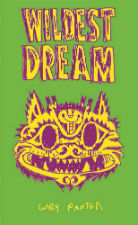 Given we're promised 174 pages of previously unpublished artwork, this sketchbook collection of the work of seminal underground comix figure Gary Panter is undoubtedly one of the key releases of this week.
Containing material from the last 45 years from between 1974 and 2019, we're told that Wildest Dream's "intense purple and neon color scheme references beatnik mimeo zines, New Wave style, and No Wave attitude." But don't delay in picking this up because it's a limited edition run from Floating World Comics and if you're an alt comics enthusiast you'll want to snap this up while it's still in print.
Gary Panter (A) • Floating World Comics, $24.95
– Andy Oliver