It's almost Wednesday, and you know what that means: a fresh load of comics and graphic novels! With so many publications hitting your local comics store or digital storefront, the BF staff is here to lead you through the woods with our weekly staff picks. Satisfaction guaranteed.
Comic of the Week
Doctors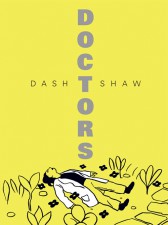 Touted by Fantagraphics as Dash Shaw's "most taut book to date", Doctors looks to be stripped down in both size and style from last year's extravagant 340-pager, New School. While it highlights the artist's emphatic line again, it appears to have stepped back a little from the kaleidoscopic swirl of overlaid colours and textures that defined much of his earlier work (although the use of flat-coloured backgrounds keeps things from being too black and white).
The publisher's blurb offers a "part science-fiction thriller, part family drama, part morality play for the 21st century", indicating how little genre boundaries mean to a restless experimenter like Shaw. Asking deep questions about big issues of life, death and identity, the story revolves around the Charon, a medical device that allows people to enter the memory of the recently deceased and bring them back to life – at a terrible price.
Doctors is another thought-provoking and much talked-about work from a substantial talent already described by Chris Ware as "something of a genius".
Dash Shaw (W/A) • Fantagraphics, $16.99
– Tom Murphy
Butterfly #1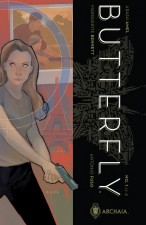 Family values and the spy business have more in common than you might think – especially if you're deep cover agent Rebecca Faulkner. Once the protégé of her estranged father, the woman now known as Butterfly must reunite with the man responsible for setting the course of her life and career if she's to survive a conspiracy aimed at framing her for an unsanctioned assassination.
The brainchild of screenwriter Arash Amel (Grace of Monaco) and fully realized by popular comics scribe Marguerite Bennett (Batgirl) and the talented Antonio Fuso (The Girl Who Played With Fire), Butterfly delves into the nitty-gritty of spycraft with a realism and attention to detail rarely seen in comics.
Fans of Black Widow may be disappointed by the lack of black leather, super-spy gadgets, and overt sexuality but if you crave hardcore suspense and the wonderfully complex and grounded portrayal of a female spy, then this is the book for you.
Read our review of Butterfly #1
Arash Amel, Marguerite Bennett (W), Antonion Fuso (A) • BOOM! Studios, $3.99
– Jason Wilkins
C.O.W.L #5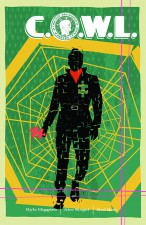 Fun fact: series co-creators Kyle Higgins and Alec Siegel graduated on a thesis film titled The League about a superhero labor union… set in 1960's Chicago. Higgins's film might as well have been titled C.O.W.L. It shows that sometimes seeds get planted way back and you get to reap the benefits later on in your career.
C.O.W.L. is superhero realism at its finest, with the men and women in tights having to deal with politics, media, public opinion at a much deeper level than you find in your average superhero fare. Things come to a head this week as veteran C.O.W.L.-ers Geoffrey Warner and John Pierce go toe-to-toe and the series takes a major turn as its first arc closes.
If you're reading many of the newer hit Image series, you'll no doubt agree that many of these books have a very unique visual look to the extent that it would seem impossible to interchange artists — something the Big Two frequently do. Add Rod Reis to the list of artists doing their very own thing when given the chance to spread their wings and carve out their own identities. The man's work — sketchy art with lots of color washes thrown in the mix — is a huge part of this book's success.
Kyle Higgins & Alec Siegel (W), Rod Reis (A) • Image Comics, $3.50
– Frederik Hautain
Sally Heathcote: Suffragette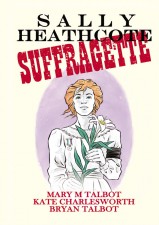 There are few groups of people in British history as heroic as the female "suffragettes" of the late 19th/early 20th century, who underwent persecution, imprisonment and torture for their campaign to gain women the vote.
This fictional but meticulously researched story of a common housemaid who becomes a part of the struggle – released in the UK by prestigious literary publisher Jonathan Cape – highlights the timely theme of how an everyday person can become radicalised into a militant agent for change when faced with egregious injustice.
Having retired from a successful academic career, writer Mary Talbot has certainly hit the ground running with her entry into the world of comics. In early 2013 her first book, Dotter of Her Father's Eyes, produced in collaboration with her husband, the acclaimed British comics artist Bryan Talbot, won the biography category in one of the UK's most prestigious mainstream literary awards.
Here the pair have teamed up again, with the addition of illustrator Kate Charlesworth, to create a hard-hitting and visually stylish tale of courage that should put to shame anyone who doesn't use their vote at every opportunity they get.
Mary M Talbot (W), Bryan Talbot & Kate Charlesworth (A) • Dark Horse Comics, $19.99
– Tom Murphy
Roche Limit #1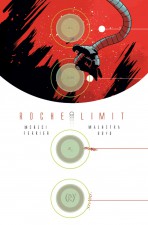 To sum up the backwater colony of Roche Limit, the failed brainchild of billionaire Langford Skargaard, I'll rely on the wit of Ben Kenobi when describing Mos Eisley to a naïve Luke Skywalker, "You will never find a more wretched hive of scum and villainy."
Located on the brink of a mostly unknown energy anomaly in space, Roche Limit is where Skargaard's dream of cosmic exploration ended and the pathless lives of its denizens have forged a melting pot of transgression and riddles. The search to find the missing Bekkah Hudson will send her well-intentioned sister into the bowels of the colony's seedy underbelly, revealing grim prospects for mankind's future.
I'm excited to see how writer Michael Moreci (Curse, Hoax Hunters, Hack/Slash) and artist Vic Malhotra (X-Files: Year Zero) are going to twist the human condition in a place Mal Reynolds wouldn't dock Serenity.
Michael Moreci (W), Vic Malhotra (A) • Image Comics, $3.50
– Karen O'Brien
Pop #2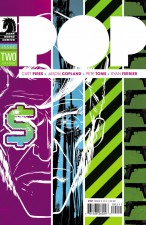 Elle was literally created and grown in a laboratory in order to be the perfect pop star; nothing more than a material product used to make the Cartel money. But when she breaks free of her captors and ends up in the care of Coop, a burned out comic book and record collector, their lives and their destiny are forever altered.
Coop does what he can to protect Elle, but the Cartel isn't so eager to just let their "property" go. They send their specialized extractions agents, a pair know for their extremely effective methods of interrogation. Coop begins to realize just how much danger the two of them are just how deep he's going to have to dig inside himself in order to keep them safe.
Don't miss one of the best books Dark Horse has out now.
Curt Pires (W), Jason Copland (A) • Dark Horse Comics, $3.99
– Tyler Chin-Tanner