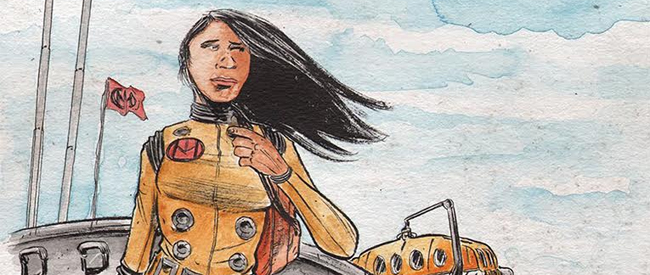 In Dept H, his eagerly awaited follow-up to Mind MGMT, Matt Kindt leads the reader into what promises to be a meticulously designed mystery, with the addition of lush watercolours by his artist wife Sharlene Kindt giving the work another dimension.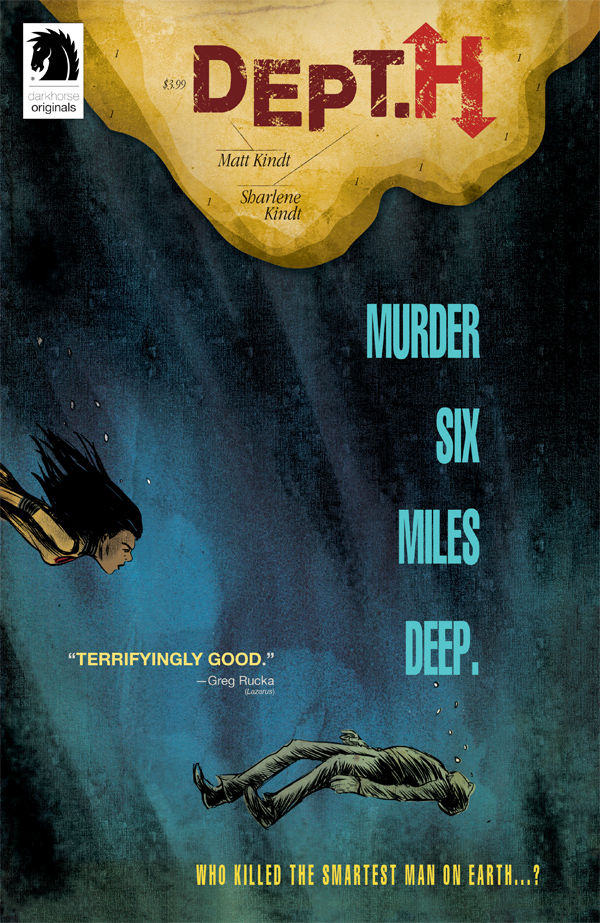 Matt Kindt manages to keep a lot of fingers in a lot of comicky pies, but for many readers his creator-owned work as writer and artist is at the heart of what he does.
His 36-issue epic Mind MGMT was one of the comics achievements of the decade so far, and as soon as it was over we were looking forward to Dept H – a very different book, but one that highlights a creator running in top gear.
Ostensibly Dept H looks like a much simpler scenario. Far from the tricky psychic shenanigans of Mind MGMT, it's essentially a locked-room mystery. Mia Hardi is an investigator sent to solve a suspected act of sabotage and murder at an underwater research centre many miles beneath the surface – a depth at which Mia feels "All of humanity pressing down on me".
And apart from the social and scientific ramifications of what's going on down there, the apparent crime also has a deeply personal resonance for Mia…
But while the set-up might sound like a routine whodunnit, there are few creators working in comics today who are more adept at putting together a mystery than Matt Kindt. And with that in mind, you soon find yourself scouring every detail of every page for clues.
A few pages in, Mia's throwaway comment that an institution has been "overseeing my father's work for over a century" sets a few alarm bells ringing. Sure, it could be just an editorial oversight. However, we've all read enough of Kindt's work to know that things are rarely there by accident.
Later, her father's business partner Blake Mortimer (a BD reference in itself) tries to deter her from her investigation by attempting to recruit her for his nascent space programme. But is he trying to protect her or to keep her from uncovering something?
Once Mia gets to the base, it turns out that she's got a bit of previous with at least two of the crew, all of whom are equally keen to keep her away from the crime scene.
And when she finally makes her examination, Kindt just can't help but tantalise us with the idea that the key to the situation is hidden in plain sight. We're told that her suit is bristling with cameras, and we're given a page of captured images laden with information.
While the book clearly carries Matt Kindt's creative DNA of meticulous detail, sharp characterisation and loose, expressive artwork, there is something clearly different about it from the first page. That is the recruitment of his artist wife, Sharlene Kindt, as colourist.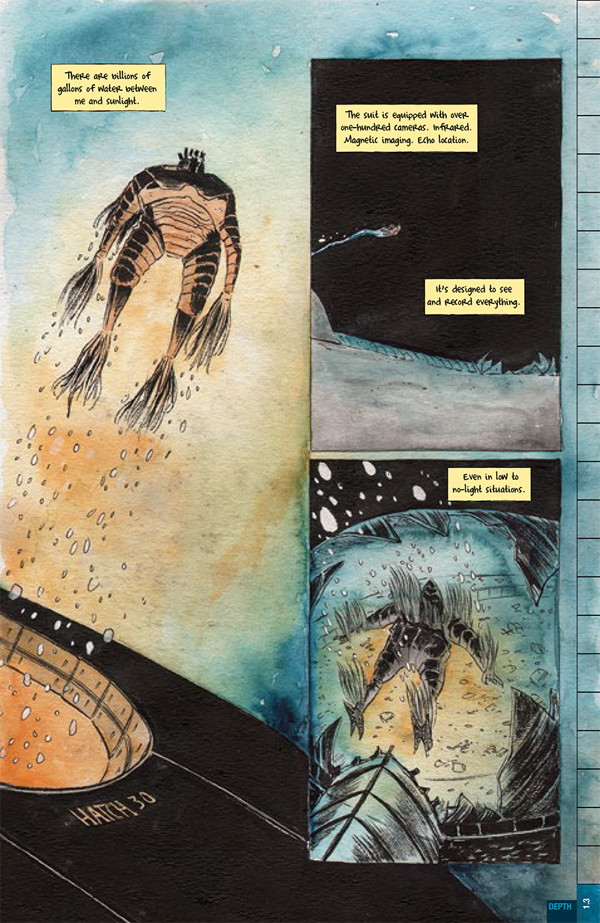 Kindt has always been a sensitive colourist of his own work, but Sharlene's deft watercolours give the pages an extra energy. Creating a whole new layer of visual pleasure, they offer an antidote to the generic digital gleam of most mainstream comics. Like the work of Dustin Nguyen in Descender, they go slightly against the grain of how you'd expect a book like this to look, giving the pages a tactile quality that shows the hand of an artist.
And as in Mind MGMT, the design of the book has an attention to detail that gives us foxed, damp-affected paper, with mould spores peeping through the artwork and reinforcing the atmosphere of suffocating humidity.
At first glance Dept H is a much more immediately straightforward story than Mind MGMT. However, it gives us a taste of what we'd expect from Matt Kindt, with a new creative edge provided by the alluring watercolours. When the series was announced Kindt talked about various elements that haven't appeared yet, so there should be plenty more surprises to come.
Matt Kindt (W/A), Sharlene Kindt (C) • Dark Horse Comics $3.99