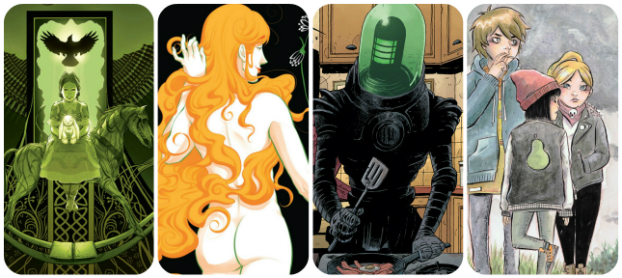 It's nearly Wednesday, and you know what that means: a fresh load of comics and graphic novels! With so many publications hitting your local comics store or digital storefront, the BF staff is here to lead you through the woods with our weekly staff picks. Satisfaction guaranteed!
Comic of the Week
For the Love of God, Marie!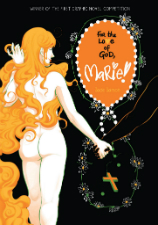 In 2014 I had the privilege of being asked to be a judge for the First Graphic Novel Competition, a contest open to creators who have not previously had a full-length graphic work published. Run by publisher Myriad Editions, the previous winner of the competition had been Gareth Brookes for his critically acclaimed darkly comedic The Black Project.
From an incredibly strong shortlist it was Jade Sarson – an artist we at Broken Frontier were first telling you was destined for great things way back in 2012 – who emerged as the winner for For the Love of God, Marie!. The book follows the non-conformist free spirit Marie, from her Catholic sixth form college days in the 1960s through to the 1990s, and explores her very individual approach to life, love and making people happy.
A sex comedy unlike any you've experienced before, Sarson's free-flowing visuals in For the Love of God, Marie! also demonstrate her incredibly confident understanding of the storytelling potential of the form. Myriad's exemplary run of showcasing exciting new graphic novelists continues apace.
Jade Sarson (W/A) • Myriad Editions, £16.99
– Andy Oliver
Black Hammer #1

Well worth the wait, this first issue from all-star collaborators Jeff Lemire (Descender, Plutona) and Dean Ormston (Bodies) almost didn't make it to the stands at all after Ormston suffered a sudden cerebral hemorrhage last year. Thankfully, now fully recovered, Ormston delivers a disquieting exploration of the archetypal superhero with the popular and prolific Lemire, whose creative interests seem to hold no bounds.
Introducing a bizarre cast of heroes inspired by comics' Golden Age, Lemire and Ormston infuse their superhero mystery with a simmering layer of tension, as Abraham Slam and his now less-than-super friends struggle to keep it together on the down-low as normal folk.
Delightfully disturbing, Black Hammer is less about deconstructing the superhero myth than evoking an intense reaction of dislocation in the reader and freshening up already deeply-mined subject matter.
Jeff Lemire (W), Dean Ormston (A) • Dark Horse Comics, $3.99 USD
– Jason Wilkins
Ready for Pop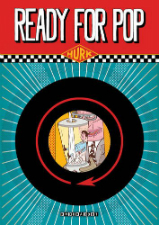 The madcap narratives of Lord Hurk have featured on a number of occasions through the years in our 'Small Pressganged' column here at BF; whether that be for his shorter-form anthology contributions in places like The Comix Reader or his own projects like the splendidly ridiculous surreal crime collection Bazoik.
Hurk's work combines inventive manipulation of the structure of the comics page with a truly offbeat sense of humour, and a longer-form offering from this small press mainstay is eagerly anticipated. Set in the '60s, Ready for Pop follows the misadventures of Detective Chief Inspector Ladyshoe and his Scotland Yard team as they investigate who used a shrink ray on pop sensation Vic Vox and seek to reverse his predicament before his headlining turn on Britain's top music show.
However bizarre that premise may sound you can bet the finished product will be even odder. If you've never been introduced to the singular comics vision of Lord Hurk before then be prepared to be dazzled by the medium's great master of the gloriously absurd.
Lord Hurk (W/A) • Knockabout Comics £10.99
– Andy Oliver
Plutona TPB/HC

Five suburban kids discover the dead body of the world's greatest superhero, Plutona, in the woods and are forced to work together in order to make decisions that will affect the rest of their lives.
Created by Emi Lenox (Emitown), who enlisted the help of co-writer Jeff Lemire (Descender, Sweet Tooth) and colorist Jordie Bellaire (Pretty Deadly, Vision), this modern coming-of-age story riffs off Stand By Me (the film based on Stephen King's short story 'The Body') while delivering a down-to-earth tale of friendship and adolescence all set in a world with superheroes.
The movie option rights were recently acquired by Waypoint Enterntainment (Mark Millar's American Jesus and Supercrooks), who will produce the project with Addictive Pictures under their "first-look" deal.
The complete Plutona miniseries is available in both softcover and in a special limited edition hardcover.
Emi Lenox & Jeff Lemire (W) Emi Lenox (A) Jordie Bellaire (C) • Image Comics $16.99/$39.99
– Tyler Chin-Tanner
Mister X: The Modern Age Limited Edition HC

Canadian writer and illustrator Dean Motter has made his publishing home Dark Horse Comics for the last few years. Condemned, Eviction, and Razed were all produced by the Oregon publisher, usually first appearing in the pages of their iconic anthology title Dark Horse Comics Presents.
Collected together for the first time and limited to a paltry 500 copy-print run, this gorgeous hardcover tome comes signed by Motter himself. Although it comes with a hefty price tag, there's no denying Mister X's contribution to all facets of the graphic narrative – from design to execution – or Motter's status as one of the medium's most respected grandmasters.
I can't think of too many creators whose work deserves or benefits from the same treatment. So if you have the extra cash and a hankering to revisit the stunning work of one of retro-futurism's most accomplished pioneers then this is the collection for you.
Dean Motter (W/A) • Dark Horse Comics, $100.00 
– Jason Wilkins
Geis: A Matter of Life and Death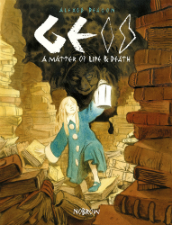 The first part of Alexis Deacon's trilogy from Nobrow Press gets its official US release this week having already received great critical acclaim in the UK. Deacon was the winner of the 2014 Jonathan Cape/Observer/Comica Short Story Prize and his beautifully rendered and hauntingly dream-like visuals get their first full-length graphic novel outing in these pages.
With her dying words, the chief matriarch orders a contest to find her successor. Fifty candidates will be pitted against each other and only the most worthy of them all will take the ultimate prize. A sprawling fantasy with a cross-genre appeal, Geis is an epic piece of world-building that looks set to be one of the great GN debuts of 2016.
Alexis Deacon (W/A) • Nobrow Press, $18.95
– Andy Oliver
The Hunt #1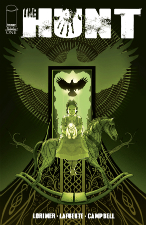 On Terror Twilight, the final album from the American indie rock band Pavement, there's a song called "Folk Jam" wherein front-man Stephen Malkmus sings the following lyric snippet: "Irish folk tales scare the s%$# out of me…" I've listened to that album/song hundreds of times since its release in 1999, and that lyric has always stuck with me.
Examining the preview material for issue #1 of The Hunt, the new Image Comics mini-series by writer-artist Colin Lorimer and colourist Joana Lafuente, the aforementioned lyric definitely comes to mind. That's because Lorimer  has used Irish folklore as a source from which to create a nightmarish modern-day supernatural horror story that promises to be quite frightening indeed. The story centers on Orla Roche, a teenage girl who has a predilection for believing in fairies, ghosts, etc. She witnesses a demon (from Irish mythology) steal her father's spirit during his death, and then has to fight for her survival as the full extent of the demonic world becomes apparent.
With incredible art by Colin Lorimer, great colors by LaFuente, and solid dialogue by Lorimer – written in a realistic Irish vernacular – this series looks good. I recommend you hunt this one down.
Colin Lorimer (W/A), Joana Lafuente (C), Jim Campbell (L) • Image Comics, $3.99 
– Matthew Box
Groo: Fray of the Gods #1
Your favorite Eisner Award-winning barbarian wanderer begins a hilarious new 12-issue limited series in Groo: Fray of the Gods #1. And although the Gods failed to bless Groo with brains, his abilities in battle more than make up for it—usually. As a conflict among the Gods develops over the spirit and future of mankind, the unwitting Groo becomes a pawn in their war. Heaven help us all if the future of humanity depends on Groo!
Brought to life by the same creative All-Stars as always, cartoonist extraordinaire Sergio Aragones (MAD magazine) teams up with writer Mark Evanier (Garfield and Friends, Kirby: King of Comics) to set Groo on his next perilous path. Drawn by Aragones, colored by versatile Groo veteran Tom Luth, and lettered by none other than Stan Sakai (Usagi Yojimbo), each page is a master class in storytelling via sequential art.
If you've never checked out a Groo comic before, start now! This veteran creative team is one of the finest collaborations in comics history, and you'll enjoy every panel. When you're done laughing—and if you're paying attention—you'll also learn a thing or two about how to plot, pace, and produce a great comic. Don't be surprised when you see this one on next year's Eisner Award ballot.
Sergio Aragones and Mark Evanier (W), Sergio Aragones (A) • Dark Horse Comics, $3.99
-Karen O'Brien
Snotgirl #1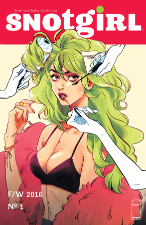 On the surface Lottie Person has it all – she's the fashion blogger with a phenomenal following; an influential online presence that people listen to. But outside of the virtual world Lottie is also prone to a host of allergies that leave her suffering from a mass of mucus-oozing insecurities. When Caroline – a new girl on the circuit – comes on the scene, Lottie's life changes. But will potential friendship turn to personal disaster for our hypersensitive heroine?
Co-created and co-plotted by writer Bryan Lee O'Malley and artist Leslie Hung, Snotgirl promises a darkly comedic look at the world of social media and the competitive arena of the lifestyle blogger. It's also the first venture into monthly comics from both the Scott Pilgrim creator and breakout talent Hung. That alone is more than reason enough to check out this book on Wednesday…
Bryan Lee O'Malley (W), Leslie Hung (A) • Image Comics, $2.99
– Andy Oliver
Ready for Pop by Lord Hurk launches this Friday July 22nd at London's Gosh! Comics. Find out more here. Hurk is also a guest at the next Gosh/Broken Frontier Drink and Draw on Tuesday July 26th. Details here.