It's almost Wednesday, and you know what that means: a fresh load of comics and graphic novels! With so many publications hitting your local comics store or digital storefront, the BF staff is here to lead you through the woods with our weekly staff picks. Satisfaction guaranteed.
Comic of the Week
The Sculptor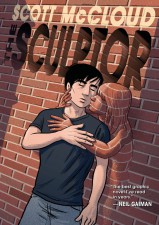 The man who taught us all about Understanding Comics, Reinventing Comics and even about Making Comics, finally brings us his first, self-contained graphic novel. At over 500 pages, its size isn't the only thing that'll make this book hard to miss. This story of love, desire and the willingness to sacrifice everything for the sake of one's art is bound to be one of the most talked about and beloved graphic novels of
David Smith is giving his life for his art—literally. Thanks to a deal with Death, the young sculptor gets his childhood wish: to sculpt anything he can imagine with his bare hands. But now that he only has 200 days to live, deciding what to create is harder than he thought, and discovering the love of his life at the 11th hour isn't making it any easier!
Scott McCloud (W/A) • First Second, $29.99
– Tyler Chin-Tanner
Nameless #1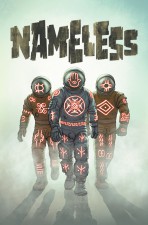 In colors, you can't go darker than 100% black. Mix it with another 100% black, and it'll look just the same. In Grant Morrison and Chris Burnham's Nameless, however, ultimate blackness will reach a whole new level.
The two have remained tight-lipped, sharing almost zero details about their story ever since it was announced at the 2014 Image Expo. Rest assured that what you'll see will be so much darker than what they served on Batman Incorporated.
Reteaming for the first time since their acclaimed DC series ended, Morrison and Burnham are hell-bent on serving you the darkest of comic book horrors ever imagined. Think zombies, merciless killers, gory monsters and Lovecraftian lore all thrown into one big pot – once you take off the lid, look inside and breathe in the fumes, your soul will never be sane again.
Grant Morrison (W), Chris Burnham (A) • Image Comics, $2.99
– Frederik Hautain
Cluster #1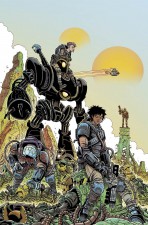 They Live, Robocop, Deathwish, Escape From New York, A Better Tomorrow etc. The eighties were a veritable feast for lovers of bad ass man action in all its glory. So why am I looking forward to Cluster #1, a violent sci-fi Dirty Dozen type of book? Because Ed Brisson understands the Eighties. He relishes himself in it. He buys DVDs of Robo Vampire solely for the cover, you need to show the man some respect.
But it could also be because Cluster has one of the greatest taglines ever: ' Have you ever wondered what a book starring all those lowlifes in the gutters of sci-fi havens like Mos Eisley would look like?'
Illustrated by Damian Couceiro who is no stranger to alien lifeforms having drawn Planet of the Apes; the alien lowlifes serving their prison stranded on a war-torn planet are in capable hands. As the immortal Arnold Schwarzenegger said in Commando after killing a man on a plane: 'Don't disturb my friend, he's dead tired.'
Ed Brisson (W),  Damian Couceiro (A) • BOOM! Studios, $3.99
– Bart Croonenborghs

Goon: Once Upon a Hard Time #1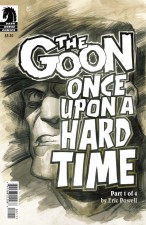 Eric Powell has spent over fifteen years chronicling the adventures of his hard-hitting, one-eyed "hero," gradually layering more emotional depth to the Goon and his varied supporting cast than would have ever seemed possible given the book's less-than-subtle horror-comedy  roots.
Once Upon a Hard Time #1 makes it easy to see why the Goon has survived over fifty issues in an era when everyone's searching for the Next Big Thing. Driven to the brink of madness by the events of Occasion of Revenge, Powell's scarred creation is on the warpath—and given that Powell has said this story arc will see an "ending" to the Goon, at least in its current form, there's an uneasy feeling in the air that no one is guaranteed to see it through.
If you're a fan of stories of men with nothing left to lose, Powell's typically expert art, or over-the-top worlds where a bloody interrogation of a spider demon is just another day on the job, grab yourself a pint and OUAHT this Wednesday. It's going to be a bumpy ride.
Eric Powell (W/A) • Dark Horse, $3.50
– Paul Mirek
Rat God #1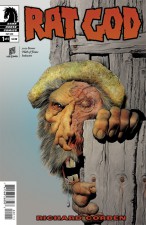 When horror comics laureate Richard Corben launches new work, it's always an event. And this self-written five-issue series from Dark Horse Comics promises an intriguing blend of Lovecraftian terror and Native American mythology.
Set in the woods around Lovecraft's fictional town of Arkham, it follows an academic, Clark Elwood, who becomes attached to Kito Hontz, a Native American woman studying at the town's Miskatonic University. When a local cult takes her back to her home town of Lame Dog, Clark follows and becomes embroiled in the horror surrounding the isolated community.
The book's disturbing cover indicates the kind of nasty stuff awaiting Elwood, and in this longer format Corben, a member of the Eisner Awards Hall of Fame, looks set to bring the chills that have fuelled his work for over four decades now.
Richard Corben (W/A) • Dark Horse Comics, $3.99
– Tom Murphy
Lady Killer #2
How does Josie Schuller balance it all!? She's got kids to take care of, a house to clean and dinner needs to be on the table before her dear husband comes home from work. Oh, and did I mention that side job as an assassin?
In this second issue, Josie goes undercover at the Kitty-Kat Lounge in order to take down her latest target. Meanwhile, the big boss man begins to increase his demands on Josie's time. On top of all that, her nosy mother-in-law is getting suspicious about all those times she needs to run out of the house for a "quick trips to the butcher."
Joëlle Jones & Jamie S. Rich (W), Joëlle Jones & Laura Allred (A) • Dark Horse, $3.50
– Tyler Chin-Tanner

Superman #38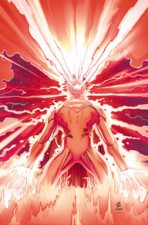 The All-Star creative team of writer Geoff Johns and artist John Romita, Jr. bring their first Superman arc to an explosive conclusion in issue #38. This extra-sized special edition debuts their new look for the Man of Steel, reveals a new power, features a mystery guest star, and finds Clark Kent telling his Super-secret to one of the book's cast.
I'm looking forward to the showdown between Superman and Ulysses. This conflict has been brewing with Ulysses going back and forth between good guy and bad, and I hope that some of the predictable elements of issue #37 are just set ups for the twists and turns that Johns usually builds into his big finishes.
Geoff Johns (W), John Romita, Jr. & Klaus Janson (A) • DC Comics, $4.99
– Karen O'Brien