It's almost Wednesday, and you know what that means: a fresh load of comics and graphic novels! With so many publications hitting your local comics store or digital storefront, BF is here to lead you through the woods. These are the books that need to be on your pull list this week.
Comic of the Week
To reheat a cliché, sci-fi romances are a bit like London buses: you wait ages, then two come along at once. Hot on the robo-heels of Image's Alex + Ada, we've now got A Boy and a Girl from Oni Press, written by Jamie S Rich (12 Reasons Why I Love Her) and illustrated by emerging talent Natalie Nourigat (whose pages I purred over last week at the Portland Comics Heaven exhibition in London).
Set in a near-future world of technological advances, this original graphic novel tells the tale of Travis and Charley, a couple who meet at a party. With only one day left before Charley has to leave town, Travis tracks her down and is determined to spend as much time with her as possible. Drawing on film influences from Before Sunrise to Blade Runner, this promises to be an intriguing look at how technology might affect even our most intimate relationships.
Jamie S Rich (W), Natalie Nourigat (A) • Oni Press, $19.99
– Tom Murphy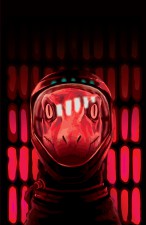 The Midas Flesh #1
Storming out of the gates of BOOM! Studios' new BOOM! Box imprint — the one earmarked for original, out of the box ideas as its name suggests — is The Midas Flesh, a miniseries concocted in the head of Ryan North, the Eisner and Harvey Award-winning scribe of Adventure Time, one of the most beloved all-ages comics currently around.
Whew, that sentence spun out of control faster than a Fukushima chain reaction! But that's exactly what happened to poor King Midas, he of Greek mythology who wished for everything he touched to turn to gold. In North's story, Midas wrecked the earth because the gold spread across the earth at rapid speed, suffocating Midas in the process as the oxygen he breathed turned into gold in his lungs too.
Fast-forward from ancient Greek mythology to the far future, where a space crew returns to (golden) Earth and stumbles upon Midas' body. Because their lives and planet are being threatened by an evil empire, they decide to use Midas' golden flesh as a weapon of mass destruction to stave off their impending doom. But can they control the incredible golden power they now hold in their hands?
Ryan North (W), Shelli Paroline & Braden Lamb (A) • BOOM! Studios, $3.99
– Frederik Hautain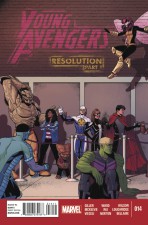 Young Avengers #14
Kieron Gillen and Jamie McKelvie were given an almost unprecedented opportunity by Marvel. There were allowed to end their series exactly when and how they wanted. It turns out that they wanted to end their Young Avengers run on New Year's Eve by releasing a superhero 2-part story of Phonogram. And that sounds awesome to me.
The first issue comes out this week and focuses on a series of related stories of the Young Avengers roster, all taking place on the last day of 2013. To tell this story, the two creators brought in a number of their friends to contribute art to the blowout. Very rarely do creators get the chance to cap a beloved story off with this kind of victory lap style celebration.
Kieron Gillen (W), Jamie McKelvie, many others (A) • Marvel Comics, $2.99
– Levi Hunt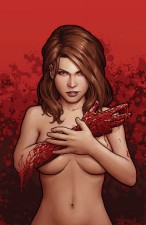 Witchblade #171
After enlisting the help of the Magdalena, Sara Pezzini recently removed the Witchblade from her life and became the sheriff of a small town. No snooze alert here, however, issue #171 is quite the opposite.
It's also the second issue of Ron Marz' long-awaited return to the series. As the longest-tenured writer in Witchblade history, he knows the characters and mythology like no other and it shows. Yet, the new story is suprisingly new reader friendly, so this is exactly the time to jump onboard this title. It's clear that Marz has big plans for the bearer of the Witchblade, whoever that may be.
Ron Marz (W), Laura Braga (P) • Image Comics/Top Cow, $ 2.99
– Karen O'Brien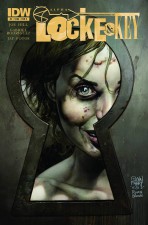 Locke & Key: Alpha #2

I write this with a tear in my eye and a smile on my face. This is the epic conclusion of the masterpiece that is Locke and Key.
Over the past few years, Joe Hill and Gabriel Rodriguez have titillated readers with the intricate and captivating story of the Locke Family and their trials and adventures as they unknowingly fought their evil friend Dodge within the mysterious Keyhouse. It's been a story full of excitement, drama, suspense, and loss.
Last issue, this beloved tale reached its climax, and friends have fallen and enemies have been defeated but there are still loose ends to tie up. Join the Locke family as they pick up the pieces and come to terms with the fact that their lives will never be the same again.
Joe Hill (W), Gabriel Rodriguez (A) • IDW Publishing, $7.99
– Jonah Lang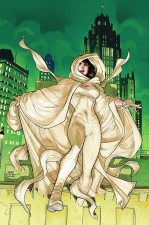 Ghost #1
Headlining her own new ongoing series, Dark Horse's dimension-hopping heroine strikes a literal deal with the devil in return for a glimpse into her mystery-shrouded origins. With demons wreaking havoc in downtown Chicago, though, Ghost just might have more on her plate than she bargained for.
Joined by co-writer Chris Sebela and artist Ryan Sook, Kelly Sue DeConnick kicks off an all-new title here, and those who have followed Ghost's past outings will definitely want to pick this one up.
Kelly Sue DeConnick, Chris Sebela (W), Ryan Sook (A) • Dark Horse, $2.99
– Evan Henry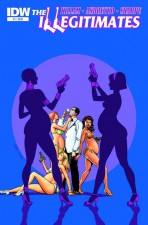 Illegitimates #1
SNL funnyman Taran Killam steps into the creator's seat with this new story from IDW. The Illegitimates follows the illegitimate kids of a James Bond-style secret agent as they reluctantly come together to face off against their father's worst enemies.
Warning! This book is not for everyone (as the jokes wouldn't resonate much if you're unfamiliar with the secret agent/super spy genre), but if you're the sort of person that has always wanted to see the ridiculous, over-the-top playboy antics of James Bond reach its hilarious on-the-nose conclusions, then this is the right place for you.
Taran Killam, Marc Andreyko (W), Kevin Sharpe, Diana Greenhalgh (A) • IDW Publishing, $3.99

– Jonah Lang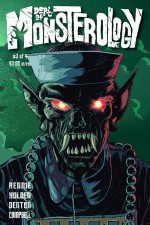 Dept. of Monsterology #3
A high-octane pace, crackling dialogue, and lush, textured artwork are the hallmarks of this penultimate issue of Renegade Arts Entertainment's first ongoing series.
As Teams Carnacki and Challenger battle disparate threats and the shady Lamont Institute stands ready to claim a bloody victory, everything rests on the shoulders of Jang's pupil Samwi. But even she may not be what she seems! Damned if they and doomed if they don't, what will the DoM do when given an ultimatum they dare not refuse?
Gordon Rennie (W), P.J. Holden (A) • Renegade Arts Entertainment, $3.99
– Jason Wilkins