Jonathan Luna and co-writer Sarah Vaughn tread familiar territory with refreshing style in Alex + Ada.
Alex is depressed. Having recently (seven months ago, that is) broken up with his longtime girlfriend, the twenty-something office worker is, to put it mildly, a bit mopey. Tended to by the autonomous household appliances with which he is mentally linked, Alex has every excuse in the world to feel nothing but pity for himself. As it turns out, though, Alex's birthday is coming up, and a few people aren't content to let him wallow in his feelings of misfortune.
First among those people is Alex's own grandmother, who recently spiced up her love life with the purchase of a Tanaka XS model companion android. Though Alex shows little interest in the idea, his grandmother doesn't take no for an answer, and when Alex returns home from what isn't exactly a rip-roaring surprise birthday party, he finds a package containing Ada, his very own XS companion.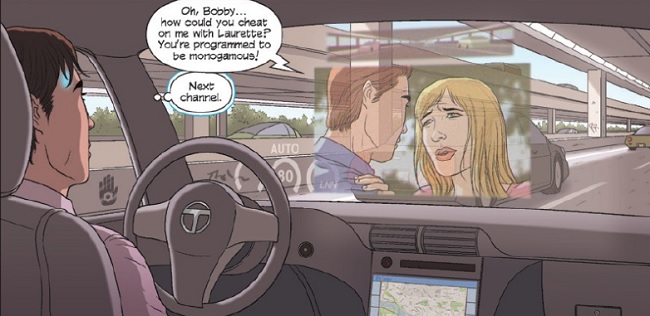 Jonathan Luna's art, as fans of his past work already know, is stark and minimalist, mirroring the sleek, streamlined look of the technology in the book. This thorough melding of artistic style with the world of the story itself is a big part of what helps Alex + Ada stand out from otherwise similar stories, giving the book a coherent, well-rounded feel.
If Alex + Ada occasionally stumbles in the area of pacing, it's easy to forgive those shortcomings by virtue of Luna's illustrations alone. A nine-panel page is spent showing Alex's appliances brewing and delivering his morning cup of coffee, where the point probably could have been gotten across just as well in half the space. That happens a few times in this first issue, but it isn't a major problem, and it's sometimes not all that unpleasant to see more, rather than less, of Luna's beautiful art.
While this first issue sometimes feels like more of a prologue to the real story of Alex + Ada, it is quite a good prologue, and there are more than a few seeds laid for what will certainly become larger plot points later on. For instance, California-based tech manufacturer Nexaware has recently shuttered after a massacre at one of its factories, led by an unexpectedly sentient A.I. program then under development. Nexaware's closure made way for XS manufacturer Prime Inc. to gain in market share, but it's hard to see a full-fledged machine rebellion's significance to the story ending there.
Alex + Ada, even if it is slow in a few places and doesn't quite kick the story into high gear straight away, is definitely worth checking out. Fans of Jonathan Luna's past work will find everything they've always loved about his visual style here, along with a big helping of new takes on old concepts. This first issue is a promising start, so now is the time to jump on board.
Sarah Vaughn (W), Jonathan Luna (W, A) • Image Comics, $3.99, November 6, 2013