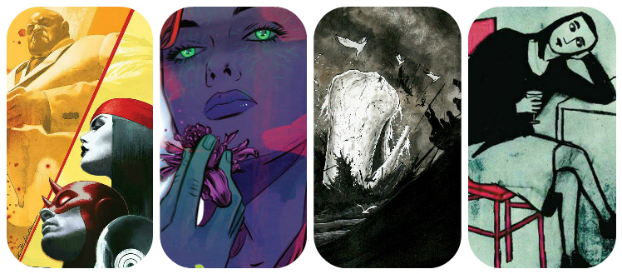 It's nearly Wednesday, and you know what that means: a fresh load of comics and graphic novels! With so many publications hitting your local comics store or digital storefront, the BF staff is here to lead you through the woods with our weekly staff picks. Satisfaction guaranteed!
Comic of the Week
Black History in Its Own Words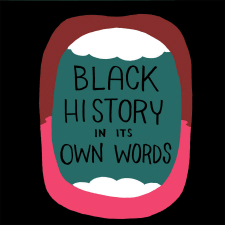 Celebrate Black History Month with the words and images of those we've come to honor. Cartoonist Ronald Wimberly (Prince of Cats) uses a limited palette to illustrate graphic portraits of notable black luminaries and pairs them with their most memorable quotes.
This 8"x8" hardcover collection depicts such famous figures as Angela Davis, Jean-Michel Basquiat, Kanye West, Zadie Smith, Ice Cube, Dave Chappelle, James Baldwin, Spike Lee, amongst others. The book compiles illustrations originally published on The Nib alongside all-new work.
Ronald Wimberly (W/A) • Image Comics, $16.99
– Tyler Chin-Tanner

Pretending is Lying
The first English language offering from respected Belgian creator Dominique Goblet promises a fractured graphic memoir of linear jumps and presentational transitions. An exploration of the core interactions in her life, it focuses on her relationship with her partner, parents and daughter.
Goblet is a hugely respected figure on the European graphic novel scene and Pretending is Lying represents an unmissable opportunity for a whole new audience of readers to discover her experimental comics style. The book is translated by Sophie Yanow and you can see a preview over at The Comics Journal here.
Dominique Goblet (W/A) • New York Review Comics, $24.95
– Andy Oliver
Moby Dick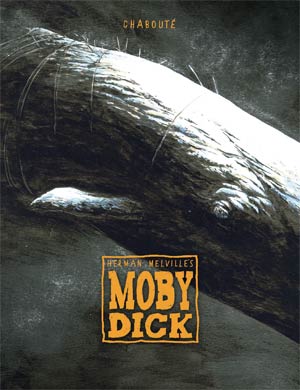 More than 160 years after its original publication, Melville's original tale of metaphysical vengeance remains as potent as ever. Given the book's emphasis on the finite nature of individual perception, it's fitting that the novel has continued to be consistently critiqued, alluded to, and reconsidered in recent decades—sometimes more playfully than others (remember Wrath of Khan?).
Acclaimed cartoonist Christophe Chabouté turns his keen eye on Melville's classic in this faithful adaptation. Chabouté's finely rendered pen-and-ink drawings ably convey the mania and pathos of the original text—and much of the humor, as well. This handsome translation from Dark Horse is an excellent opportunity to revisit a classic that continues to reveal new depths.
Christophe Chabouté (W/A) • Dark Horse, $24.99
– Paul Mirek
Kingpin #1
Well, it seems Doctor Doom isn't the only Marvel villain trying to turn over a new leaf, these days. In his latest ongoing series, from the desks of rising star writer Matthew Rosenberg (4 Kids Walk Into A Bank) and talented stylist Ben Torres (Big Bang Comics), Wilson Fisk, aka the notorious Kingpin of Crime, returns to Manhattan as its new self-proclaimed savior.
Dedicated to using the skills he learned as the ultimate career criminal to make his city a better place for all, the Kingpin attempts to set himself up as a legitimate businessman and philanthropist. How's that old saying go? Oh yes: "The path to Hell is paved with good intentions." Don't say we didn't warn you about this hidden gem from two crafty upstarts.
Matthew Rosenberg (W), Ben Torres (A) • Marvel Comics, $3.99
– Jason Wilkins
All-Star Batman #7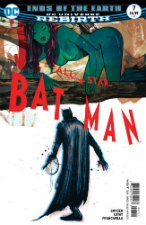 Bat-fans have been divided about Tom King's run on the Batman main title; some go for it and others don't. But it seems universal that Scott Snyder's brilliant exploration of the Dark Knight's stellar rogues' gallery in All-Star Batman is an unqualified hit. Snyder is presenting familiar bad guys in fresh settings that offer new conundrums for Batman that always require a combination of his martial talents and his uncontested status as the World's Greatest Detective to resolve.
After completing the first arc that focused on a Two-Face story, Snyder is moving through one-shots with an all-star lineup of artists. Last issue was a chilling adventure into the twisted plans of Mr. Freeze with guest artist Jock, and issue #7 goes green as Tula Lotay offers up an irresistibly seductive Poison Ivy in the story, "Poison Promises!".
Bats is in serious trouble.
Scott Snyder (W), Tula Lotay (A), DC Comics, $4.99
– Karen O'Brien
Thrill-Power Overload: 2000 AD – The First Forty Years (Revised Edition)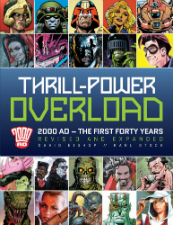 The 40th anniversary of 2000 AD – that most influential of British comics – is rapidly approaching and this coming Saturday will see the devoted masses of the Squaxx Dek Thargo assembling in London for the sold-out 2000 AD: 40 Years of Thrill-Power Festival in London.
If you missed out on a ticket for this much anticipated day of celebration then you can at least console yourself with this week's re-issue of the insightful and comprehensive history of the Galaxy's Greatest Comic!
David Bishop and Karl Stock's Thrill Power Overload is now expanded to cover all four decades of the comic and is packed with interviews and artwork that trace the formative years of this vital British weekly through to its international creative influence and its current status as a true comics institution under Rebellion.
David Bishop and Karl Stock (W) • Rebellion, £35.00
 – Andy Oliver