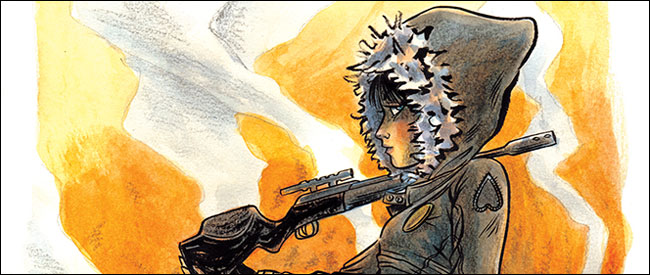 I've never had the pleasure of visiting Portland, Oregon, but from everything I've picked up about the place, it seems to be something like an American version of Brighton here in the UK: an overindulgent haven for self-satisfied nuisances a vibrant hub of creative activity.
It certainly seems to host a wide range of comics artists, nine of whom are currently represented in the Portland Comics Heaven exhibition of original artwork, on display at London's splendid Orbital Comics until December 28th. The show was curated by Chris Thompson of Pop Culture Hound (PCH – geddit?!), and was originally displayed at the Thought Bubble festival in Leeds last month.
The exhibition, in the shop's small but beautifully formed gallery space, features a fine variety of material, from mainstream mainstays Steve Lieber and Jeff Parker to talents I'm ashamed to say I hadn't come across before, such as Natalie Nourigat, represented by a couple of pages from A Boy and A Girl (Oni Press, written by Jamie S Rich) that show off her gift for confident portraiture.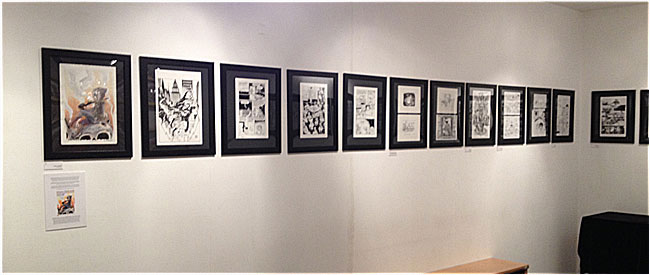 There are also a few nice pages and gag cartoons from alt-comics veteran Shannon Wheeler (Too Much Coffee Man) and a couple of strong editorial cartoons by another familiar name, Matt Bors.
Also inna non-sequential stylee, the exhibition includes some fine illustration by Emi Lenox (whose 'Daily Routine' is used as the key image for the show, above) and Ben Dewey, who uses lovely wash effects in his two pieces. A trip to both artists' websites also reveals some great narrative work.
However, my two favourite exhibits featured complete stories. The first was Erika Moen's charming two-page 'Urchin Story' set in the world of MonkeyBrain's irresistible Bandette (now in print from Dark Horse), which complements  Colleen Coover's work on the main series. Her confident cartooning of young people is also shown in a couple of pages from Bucko, an earlier collaboration with fellow exhibitor Jeff Parker, also published by Dark Horse.
The final piece, however, was the real treat: a nine-page 'silent' story by Sloane Leong entitled Clutch, which has been published online by Vice magazine and as a pay-what-you-can PDF download on Gumroad.
I was previously only familiar with the artist as the colourist on the much-talked-about Image series Change, so it was a revelation to see her sensual illustration and creative layouts (even if the story – a nightmarish tale of body horror set in a jungle community – wasn't totally clear). The most immediate impression it left me with was a reminder of the artwork of Jeff Lemire – one of my favourite creators.
So, if you're in the West End of London between now and December 28th, sack off the Christmas shopping and head for Orbital. With its dedicated gallery space, programme of events and area devoted to independents and small press, it's great to see a comic shop taking its responsibility to the form seriously, rather than being another toy shop for baby-men.
Portland Comics Heaven is on display until December 28th at Orbital Comics, 8 Great Newport St, London WC2H 7JA