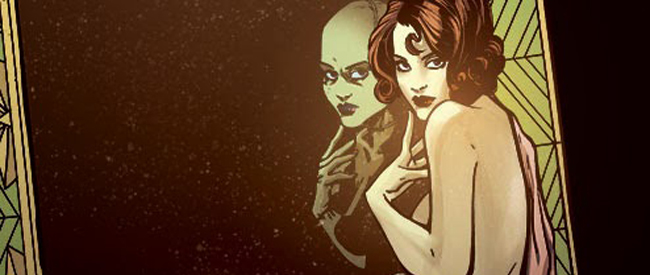 Over the course of his career, Jamie S. Rich has written across a number of different genres and worked with most of the well-known publishers in the business. His latest graphic novel, Archer Coe and The Thousand Natural Shocks, with artist Dan Christensen, will be his fourth with Oni Press. He currently has a new series coming out through Image called Madame Frankenstein, with artist Megan Levens, as well as a digital series, The Double Life of Miranda Turner, with George Kambadais, though MonkeyBrain.
Jamie was kind enough to meet me at one of his favorite dive bars in Portland, OR so that we could talk about his latest projects, his writing process, and the industry's recent shift toward creator-owned comics.
I'd like to start by asking about your latest graphic novel, Archer Coe, which was actually serialized online by Oni Press before they collected it into the book that comes out in July. Is that how you intended it to be released?
Yes, it was written to be that way. There was a time a while back where Oni Press had this online initiative and they were going to publish comics on their website. They wanted material that they could serialize eight to twelve pages a week.
A Boy and a Girl, which I did with Natalie Nourigat, was written that way and I really really liked it, so I pitched Archer Coe the same way. And while it was intended to be a complete graphic novel with a beginning, middle, and end, there was something very freeing about writing in this new format. It's basically serialized comics but shorter.
A Boy and a Girl really fit into it because every other chapter was from either the boy's point of view or the girl's point of view. It really informed how I told that story. Archer Coe became a pulpy cliffhanger so that every week you'd end on something that makes you want to come back next week.
And it was really interesting as a writer, because basically that was a day's work. It was a really easy goal and it just seemed to work. I don't know if it's the editorial background that I've had that I tend to think in units. That's how you write comics anyway, thinking in units. I try to plan every story based on format and how I'm going to tell it.
What about the artist you worked with on Archer Coe, Dan Christensen? He's American but lives in France. How did you end up working with him?
The original artist had dropped out, and I still swear someday I'll work with her. Her name is Kelly Seda and she did a book called Rare Creature at Slave Labor Press. She's one of my favorite all-time cartoonists. I just love her stuff and that's part of why the book (Archer Coe) is so damned weird, because her art style is weird. I really sat down and started thinking about what I could do to use her skills.
Oni had already agreed to do it, but she dropped out for all good reasons, and I didn't know who to go to next. Oni recommended Dan. He's the one artist that Oni's ever brought to me and I said, "Yes, absolutely!" It was actually somewhat analogous to when Joëlle (Jones) came onto Twelve Reasons Why I Love Her when another artist had disappeared, and so I'd been writing it with somebody in mind.
As soon as Dan came onto Archer Coe, everything else just disappeared. He and I got on immediately. We had the same interest in old crime movies. We had the same influences and I would never look back. I've already written a sequel with him in mind. That's always great, because now you know how people work, what they can do. I gave him even weirder, trippier stuff to do.
How did you start working with Megan Levens, the artist on your new Image series, Madame Frankenstein?
I first started working with Megan on a project called Ares and Aphrodite. It was something I was working on based off a log line that James Lucas Jones gave me at Oni, and I brought Megan in after I'd done most of the development. I hadn't finished all of the script, and we so enjoyed trading art and story back and forth as I wrote the script.
It's the same thing I did on Twelve Reasons Why I Love Her with Joëlle: I realized that before anybody sees what you're going to do, I want to lock you down for one more. Because once people see what you're going to do, you're going to get so many offers. Let's build something from the ground up.
With Joëlle, it became You Have Killed Me, and with Megan, she was like, "Well, I have this idea." She had the Madame Frankenstein basic concept. It was the 1930s and a guy whose love of his life dies and he rebuilds her to be his perfect woman. The farther he gets into it, the less perfect she becomes, because she becomes more and more sentient.
Megan had the end, but she had no idea how to get there. And I'm not stupid, so I immediately said, "That's a great idea, let's do that. And here are some ideas on how to get there." And we just rolled right into it.
I want to quickly go back to the Ares and Aphrodite project you mentioned. What is that and when does it come out?
Ares and Aphrodite is a 120-page graphic novel. Megan finished it in September and then we immediately started Madame Frankenstein. She still has to color Ares and Aphrodite, which she's been tinkering with, and as soon as we're done with Madame Frankenstein she'll immediately color the book, which will be released sometime in 2015. Basically it's on us now to get it back into the schedule.
So, if Ares and Aphrodite is going to be in color, how come you decided to stick with black-and-white artwork for Madame Frankenstein?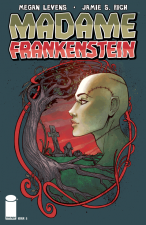 We wanted it to look like a 1930s Universal monster movie. It's funny, because we didn't expect it to be a question once it came out, but it seems to be common. People ask us, "Well, did Image let you do that?" And we did go in thinking that if somebody said that we should do it in color for commercial reasons, we were going to change. But everybody got on board with it aesthetically. There's a reason to be doing this.
Did anybody suggest even doing tones?
No. We were waiting for it, but everybody was like, "This is great!" This is what it was supposed to be, which is what I kind of loved about it. What I like about what [Image publisher] Eric Stephenson is doing is that I feel like if he thought we were making a mistake, he would tell us, which is what I think is the best editorial guidance in general. If you're on target, just keep going. If you're going to make a mistake, that's when we're going to come in and monkey with it.
Every writer has gotten those notes, and even artists, too. This doesn't have to be changed, but the editor is justifying his existence. I don't understand that mentality. When I was an editor, I was there to shepherd the vision and figure out what you wanted to do and make sure you did that the way you wanted to do it. It always comes down to, "Do you know why you're doing it? And do you know that this is how people will react?" If you can answer those questions, then fine.
So yeah, we've joked about sequels and we'd probably change Madame Frankenstein if we moved it ahead in time. We would present it based on whatever the era is, like Scorsese did in The Aviator, where he filmed each period with the film stock of that time so that the color looked a certain way.
So I do have a vague outline for something called Madame Frankenstein 1950s. There's a whole new way of telling that because it's a completely different story. That may or may not ever happen, depending on what whim strikes Megan and me next.
Speaking of Image Comics, you wrote It Girl! and the Atomics, which was a spinoff from Mike Allred's Madman series. What was it like doing a work-for-hire project for someone else's property?
It was kind of work for hire, but Mike treated us like it was ours. I actually had to haggle with him to take more of a back end because the idea was to create a sort of BPRD-type thing. "These are characters of yours and you're not working on them. How can they make you money and do it in a way that you're not just farming out?"
I think what Mignola has done with the Hellboy property is one of the greatest lines of comics right now. It's so together and everything is so much a part of a larger whole. We thought we should do something like that.
The actual instance of it coming up is that we were at Floating World Comics and I pointed at a BPRD and basically said, "If you ever wanted to do that with The Atomics, remember your pal Jamie." And he was like, "You'd do that?" And it was that simple. It was like, "Absolutely!"
And he insisted that he would do the covers. I always thought that he would drop out but he just liked doing it so much. He liked the book so much. So it was the best work-for-hire scenario you could ever have in your life. And I think we all feel we have a certain ownership of those characters, even though it very much is still his domain.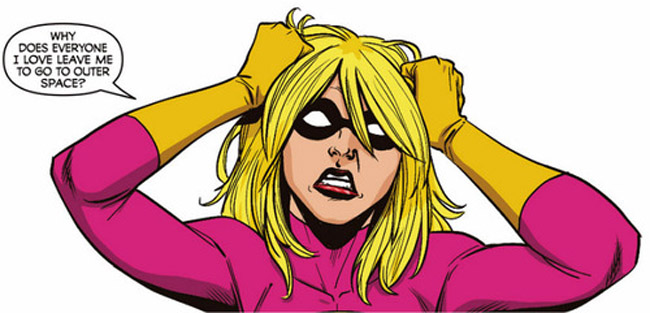 Any plans for working in that universe more?
I'd like to, but right now we're just not able because Mike is on hiatus and we need a stronger anchor. If he called me tomorrow and said to do it, I'd jump on it in a heartbeat. That's what Miranda Turner was about. It scratched that itch for me – a fun superhero, girly stuff.
The Double Life of Miranda Turner is the digital series you launched through MonkeyBrain. How is that going?
Well, two issues are out. The fourth is being colored right now. And we're getting back onto a regular schedule now because we're talking to a publisher about collected versions.
The initial plan now is to do eighteen issues. That's about two volumes to solve the murder plot and then from there I figure there are plenty of places we can go, because once we wrap up the murder plot with Miranda's sister, that will mean something for Miranda as well and we can go from there. So really George and I, at this point, are just going to see where it goes. We have one story we have to tell.
Are you going to keep it at MonkeyBrain?
Yes, I'd like to. I actually think that for us, despite the delays, it's been a good venue for being able to do it, being able to build an audience without the same pressures of a regular periodical. There's no need to immediately turn a profit – even though we pretty much do right away, because you don't have all those other costs upfront. It's basically a safe haven where we can keep building what we want to do.
The MonkeyBrain portal is so creator friendly. They only deal with digital, but they have a deal with IDW that anything you do with them can automatically move over there, which is why it makes it such a sweet deal.
Chris (Roberson) and Alison (Baker) aren't doing it for themselves. Whatever residual goodwill and promotion they get, they're using their assets, their abilities to give us a way onto ComiXology. And as a group we all benefit from being together; Bandette getting attention gets the rest of us attention.
There seem to be more resources out there now for creators to do their own thing. Do you think the industry is headed towards more creator-owned projects?
I think so. I mean, it's weird for me because when I was a kid, you saw guys like Frank Miller who basically earned their way to do something like Sin City because he was that popular. If you take a look at the Image guys, they did their work for Marvel and DC and they got the hell out because they realized that over here is where they would make all their money and do what they wanted. That was where things really started to shift.
In the early days there was a thing that people referred to as "getting the call." "When did Marvel or DC call you?" And to me, that's just backwards. And I'm not denigrating that kind of work or people who want to do that kind of work, but it kind of comes down to, "Why would you work at McDonald's when you can grow your own beef?"
Some people are very well suited for that kind of work, some people very much enjoy it. I'm not even against doing it myself, but the mentality is, look, you can own Hellboy, you can be Mike Mignola, so why work on something Stan Lee created 40 years ago? And Image has now set up a place where you can do all of these things and they are making successes out of things that conventionally should not be successful.
Pretty Deadly should not be a success because it's strange and weird. It's two creators who have a decent name, but Kelly Sue DeConnick has not written a major crossover event. She didn't kill Captain America! So, it's a triumph of good content and good talent and a place that just said, "Yeah, let's do this crazy idea. Let's go for it."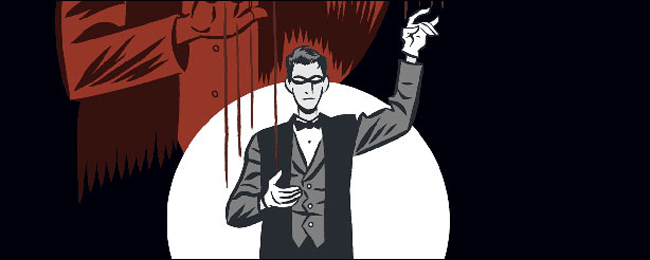 I think that in general that's what people in entertainment are gravitating to more and more – maybe not so much in movies, where it's the big thing of what's coming out every week. I feel it in other aspects, in music, in self-publishing prose through Kindle, this idea that I can go to Kickstarter and I can go directly to you and you don't have to buy it from some corporation.
That's where you see this creator movement benefiting. For someone who's been doing this creator-owned thing for twenty years, it's weird how it's now a marketing term. And creators say, "This is my creator-owned thing, this is my work-for-hire thing". They have choices, but it's up to them. And that's how it should be.
Archer Coe and the Thousand Natural Shocks will on the shelves on July 2, which is also the same release date as Madame Frankenstein #3, so be sure to hit those comic shops and pick up some great material written by Jamie S. Rich.
Thanks to Jamie for his time. To find out more about his work, visit his website or follow him on Twitter.