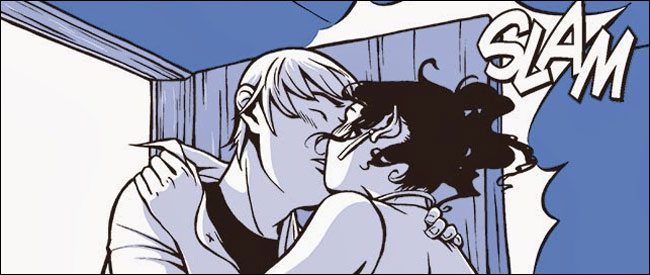 Jamie S Rich and Natalie Nourigat have come up with a charming and thought-provoking look at what technology might mean for even our most intimate relationships.
As I said a few weeks ago when I made A Boy and A Girl my pick of the week, sci-fi-themed romance comics seem to be a bit like London buses: you wait ages for one, then two come at once.
Hot on the heels of Alex + Ada, a new series from Image Comics by Jonathan Luna and Sarah Vaughn, Oni Press have published A Boy and A Girl, by the Portland-based team of writer Jamie S Rich (12 Reasons Why I Love Her) and artist Natalie Nourigat (Between Gears), whose pages from the book I purred over at the recent Portland Comics Heaven exhibition at London's Orbital Comics.
Set in a future just far enough away to have flying cars and lifelike robots, the book gets down to business straight away; the main characters, Travis and Charley, have their "meet cute" on page three.
While they get talking over a punch bowl, their situation sets up a lot of the thematic substance of the book: a friend of a friend of Charley's is having a 'debut' party for the reconstituted android version of his late mother. As a "philosophy major specialising in digital ethics", Travis has plenty to say on the subject.
The couple soon hit it off and sneak off to a bedroom. However, when they're interrupted by the host of the party, Charley flees into the night. Somewhat smitten, Travis decides to track her down, using detective work and a bit of cyber-stalking.
When he finds out that she's leaving town in 24 hours on a new job assignment for her employer, a government agency, he determines to make the most of the time they have together.
That quick synopsis probably reveals one of the book's main influences: it's hard not to see A Boy and A Girl shot through with Richard Linklater's much-loved 1995 film Before Sunrise, in which a sophomoric young couple (Ethan Hawke and Julie Delpy) spend a day and night trudging around Vienna before he has to return to the US.
However, Rich and Nourigat's book has its own concerns; in a world where advanced technology has created androids almost indistinguishable from people, what is it that makes us 'human', and how important is it for us to hold on to that?
A Boy and A Girl also has a distinct narrative style. It's quite a talky book, but Rich's sparky dialogue and Nourigat's charming cartooning – with a measured use of manga styling – keep up the tempo and carry the story well (although the Guy Talk between Travis and his best bud Gregor gets a bit wearing).
The black-and-white artwork is clean and confident, with the simple use of blue tones giving the pages a futuristic gleam. In a book that hangs on the reader's relationship with the characters, Natalie Nourigat brings Travis and Charley to vivid life.
Rich admirably prevents it from being just the story of Travis's pursuit of Charley by alternating between the characters' points of view. And while most pre-publication coverage of the book put a big spoiler front and centre, the event itself is woven so skillfully into the narrative that when the big moment comes (almost exactly half way through) it's still a tense and gripping scene.
The narrative also gives us a palpable sense of urgency. Although Charley and Travis are in the bloom of youth and have their lives ahead of them, they're both facing imminent change, in the way your life can evolve almost daily as a young person. Travis has only a month until he graduates and has to enter the 'real' world, while – more urgently – Charley has just 24 hours before she moves on and leaves her current life behind.
Rich and Nourigat do their world-building with a minimum of fuss. The first page very simply gives us a lot of the information we need to know about the world of the story – a familiar sci-fi future of flying cars and big elevated highways threading between tower blocks.
However, this isn't a book that requires its background to be worked out in plausible scientific detail: it's all about the bonds between people and how they might survive unprecedented social and technological change. Some of us are old enough to remember the raised eyebrows and serial killer jokes that proliferated when online dating started, and who knows what new experiences technology will bring to even our most intimate relationships in the not-too-distant future?
When I read Alex + Ada a few weeks ago, my first thought was that it seemed like weak sauce in comparison with Black Mirror, a recent British series of satirical TV dramas that also examined the impact technology is likely to have on our lives and relationships. However, for all its surface similarities, A Boy and A Girl doesn't seem to invite the same kind of comparison. Despite the futuristic trappings, it's a warmer book (although the surprising ending certainly provokes a bit of thought).
Given the stranglehold that rom-coms have in the cinema (and the near-universal experience of 'rom' more generally), it's surprising that the subject isn't more prevalent in comics. 12 Reasons Why I Love Her and A Boy and A Girl show that there's clearly a Rich vein to be tapped. Arf Arf!
Jamie S Rich (W), Natalie Nourigat (A) • Oni Press, $19.99, December 2013