San Diego Comic-Con International, the industry event of the year has arrived! New titles, rumors, chatter, art reveals, cosplay and major announcements … it's all taking place inside and around the nuthouse that is the San Diego Convention Center.
To make sure you don't miss a beat, here's a round-up of today's news.
Kieron Gillen and Adam Kubert Team for 'Wolverine: Origin II'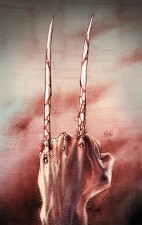 Ten years after Logan's origin was unveiled by Paul Jenkins and Andy Kubert in Wolverine: Origin, Marvel is pairing Kieron Gillen and the older Kubert brother, Adam, for a second story exploring the obscure early days of Mr. James Howlett. The project, set for a November start, was announced at the Cup o' Joe panel.
Gillen discussed laid out his plans for the story as follows:
"We had a few ideas on what were some of the important stories left in Wolverine's past. We've seen a lot of stories about his past spread throughout the century, and we've seen some stuff with his deceased lover Silver Fox, but there's some questions about what happened, chronologically. What's the missing link in Wolverine's origins? We kind of went back to this period in the early days of the 20th century, so it's me doing a period piece, which gave me the chance to do a lot of interesting research. Basically, I'm doing a weird period novel set in the Marvel Universe, which has enormous importance for Wolverine, and it's as fun as it sounds.
"This story is set right before World War I. It takes place right around the time the German Schlieffen plan for winning that war was was made up. So we're on the cusp of what will be frankly a horrific century and what will civilization mean, then? An earlier draft of the story featured characters like Sigmund Freud and the Futurist movement. That was my original focus. All that stuff is sort of gone, and now I'm really focusing on the characters and what's important there, but in terms of themes, the idea of civilization and how violent it can be is a big part of this story." [Comic Book Resources]
John Jackson Miller Into the Rebel Legion
Author John Jackson Miller (Star Wars: Knights of the Old Republic, Star Wars: Knight Errant) was inducted into The Rebel Legion today at the Star Wars Books booth. His forthcoming novel, Star Wars: Kenobi releases on August 27, 2013, and tells the story of Obi Wan's time on Tatooine safeguarding a certain future Jedi. Miller also participated in today's Writer's Studio: Behind the Scenes with Star Wars Authors panel with Jeffrey Brown, Troy Denning, and J.W. Rinzler.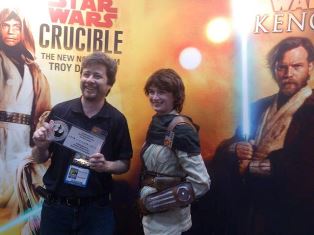 Scott Snyder Introduces Major Superman Villain, Wraith
Coming pretty soon in the pages of Superman Unchained, Big Blue will face a new adversary with very similar powers to his, only stronger. His name is Wraith, and he comes from a galaxy close to Krypton's, said writer Scott Snyder at the Superman Unchained panel:
"He's basically Superman – if Superman does what he might want to do but doesn't", he added. In Snyder's eyes, Wraith isn't a villain. He's Superman's nightmare – saving more people than Superman ever could, but through more extreme methods." [Bleeding Cool]
'March' available at Top Shelf
March: Volume 1 is available at the Top Shelf booth (#1721) and Congressman John Lewis along with Nate Powell and Andrew Aydin will be on hand during the weekend. To learn how this groundbreaking account of the Civil Rights Movement became a graphic novel, check out the March team's panel in Room 23 on Saturday morning.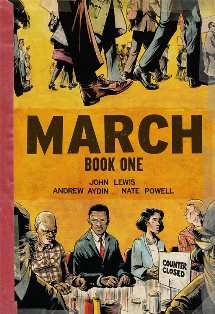 Oni Announces 'The Auteur' for 2014
The latest creator-owned project from Oni Press is The Auteur from Rick Spears (Black Metal) and James Callahan (Barf Comics). Slated for release in 2014, The Auteur features a failed movie producer who is trying to save his career. This dark Hollywood comedy for mature readers should feature healthy doses of sex, drugs, and rock 'n' roll without the sex and rock 'n' roll. [Comics Alliance]
Brian Bendis and Mark Bagley To Destroy the Ultimate Universe?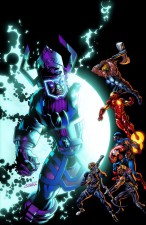 The question on every Marvel fan's lips following Age of Ultron is whether Galactus will devour the Ultimate Universe.
At the Ultimate Universe panel, Marvel unveiled that Bendis and Bagley — ironically the creators that basically paved the way for the Ultimate U's success with their seminal run on the first Ultimate Spider-Man series — are working on the project that will reveal all, Cataclysm.
The five-issue mini kicks off in October and will mainly focus on the Ultimates, with Miles Morales joining the fight later on. [The Beat]
Walking Dead Season 4 Trailer
Rick Grimes and company are in for a bloody good time in Season 4 if the trailer that debuted at today's Walking Dead panel is any indication. [MTV News]
SHIELD Pilot Airs During Panel
Why show a few clips when Joss and Jed Whedon can show a rabid fanbase the entire pilot? Most industry "insiders" hadn't even seen the footage yet. So there! And Cobie Smulders joins the SHIELD lineup – for the first episode, at least. [Entertainment Weekly]
Titan Comics Launches New Titles at SDCC
Titan Comics exclusively announced the addition of several new titles to their lineup during today's panel including the assassin comedy Accident Man, the sci-fi title Alien Legion, and the Sherlockian adventure series Adler, among others.
"We're thrilled to add some astonishing new titles to our range of original comics and graphic novels," said Steve White, Senior Editor at Titan Comics. "Many are wonderful new creator-owned concepts that blew us away. We couldn't resist!"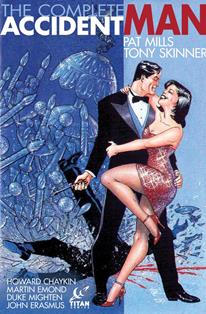 'Dead' Teaser Now Followed by 'Body'
Image and Skybound released a new teaser on the heels of yesterday's 'Dead' image. All will be revealed on Saturday!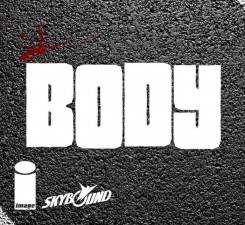 Other highlights:
• IDW announced new projects from Walt Simonson and Joe Hill. Ragnarök is a creator-owned series by Simonson launching in 2014 that explores his beloved Norse mythology. Hill, meanwhile will bring you Wraith: Welcome to Christmasland, a prequel to his New York Times bestselling novel, NOS4A2.
• Jim Carrey didn't join Kick-Ass 2 castmates at Comic-Con.
• Veronica Mars stars discussed the upcoming film!
• The CBLDF's Raising a Reader featured an all-star panel including Kazu Kibuishi
• And finally, Fantagraphics announced the release of a new hardcover, Sock Monkey Treasury.
Frederik Hautain contributed to this report.