San Diego Comic-Con International, the industry event of the year has arrived! New titles, rumors, chatter, art reveals, cosplay and major announcements … it's all taking place inside and around the nuthouse that is the San Diego Convention Center.
To make sure you don't miss a beat, here's a round-up of today's news.
Monkeybrain Announces Five New Titles – Available Today!
To celebrate their first anniversary, Monkeybrain has announced five new titles today, all immediately available to download.
Avery Fatbottom: Renaissance Fair Detective by Jen Vaughan is a mystery taking place largely at a Renaissance Fair.
Captain Ultimate written by Benjamin Bailey and Joey Esposito (both IGN writers) and drawn by Boykoesh is an all-ages comic about the return of Captain Ultimate, the world's greatest superhero, after years away.
Detectobot from Peter Timony and Bobby Timony follows the robotic Detectobot solving the murder of his inventor.
The dropout of Phil Hester and Tyler Walpole's Dropout is a "sullen, disruptive, friendless, desk-carving, window-breaking punk" who is sent to a multi-dimensional school for wayward teens.
Finally, Heartbreakers by Anina Bennett and Paul Guinan is a reprint of the 90s sci-fi stories originally published in Dark Horse Presents. [Monkeybrain]
New Digital Comics Coming From DC
Announcements from DC's digital panel included a lot of television related news including a weekly Vampire Diaries comic (based on the CW show), a Teen Titans Go series launching in December, and a Beware the Batman comic. Finally, the company also announced a Scooby Doo Meets Batman Robin #1 coming in November. [Comic Book Resources]
Dark Horse's 'Ghost' Becomes an Ongoing
The new ongoing series will be co-written by Kelly Sue DeConnick (who wrote the recent mini-series of Ghost) along with Christopher Sebela and art by Dexter Soy. [Bleeding Cool]
'Darkest Hours' Revealed to be Next Spider-Man Event
"Darkest Hours" will be a four-part story written by Dan Slott with art by Humberto Ramos. The story arc will be the first confrontation between the new Superior Spider-Man and Venom. [Comic Book Resources]
Archie Against Zombies
Poor Archie! His Riverdale is being invaded by the undead in Afterlife With Archie, a comic by Roberto Aguirre-Sacasa and Francesco Francavilla (who seems to be everywhere these days) timed for a release around – you guessed it right – Halloween.
More info on the project will come during Saturday's Archie panel, but The Hollywood Reporter already got a first look at the trailer. [The Hollywood Reporter]
Cloonan, Moon, Bá and Aaron Highlights of 'American Vampire' Anthology
The Vertigo: Defy panel naturally focused on the publisher's new projects hitting this Fall, but fans also got some comments from American Vampire writer Scott Snyder on the series' anthology: it's featuring a stalwart of comics talent including Becky Cloonan, Fabio Moon, Gabriel Bá and Jason Aaron. [Comic Book Resources]
Robert Kirkman Teases 'Dead'
Image Comics and Robert Kirkman have started teasing 'Dead'. Nothing more is known at this point — is it a new comic, is it an event? — but all will be revealed at Saturday's Skybound panel. Will the dead finally stop walking?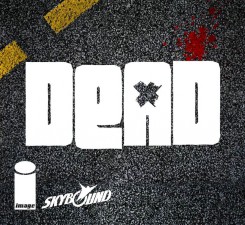 Other highlights:
• Not from Comic-Con, but close, today the Emmy nominations were announced.
• The Simpson family will be crossing over to an episode of Family Guy next season.
• IDW's next Artist's Edition will focus on Mike Mignola's Hellboy in Hell series.
• And finally, Fox introduced the first look at the Sentinels in the upcoming X-Men: Days of  Future Past movie.
Frederik Hautain also contributed to this report