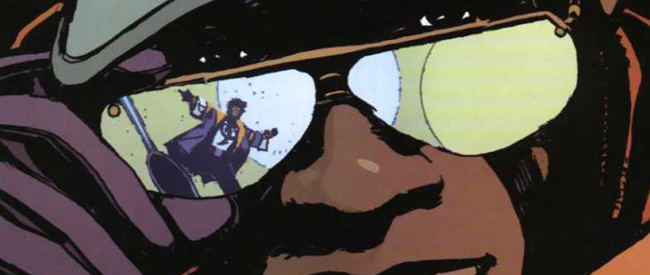 San Diego Comic Con didn't have it easy this year. With Image front-loading their announcements at Image Expo and Marvel Studios sitting out this year's festivities, you'd be forgiven for thinking that the event served as a four-day trailer release party for Batman v Superman.
But in reality, SDCC 2015 provided evidence of a culture shift (by no means complete, but certainly in effect), as publishers large and small stepped up in a big way to expand the industry's focus and offer more great comics for everyone.
Here are ten of the highlights you might have missed.
10. Joss Whedon returns to comics with Twist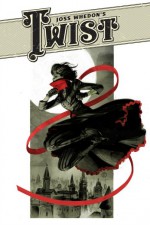 If you thought Joss Whedon would be slowing down after the release of Avengers: Age of Ultron, think again. During a special spotlight panel on Saturday, Whedon announced his first new original comics project in years: Twist, a six-issue miniseries published through Dark Horse Comics.
Whedon says, "It basically deals with the most important question there is, which is why isn't there a Victorian female Batman?" Preview art by Julian Totino Todesco accompanied the announcement.
Read more here.
9. William Gibson enters comics with Archangel
William Gibson created the term "cyberspace," launched the cyberpunk genre with 1984's Neuromancer, and has tried his hand at everything from screenplays to performance art. However, he's never written a comic book – until now.
The author is teaming with artist Butch Guice for Archangel, "a wild time-travel romp" that moves between World War II and a parallel version of the present day United States. Look for it from IDW in 2016.
Read more here.
8. Convergence lives on as miniseries at DC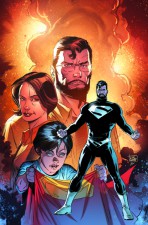 DC's two-month Convergence miniseries offered an intriguing look at the company's potential, utterly unfettered by the bounds of continuity. It turns out that we haven't seen the last of some of these alternate timelines.
DC announced three new ongoing titles spinning out of the event: Superman: Lois & Clark, Telos, and Titans Hunt. Could this be a revival of the sort of anything-goes storytelling that once fell into the Elseworlds domain?
Read more here.
7. Aftershock Comics announces initial writers
When it launched in April 2015, Aftershock Comics made headlines with its impressive executive team – most notably former Marvel editor Mike Marts. Days before its first trip to Hall H, Aftershock raised the stakes by announcing a jaw-dropping list of initial writers, including Jimmy Palmiotti, Amanda Conner, Paul Jenkins, Justin Jordan,  BF Anthology contributor Marguerite Bennett, and Garth Ennis. Creators seem to be responding to Aftershock's unique combination of industry experience and emphasis on new projects.
Read more here.
6. Rep. John Lewis recreates iconic 1965 appearance
Broken Frontier readers know that the second volume of Rep. John Lewis's autobiographical March trilogy was an early contender as one of our favorite books of the year. On Saturday, Lewis wore a re-creation of his outfit from the iconic 1965 crossing of the Edmund Pettus Bridge while sharing stories and signing books.
"It's important for all our young people to know what happened or how it happened so they, too, can bring about change using the philosophy of nonviolence," Lewis said.
Read more here:
5. Rom and Micronauts coming to IDW in 2016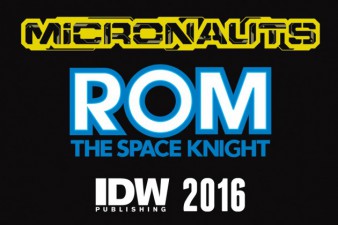 IDW announced a one-two knockout acquisition of two of Hasbro's popular '80s toy licenses, featuring characters that were regular fixtures of the Marvel Universe during Bill Mantlo's fan-favorite runs.
There's no word yet on what that means for the previous material or who will be involved in the relaunch. However, we do know that Broken Frontier favorite Cullen Bunn would happily throw his hat in the ring.
Read more here.
4. Archie moves to CW, expands Dark Circle, and more
If you had to name a single publisher as winner of this year's event, Archie Comics would be a surprisingly strong contender. In the same week that the relaunched Archie #1 hit stores, the publisher also announced the move of its Greg Berlanti-produced drama Riverdale from Fox to the CW (where Berlanti's Arrow and Flash are doing quite well, thank you).
The company also provided more details on The Web and the The Hangman, the latest additions to its Dark Circle imprint, and even threw in an upcoming Archie Meets the Ramones crossover for good measure. Not too shabby for a company that was once best known for its supermarket digests.
Read more here.
3. Dark Horse and Universal Cable Productions sign first-look deal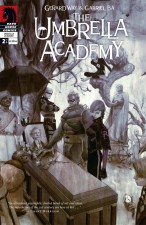 Dark Horse had a full line-up of panels at SDCC this year, but some of the most exciting news dropped the night before: the publisher's comprehensive first-look television deal with Universal Cable Productions (UCP).
The partnership will focus on translating Dark Horse's extensive stable of properties (along with new projects) into scripted programming. Best of all, favorites like Harrow County, The Umbrella Academy, and Concrete are already in development.
Read more here.
2. Vertigo announces 12 new titles
Vertigo was once shorthand for some of the most groundbreaking works being published in mainstream comics. Even as upstarts like Image Comics have staked a claim in Vertigo's former territory, many fans have been hoping for the imprint's resurgence—hopes that seem to have been realized in grand fashion.
The publisher announced a line-up of 12 new creator-driven series, ranging from sexy supernatural suspense (Lucifer) to crime thriller (Clean Room) to something almost indescribable (the very intriguing Art Ops). Just don't call it a comeback.
Read more here.
1. Milestone Comics returns to DC as Earth-M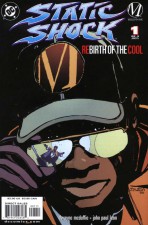 Milestone Media was one of the first comic companies to feature a diverse, non-pandering cast that accurately reflected the industry's changing audience.
For years, however, fan-favorites like Static Shock, Hardware, and Xombi have languished in out-of-print obscurity – a move that's about to change with DC's announcement of Earth-M, a new home for Milestone's classic characters and new creations. Milestone principals Reginald Hudlin and Denys Cowan announced the new partnership in conjunction with DCE Co-Publisher Jim Lee.
The combination of the original studio's talent, DC's backing, and the revival of a host of beloved properties easily make this SDCC 2015's most exciting announcement.
Read more here.