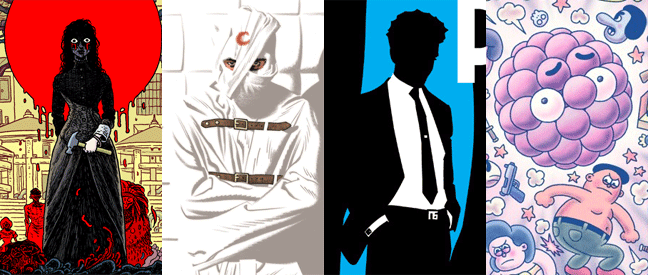 It's nearly Wednesday, and you know what that means: a fresh load of comics and graphic novels! With so many publications hitting your local comics store or digital storefront, the BF staff is here to lead you through the woods with our weekly staff picks. Satisfaction guaranteed!
Comic of the Week
Kramers Ergot 9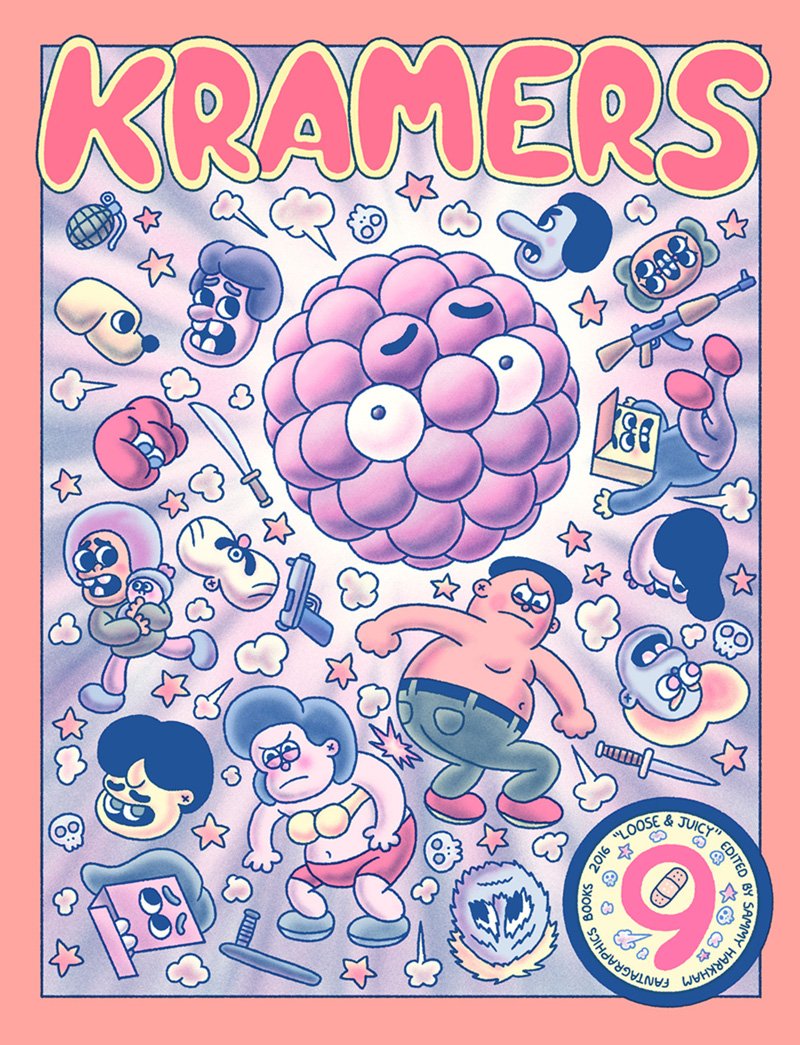 It's been over four years since the last volume of Kramers Ergot graced the stands, dividing critics with its singular avant-garde aesthetic. In the interim, Sammy Harkham's seminal anthology found a new home at Fantagraphics.
While some may quail at this alt-comics equivalent of joining the big leagues, rest assured that Harkham's vision is as unrestrained as ever. "Fantagraphics is the place where the best of the low brow and the literary strands of comics are equally represented and cherished on their own terms, and that's something I have always strived for with Kramers, as well," he said in the official announcement.
The title makes its triumphant return this Wednesday with an oversized, 296-page edition. The latest issue finds underground icons such as Kim Deitch appearing side-by-side with some of today's brightest talents, including Michael Deforge, Julia Gfrörer, and Anya Davidson. The short length of the contributions promises an exhilarating, surprising read – and one that's sure to have people talking.
Michael Deforge, Noel Freibert, Steven Weissman, Anya Davidson, Stefan Marx, Abraham Diaz, Leon Sadler, Julia Gfrörer, Adam Buttrick, Kim Deitch, Ben Jones, Andy Burkholder, Antony Huchette, Trevor Alixopulos, Antoine Cossé, Archer Prewitt, Kevin Huizenga, Renee French, et al. (W/A) • Fantagraphics, $45
– Paul Mirek
House of Penance #1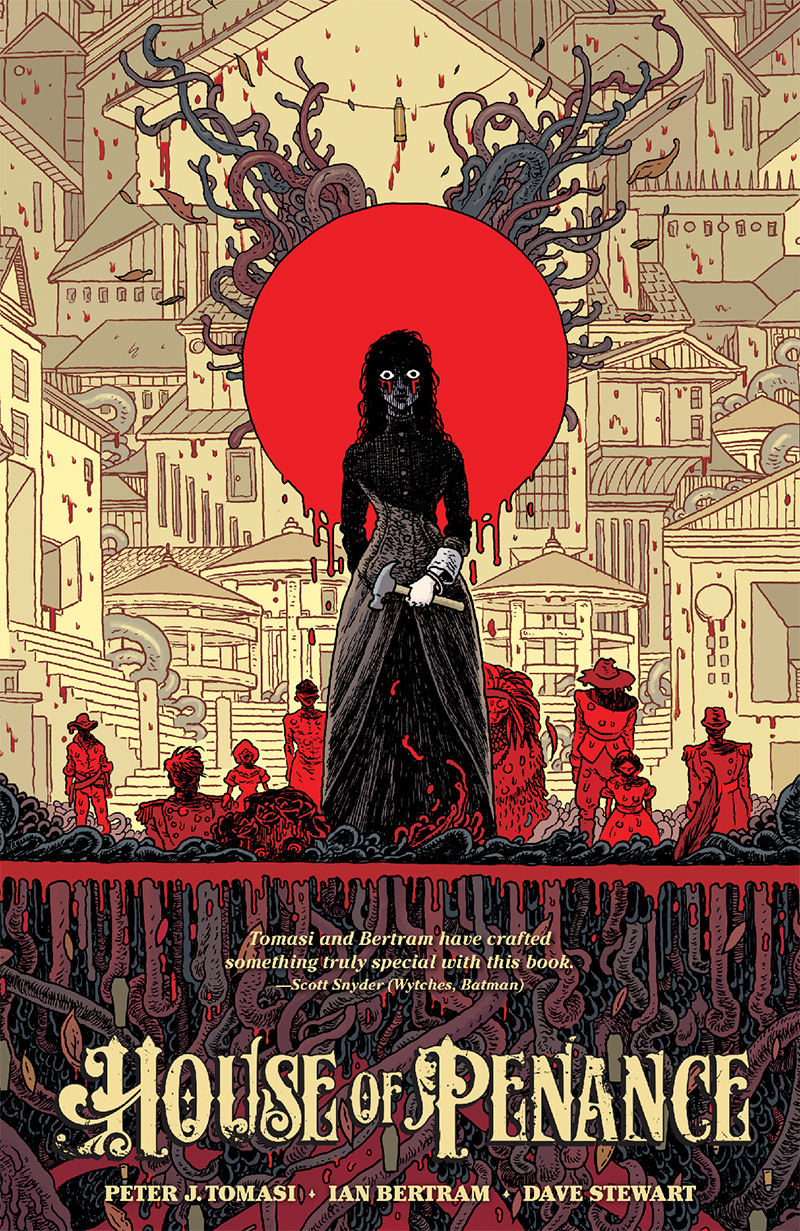 Pre-release hype surrounding Peter J. Tomasi's latest creator-owned project includes praise from some of the top writers in the industry, with everyone from Scott Snyder (Wytches) to Jeff Lemire (Descender) claiming this is the former DC editor's "finest work to date" (Garth Ennis). Who are we to argue with such informed opinions – especially when they're right on the money?
Tomasi and artist Ian Bertram (Bowery Boys) create an atmospheric supernatural thriller exploring the mad, obsessive construction of the infamous Winchester Mystery House. As surreal and labyrinthine as the actual house itself, this self-contained six-issue limited series chronicles Sarah Winchester's burning need to rid herself of the family blood curse from the perspective of a enigmatic drifter with more than his fair share of blood on his own hands.
With a twisty plot and a gritty, visceral visual tone, this future masterpiece of horror is sure to make a ton of "best of" lists this year.
Peter J. Tomasi (W), Ian Bertram (A) • Dark Horse Comics, $3.99
– Jason Wilkins
Moon Knight #1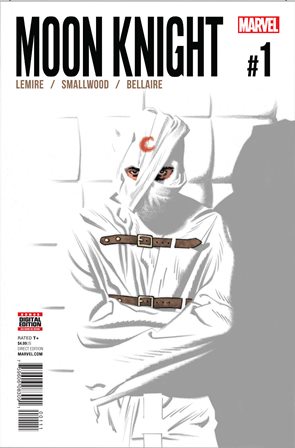 Is he or isn't he?
That is the question. And although mercenary-turned-hero Marc Spector knows something is wrong, he has no idea if the world is wrong or if it's him.
Fans of the television version of Buffy The Vampire Slayer generally disagree on the merits of the sixth season as a whole, but most agree that Episode 17, 'Normal Again', is a mind-blowing masterpiece. In the episode, Buffy is stung by a demon whose venom causes her to experience hallucinogenic episodes where she is a mental patient whose fractured mind created the nightmarish life in Sunnydale as an alternative to her catatonic reality.
As Buffy transitions between the two realities, she becomes increasingly convinced that her life in the hospital must be the proper state. After all, who would want a life defined by a constant struggle against vampires, demons, and monsters? Ultimately, Buffy recognizes her purpose in Sunnydale and chooses that reality – much to the dismay of her supportive (alive and together) parents.
When Marc Spector wakes up in an asylum without his powers and a filing cabinet full of medical records, he questions his past, present, and future. Something is definitely wrong here, but how will he determine what it is, if he's not even sure who he is?
Writer Jeff Lemire (Extraordinary X-Men, Underwater Welder) and artist Greg Smallwood (S.H.I.E.L.D.) are joined by Eisner award-winning colorist Jordie Bellaire (Magneto, Nowhere Men) for the next chapter of Marc Spector's insane crusade.
Jeff Lemire (W), Greg Smallwood (A), Jordie Bellaire (C) • Marvel Comics, $3.99
– Karen O'Brien
Heartthrob #1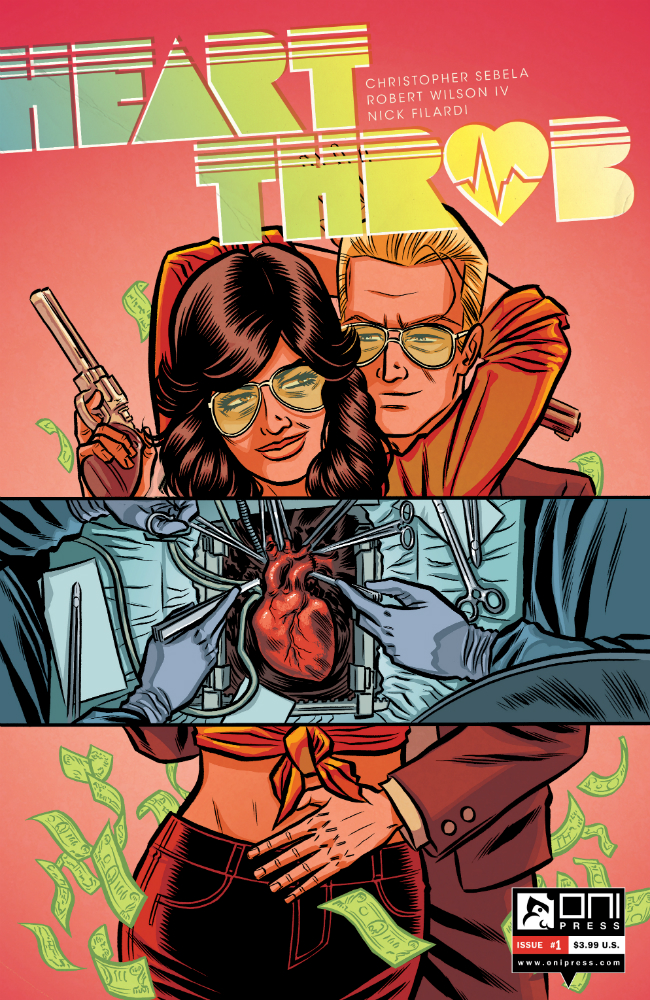 At some stage we've probably all taken a wrong step by following our heart rather than our head. However, transplant patient Callie Boudreau, the protagonist of this punchy new high-concept series from Christopher Sebela (Welcome Back) and Robert Wilson IV (Bitch Planet), gets in deeper than most.
After a lifetime sidelined by a congential heart defect, you'd think that Callie would feel born again after her transplant. However, it only throws into sharper focus her dissatisfaction with her morally dubious job and awful boyfriend. As she starts to see the world in a very different way, the arrival in her life of a mysterious stranger acts as the catalyst for a dramatic change of direction…
In Heartthrob, it looks like Sebela and Wilson, backed up by the colours of Nick Filardi, are cooking up a heady mix of crime and romance against a 1970s backdrop. If you look closely, you'll even spot the Thin White Duke…
Christopher Sebela (W), Robert Wilson IV (A), Nick Filardi (C) • Oni Press, $3.99
– Tom Murphy
Jackpot! #1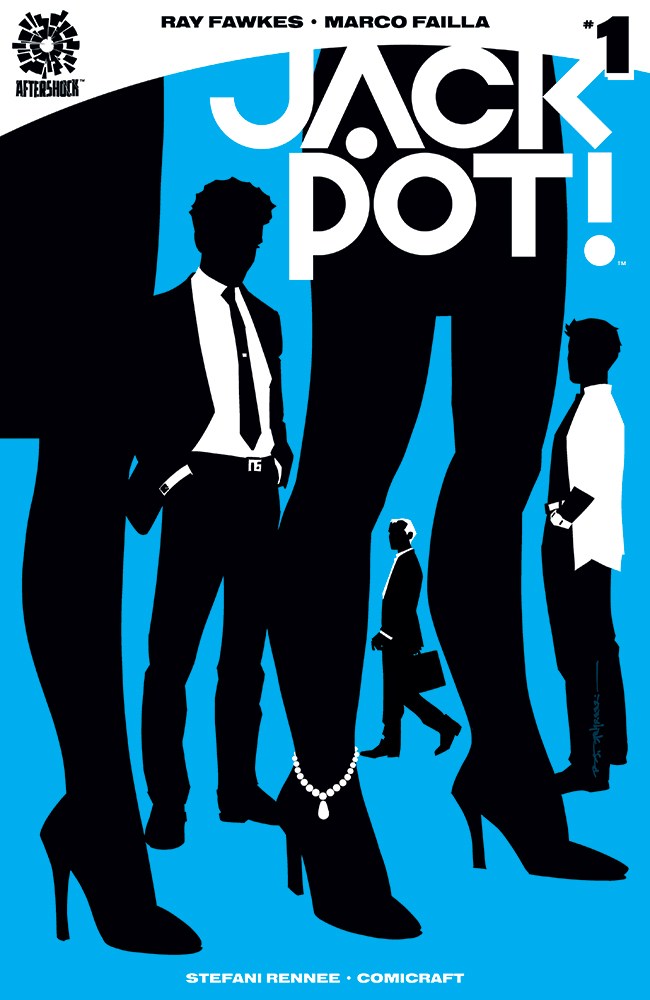 In what could be considered his most accessible creator-owned work to date, Ray Fawkes (Intersect, Gotham by Midnight) teams up with journeyman artist Marco Failla (Spider-Man and the X-Men) for an original take on the ultimate con job.
With the power of the gods literally up for grabs, how can a team of the world's most accomplished grifters not ante up? Promising a plot full of twists and turns and maybe even a red herring or two, don't miss out on an action-packed thrill ride from the tricksy mind of one of the smartest storytellers in comics.
Ray Fawkes (W), Marco Failla (A) • AfterShock Comics, $1.99
– Jason Wilkins