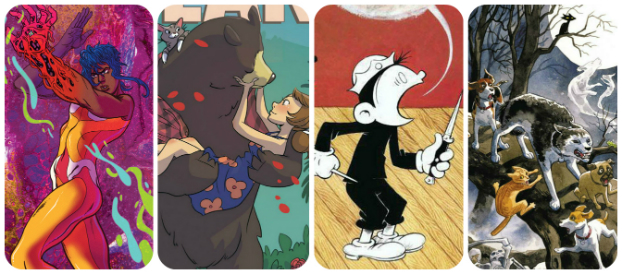 It's nearly Wednesday, and you know what that means: a fresh load of comics and graphic novels! With so many publications hitting your local comics store, comics events or digital storefront, the BF team are here to lead you through the woods with our weekly staff picks. Satisfaction guaranteed!
Comic of the Week
Afterwords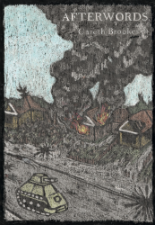 Graphic novelist Gareth Brookes self-publishes his first small press comic in four years this week and, for fans of the darkly witty Brookesian oeuvre, it's an offering that revisits the most well-known work of his ever idiosyncratic output.
Afterwords provides 'What If…?'-style sequels to his acclaimed Myriad graphic novels The Black Project (Myriad First Graphic Novel Competition winner in 2012 and Broken Frontier Best Graphic Novel Award winner in 2014) and A Thousand Coloured Castles (BF Awards-nominated in 2017) and takes protagonists Richard and Myriam into nightmarish dystopian futures.
Presented in the embroidered and crayoned presentational styles of the originals this is an absolute treat for fans of Brookes's trademark bleak wit. You can order the one-shot online here and read a full review at BF here.
Gareth Brookes (W/A) • Self-published, £6.00
– Andy Oliver
Beasts of Burden: Animal Rites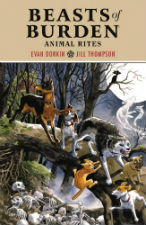 An excellent jumping-on point for new readers, Beasts of Burden: Animal Rites collects #1-4 of Dark Horse's supernatural guardian series Beasts of Burden. From the award-winning creative team of writer Evan Dorkin (Milk & Cheese) and superbly painted by Jill Thompson (Scary Godmother), the little town of Burden Hill remains delightfully unaware of the perils it faces. Demonic frogs, zombie road kill, and black magic are at work, and that's not even to mention the rat cabal plotting vengeance beneath the seemingly quiet city streets. Luckily, a gifted group of dogs and one not-to-be-underestimated cat are determined to ensure the safety of their home.
In addition to reprinting the comic series, Dark Horse is also including the short stories 'Stray' from the Dark Horse Book of Hauntings, 'Unfamiliar' from the Dark Horse Book of Witchcraft, 'Let Sleeping Dogs Lie' from the Dark Horse Book of the Dead, and 'A Dog and His Boy' from the Dark Horse Book of Monsters. I enjoyed the comics but haven't read the short stories, so I'm looking forward to Wednesday.
Evan Dorkin (W), Jill Thompson (A) • Dark Horse Comics, $19.99
– Karen O'Brien
Prism Stalker #3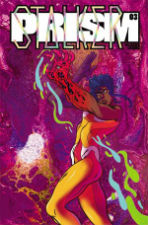 Blue-haired Vep is supplicant to a less-humanoid race of alien beings, her own people displaced as they drift through a hostile cosmos. That's until she gets a chance to leave that life behind and train in an unusual form of combat. The third issue of Prism Stalker finds her in the thick of said training, a narrative beat that owes something to the mind-body-spirit duels of Dune (and the Herbert-influenced Prophet revival of recent years) but is otherwise, as with much of the series, informed by storytelling structures and visual influences unfamiliar to most modern sci-fi comics.
Sloane Leong is a prodigiously talented and versatile artist — she drew the underrated fantasy series From Under Mountains, while her horror short A Hollowing was one of my highlights of the ShortBox series so far — and her first foray into serialised science fiction has been a blast so far. In a completely unsystematic analysis, I'd say maybe 80% of new Image series are high concept sci-fi, albeit ones which rearrange the same overfamiliar plot, character and aesthetic tropes to varying degrees. Prism Stalker blissfully, radically departs from that sensibility with something stranger, more novel, and a lot more (literally) colourful.
Sloane Leong (W/A) • Image Comics, $3.99
– Tom Baker
Unfinished… 3 Poems by Tom Neely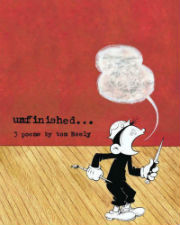 Fast becoming one of the most exciting alt comics publishers on the scene, Silver Sprocket have been putting out some essential indie work of late from Ben Passmore's (Broken Frontier Award-winning) Your Black Friend and Benji Nate's Cat Boy through to the comics of Michael Sweater.
This #NCBD sees Tom Neely's collection Unfinished… arrive in comics shops, compiling a series of one-panel strips that cover "art, life, and grief" and were inspired by conversations with his friend, the late Dylan Williams (of the hugely respected Sparkplug Books). Those looking for a preview of this experimental and very personal exercise in comics poetry can see a number of preview pages on the Silver Sprocket site here.
Tom Neely (W/A) • Silver Sprocket, $10.00
– Andy Oliver
My Boyfriend is a Bear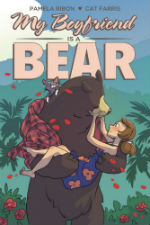 If a film about doing the deep sea dirty with a fish-man can win an Oscar, than surely a comic about a woman dating a literal 200-kilo black bear can win your heart? Pamela Ribon and Cat Farris's graphic novel takes that premise completely at face value and runs with it to some natural conclusions — the bear-boyf takes up a lot of room, doesn't have much in the way of table manners, draws attention when they go out — without ever getting into anything too taboo-busting or legally-troubling. Given the light tone, things are unlikely to go the Grizzly Man route either.
Screenwriter Ribon was initially inspired by her own relationship with a large, presumably hirsute and apparently similarly table-manner-free man. All she had to do was take one step out of reality, and there: her boyfriend is a bear. Cat Farris's energetic, clear artwork is full of character in a manner akin to Lissa Treiman and Max Sarin's work on Giant Days, and Ribon's writing keeps things light, lovable and fun.
Pamela Ribon (W), Cat Farris (A) • Oni Press, $19.99
– Tom Baker
Barrier #1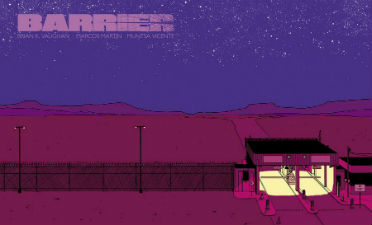 After the success of their near-future surveillance thriller The Private Eye, the Eisner-winning team of Brian K. Vaughan and Marcos Martín returned to their pay-what-you-can digital model for Barrier. When the 53-page first issue landed on their Panel Syndicate site back in 2015, we described it as "a taut and enthralling tale of migration and border tension that doesn't go where you expect it to". And its concerns certainly haven't become any less relevant since then.
As they did with its predecessor, Vaughan and Martin are now bringing Barrier to print – briefly. The five-part series will be published in weekly issues, and with no plans for Barrier to be collected, this could well be your first and last chance if you want a print version of the work. In return, we're promised an oversized publication (in its original landscape format) with cardstock covers.
Brian K Vaughan (W), Marcos Martín (A), Muntsa Vicente (C) • Image Comics, $4.99
– Tom Murphy
Rock Steady: Brilliant Advice from My Bipolar Life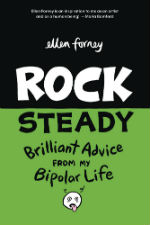 Ellen Forney's Marbles: Mania, Depression, Michelangelo, and Me here(reviewed at BF in 2013) was a funny, honest, impassioned memoir about living with bipolar disorder, the added anxieties that come with being a creative person in a highly competitive field, and the realities of medication and therapy. The follow-up, Rock Steady: Brilliant Advice from My Bipolar Life, is more akin to a self-help guide than the more "straight" autobiography of the first book.
In that context, Forney's first book to tackle the subject now exists almost as evidence that she knows what she's talking about; you can read the new volume assured that she's been there, too. The book continues her attempt to destigmatise vital conversations about mental health, with sections focussed on recognising misdiagnosis from doctors, practical self-care tips and insightful advice, all drawn in Forney's increasingly clean, thick-line style that recalls the look and layouts of the likes of Hope Larson's earlier work.
Ellen Forney (W/A) • Fantagraphics, $19.99
– Tom Baker