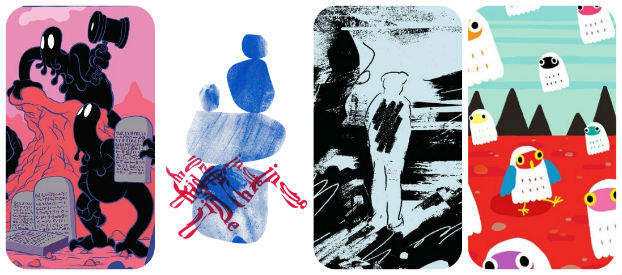 Since 2012 we've been running these annual, end-of-year round-ups of 'Ten UK Small Press Comics You Need to Own!' as a coda to that year's 'Small Pressganged' coverage at Broken Frontier. As the site has veered further towards self-publishing, micropublishing and alt comics as its core focus, however, it's seemed more redundant with each passing year.
How, then, to keep this yearly feature relevant? Well, this year I've elected to take it right back to the 2011 origins of 'Small Pressganged' and to include only self-published comics and zines here this year. No micropublished books, nothing with a publisher logo or an ISBN on it, and no anthologies. The only exception I'm going to make is for minicomics carried by distros as they're still self-published. Hopefully this will ensure a return to a grassroots emphasis here this year as we look back on 2018 and forwards to another impressive year of UK small press comics to come!
And if you think those restrictions made it easier to choose just ten comics this year you couldn't be more wrong. I shall spend the rest of January wracked with guilt about leaving out some of my very favourite small press creators!
On that note please remember this is not and has never been intended to be a "Best of" list. Rather it's a yearly exercise in showcasing the diversity of approaches to the medium that can be found in the British self-publishing output of the previous year. Read on, follow the creators on social media, and do consider picking up their work from the shop links provided!
Owl Goes for a Walk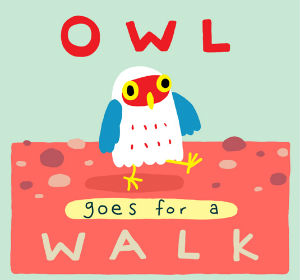 The compact physicality of Ed Stockham's minicomic masks the expansive world that lies within its 24 or so pages. The premise of Owl Goes for a Walk is essentially summed up in its title. On each page we simply witness our avian protagonist as they walk through a new terrain; sometimes familiar, sometimes distinctly alien, as they continue their seemingly endless journey.
Stockham's vibrant colours and eccentric imagination ensure that this is a charming comfort read that you'll return to again and again. Ethereal ghostly beings, mysterious civilisations, cats with giant balls of yarn, robot children and unknowable statues are just some of the creatures and environments that Owl encounters along the way in a delightful comics curiosity.
2019 may well be a year when we need feelgood comics like Owl Goes for a Walk and it also may be an opportunity to discover the work of a splendidly idiosyncratic creative voice.
Small Pressganged review here
Small Pressganged soundbite: "Building up to a finale that hints at possible existential metaphor (or may just be a neat visual resolution!) Stockham's amiable little tale feels both ephemeral and yet somehow teasingly profound as well."
For more on the work of Ed Stockham visit his site here and follow him on Instagram here and Twitter here. You can buy Owl Goes for a Walk from his online store here priced £2.50.
Glorious Wrestling Apocalypse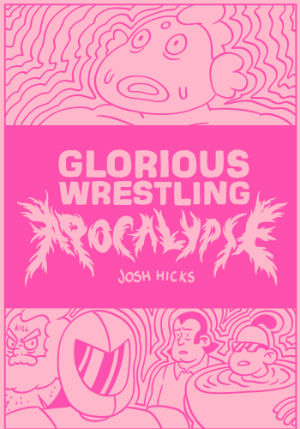 This was the year that Broken Frontier 'Six to Watch' artist Josh Hick's wonderfully wacky wrestling comics sitcom Glorious Wrestling Alliance hit its third issue. But the uplifting and slapstick antics of the colourful combatants of the GWA took on a darker tone in this issue as long-running subplots came to a head, character arcs were sent veering off in new directions and the Glorious Wrestling Alliance faced financial ruin!
Slapstick, gloriously silly and yet steeped in a deep humanity, Hicks has made his colourful cast of characters one that the reader has become heavily invested in over the last few years. In this issue Creature from the Black Lagoon-lookalike The Great Carp faces the terrifying world of merchandising, unlikely would-be poet Death Machine is having a creative crisis and Gravy Boat (who is indeed a human version of that condiment receptacle) has adopted an over-the-top new bad guy persona in the ring.
If you haven't grabbed all three issues of this comic to date then you really need to hunt them down. Hicks's work may take an overt comedic approach but his craft is incredibly sophisticated, making full use of every storytelling tool specific to comics that he can. Paste Magazine listed GWA as one of its top 25 comics of the year for 2018 and at this point the only surprising thing about this project is that it hasn't been snapped up by a publisher.
Small Pressganged review here
Small Pressganged soundbite: "In just a handful of issues Hicks's small press sitcom has become one of the most fondly regarded self-published books on the UK indie circuit."
For more on the work of Josh Hicks visit his site here and follow him on Instagram here and Twitter here. You can visit his online store here.
Stutter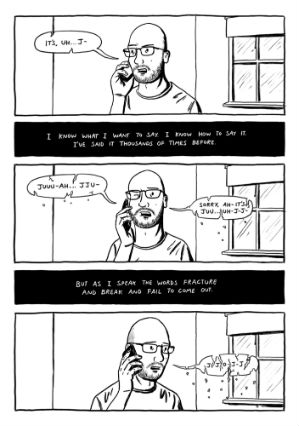 Our 'Debut Comic of the Festival' for Thought Bubble this year, Joe Stone's Stutter is a quite remarkable piece of autobio work that dexterously exploits the unique language of comics to communicate the experience of living with a speech impediment.
Tracing the possible origin of his stutter, the daily effects it has had on his life and the coping mechanisms he adopted to live with it, Stutter is a deeply affecting and uncompromisingly honest comic. But it's the way in which Stone toys with the page that elevates already powerful graphic medicine into a truly outstanding use of the form. Tricks with lettering, speech balloons and panels add an extra, almost meta layer to the manner in which he conveys the experience of dealing with a stammer.
It's an exceptional piece of storytelling and one of the most memorable comics of 2018 in any format. An essential purchase.
Small Pressganged review here
Small Pressganged soundbite: There is nothing we are more passionate about here at Broken Frontier than being able to point to practice that that makes use of those properties of comics that are totally unique to the form to communicate its message. Joe Stone's deeply personal book Stutter is one such project; a comic that conveys the realities of his experiences living with a speech impediment with an affecting and brittle, yet uncompromising, honesty.
For more on the work of Joe Stone visit his site here and order Stutter from his online store here. You can follow him on Instagram here and on Twitter here.
Motherhood
Following the progress of our 2017 Broken Frontier 'Six to Watch' creator Sabba Khan in 2018 was a sometimes quite fingernail-biting affair. Longlisted for the Myriad First Graphic Novel Competition in April, she was then shortlisted for the competition's announcement evening in July. And, while the winner on the night was Broken Frontier's own Jenny Robins, Sabba would still go on to be picked up by Myriad for her graphic memoir Pluralism, as announced by Myriad in September.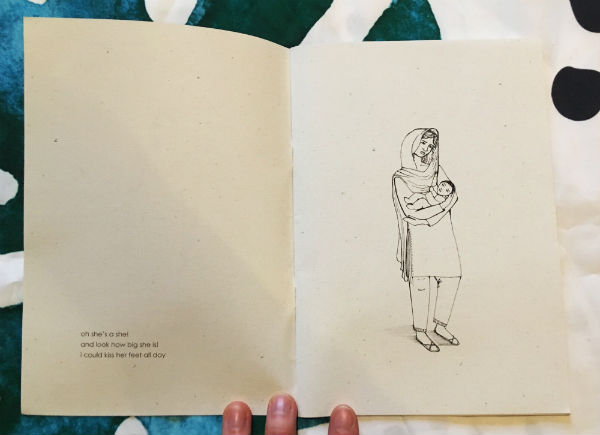 Sabba describes her work as examining "first world city life as a second generation Pakistani Muslim migrant" and while she did self-publish an excerpt from Pluralism this year we're shining an extra spotlight on her zine Motherhood today which may have flown under your radar. Less comics and more illustrated narrative it focuses on the relationship between a Muslim mother and daughter, the ties of family and identity, and the sometimes contrasting pull of two cultures. It embodies everything that makes Sabba's work so profoundly affecting and is the perfect intro into the themes of her practice.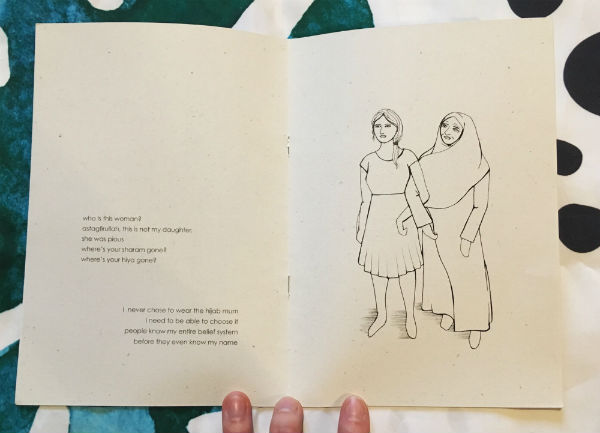 Small Pressganged review here and interview here
Small Pressganged soundbite: Tradition is juxtaposed with the realities of living in two worlds as daughter searches for her own sense of identity often to the mother's disappointment. But we're reminded by story's end of the defining importance of our roots and heritage, no matter how our paths in life may take us in different directions.
For more on the work of Sabba Khan visit her site here and follow her on Instagram here and on Twitter here. Motherhood is available via One Beat Zines here.
Morning Tide/Evening Light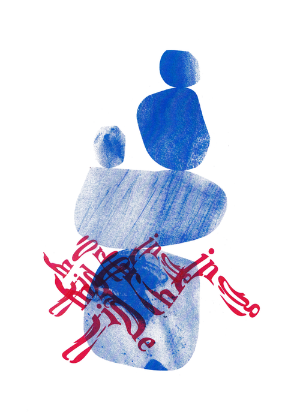 Practitioners like Peony Gent only come along once every few years. I've had the privilege of championing the work of many, many creators whose clever use of the very structure of the page has informed their sequential storytelling. But finding artists who think beyond what they can do with the form and start dreaming instead about how they can expand upon its possibilities is a truly exciting prospect.
Gent's trademark visual poetry is more of a sensation or immersive experience than an exercise in reading or comprehension. She continues to re-imagine the boundaries of the page allowing words, colour and imagery to melt and merge into one another in a truly visceral reading experience.
Morning Tide/Evening Light are two related autobiographical works that explore themes of loss, regret, recovery, release and rebirth. It's rare to be able to describe anyone in comics as truly unique voice with any semblance of authority or validity. But Peony Gent is most assuredly just that.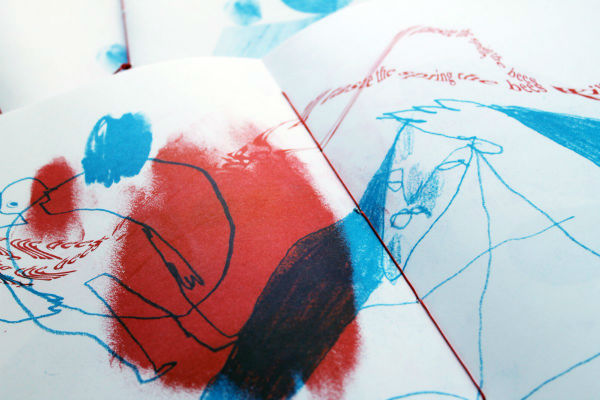 Small Pressganged review here
Small Pressganged soundbite: That Gent's practice crosses media isn't in itself unique but what does mark her out as one of the most important newer voices in the small press world is the pioneering manner in which she adapts the storytelling tools of the medium to her ends; breaking free of the self-imposed and self-defined confines that limit others and re-imagining the canvas of the comics page… It's artists like Peony Gent who continue to remind us not simply of the strengths of what comics are but of the many possibilities of what they can be.
For more on Peony Gent's work visit her site here and follow her on Instagram here and Twitter here. Morning Tide/Evening Light are available on her online store here.
Afterwords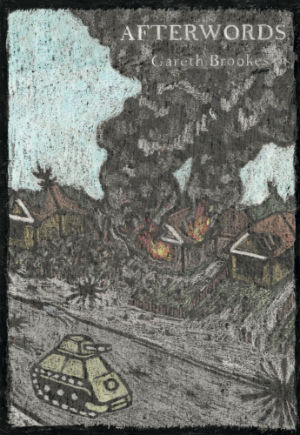 Gareth Brookes revisits the worlds of his two acclaimed graphic novels the embroidered and linocut The Black Project and the crayoned A Thousand Coloured Castles in possible future epilogues that give speculative satirical codas to those two books.
Richard, the former teenage protagonist of The Black Project is now a socially awkward, middle-aged man in a future where "mysecretgirl/guy" automatons have superseded the normal route for romantic liaisons.
Similarly, the follow-up to A Thousand Coloured Castles sees jingoistic supporting character Fred ironically escaping from the reality of the fascist state that has emerged around him by living in the world his VR goggles have created full of flag-waving street parties and jolly Biggles-style fighter pilots.
The social commentary of both tales subverts the narratives of their predecessors in clever dystopian ways and, while the reader familiar with the original books will take far more away from this one-shot, they do work as standalone stories too.
Typically bleak and yet utterly compelling Brookes-ian fare!
Small Pressganged review here
Small Pressganged soundbite: Afterwords proves a playful and layered double coda to the artist's most celebrated stories.
For more on the work of Gareth Brookes visit his website here and follow him on Instagram here and Twitter here. You can buy Afterwords from his online store here. 
XENOS: At the Edge of Life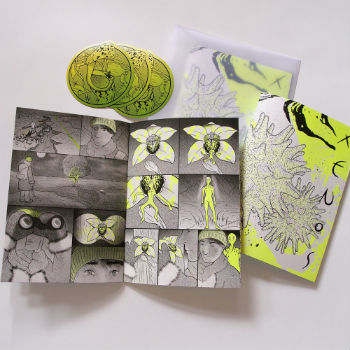 The last 'Small Pressganged' review of 2018 and also one of the very best books to be covered in this column in 2018, Cat Sims's XENOS: At the Edge of Life was not only our ELCAF 'Comic of the Festival' but was also nominated for a Broken Frontier Award this year in the category of 'Best One-Shot'.
XENOS is a wide-ranging study of an environment on the brink of collapse; of humanity's disastrous impact on the ecosystem and its far-ranging and interlinked consequences. Illustrated with Sims's usual intricate realism with more than a hint of disturbing visual metaphor, XENOS jumps timeframes to give us sobering examinations of pollution, global warming, labour exploitation, viral mutation and intensive meat farming.
Extensively researched but told without words, this chilling account of a world that has already travelled beyond the point of no return is the mark of an artist producing the very best work of their career. A narrative that was ambitious in scope but triumphant in realisation, XENOS is another of 2018's must-buy comics.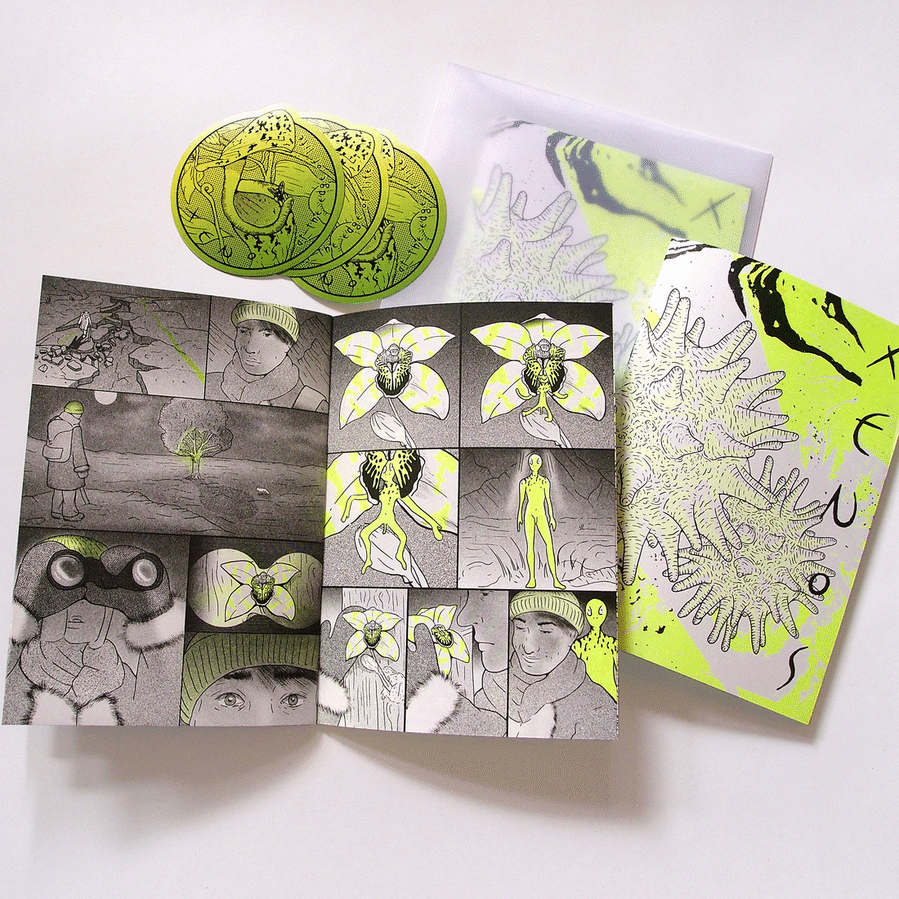 Small Pressganged review here and interview here
Small Pressganged soundbite: It's a comic that also deftly underlines that nodding in quiet agreement as we journey through its pages is an insufficient reaction to its themes; that passive approbation without action is tantamount to complicity.
For more on Cat Sims visit her site here and follow her on Twitter here and Instagram here. You can find her online store here. 
Minor Leagues #6
Simon Moreton's minimalist autobiography in Smoo Comics and Minor Leagues has been a near ever present in this yearly round-up. His zines take us to the crossroads where memory, place, time and actuality intersect and such is the popularity of his publications that they've been nominated in our Broken Frontier Awards three years in a row in the 'Best Ongoing Series' section.
Minor Leagues, the successor to Smoo, has seemed like the destination Moreton's approach to storytelling has always been moving towards with its autobio combination of complementary comics, prose, illustration, photography and poetry. But this year's Minor Leagues #6 feels like the ultimate expression of his practice.
The bumper-sized edition saw the start of 'Where?', a multi-part and deeply personal project that combines the history of the hill Titterstone Clee and the communities (including his childhood home Caynham) that have lived within its presence, an exploration of Moreton's own identity and childhood, and also takes in Moreton's own study of the grieving process following the recent loss of his father. It's the finest work to date in a vast body of excellence from one of the most important figures in the history of the UK small press scene.
Small Pressganged review here and guest article here
Small Pressganged soundbite: Universal in theme but deeply personal in specificity it's an outstanding and expansively structured piece of autobio work; a zine that underlines that within that particularly rich seam of UK small press practice Moreton remains its most innovative, important and, crucially, most relatable artist.
For more Simon Moreton follow him on Twitter here and Instagram here. You can order Minor Leagues from his online store here. 
I'm Not Ready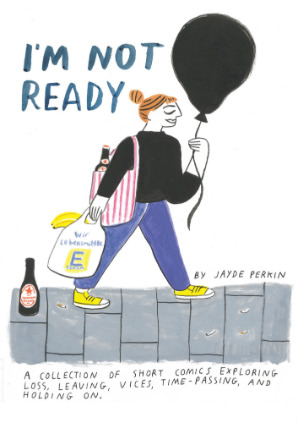 You could be forgiven for thinking it's Jayde Perkin Week here at Broken Frontier what with her winning the Breakout Talent Award in our annual Broken Frontier Awards and the review yesterday of her latest minicomic Insides on the Outside. But 2018 was such a productive year for the ELCAF x WeTransfer Award winner and Broken Frontier 'Six to Watch' artist that this annual round-up would seem lacking without her presence.
I'm Not Ready was the comic that won Jayde that honour at ELCAF 2018 and she'll be turning that exploration of grief and loss into a long-form graphic memoir to be published for ELCAF 2019. This version showcases her profoundly affecting autobio style in stories that deal with body image, with how loss can make us feel disconnected from the familiar, her complicated relationship with smoking and the complex links between grief and memory.
When we tell you someone is a 'Creator to Watch' we really do mean it and the astonishing upwards trajectory of Jayde Perkin's profile this past twelve months has been an absolute joy to observe!
Small Pressganged review here and interview here
Small Pressganged soundbite: When it comes to our annual 'Six to Watch' initiatives I am often asked what I am looking for in potential artists. The easy answer is, of course, is that there is no single reason but in Jayde Perkin's work you have perhaps the best immediate definition. Here we have an artist whose understanding of how to use pure comics to communicate with her readership is both intuitive and instinctive and who forms the most powerful relationship with her audience. 
For more on Jayde Perkin's work visit her site here and her online store here. You can follow her on Instagram here and Twitter here.
Sutra: Songs from the World of OM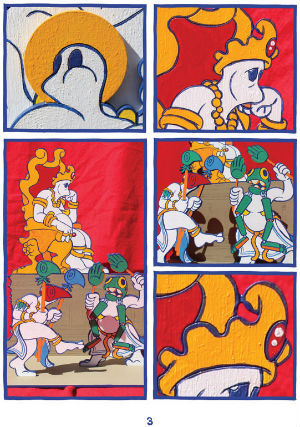 Andy Barron took us back to the bizarrely alien world of his OM series just in time for this year's ELCAF in 2018 and treated us to more of the hypnotically entrancing eerieness of this otherworldly realm. OM is a strangely indefinable plane of existence full of strange beings and their weird life cycles and ecosystems. Illustrated with vibrant colours and appealing cartooning, the sheer brutality of OM can sometimes be something of a surprise!
OM has its own quirky internal logic with Barron saying of his slightly oblique and silent narratives "I like to leave a gap in a story and not reveal everything. I don't like things that are fully resolved; I like leaving an element of ambiguity. I want the actions in the comic to be clear, but when it comes to the meaning of each story that's entirely up to the reader."
OM is a phenomenon quite unlike any other comics reading experience and it deserves a far, far wider readership!
Small Pressganged review here and interview here
Small Pressganged soundbite: A lack of clear resolution or explanation is an intrinsic element of the stories and of Barron's relationship with his audience. It's what makes this such an absorbing reading experience and what gives the book its inherent alienness. If you've yet to take a tourist trip to this fantastical, eerie and psychedelic plane of existence then make sure to grab the opportunity.
You can visit Andy Barron's site here and follow him on Instagram here and Twitter here. You can find his online store here.
For regular updates on all things small press follow Andy Oliver on Twitter here.
Round-up by Andy Oliver