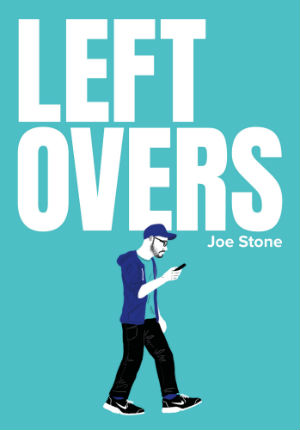 ELCAF FORTNIGHT!
There comes a time when every small presser must collect their minicomics work into one celebratory package representing their sequential art journey to date and that's just what our 2019 Broken Frontier 'Six Small Press Creators to Watch' artist Joe Stone has done with the aptly named Leftovers just in time for his appearance at this year's ELCAF.
Stone, of course, was responsible for one of the most critically respected self-published comics of 2018 in the shape of Stutter, a quite brilliant piece of autobio that depicted his experiences of living with a speech impediment through a deft and deeply affecting use of visual language. Leftovers brings together a number of short comics alongside some new material with a range that includes ephemeral whimsy on the one extreme through to abject nihilism on the other. As I said in this week's interview with the artist, he's a man of many hats is Mr. Stone (as he actually reminds us in one strip about his headwear collection…)
Beginning with a witty strip that acts as something of a framing sequence for what is to come we meet a Joe about to depart full-time employment for the freelance life. His greatest regret about leaving the office? Saying goodbye to Printy the Printer, his effective comics collaborator over the years. A scenario many a self-publisher will no doubt recognise and one that leads into this "career retrospective"…
Stone is always good value in terms of an occasionally worldweary wit. He's spoken about the melancholia of his work before at Broken Frontier and many of the strips here are infused with that element. His observational strip on fellow train commuters, for example, is full of peculiar resigned British acceptance of awful behaviour from fellow travellers and the general soul-destroying experience of the journey into work – the person who falls asleep on you, the horrifically loud guy on his phone, the former school friends reunited years later with nothing but awkward silence to connect them….
There are strips here in that build up to well paced punchlines that wittily and dexterously shift mood and tone 180 degrees but there are also stories of a more direct nature. An autobio account of being mugged draws the reader fully into Stone's explicit anger and will be all the more identifiable for anyone who has been through a similar experience; visual characterisation being a vital part of the story's connective quality. Other entries demonstrate Stone's innate understanding of comics' relationship with time. His heartbreaking piece on the disappearance of Mr. Pickles the cat for example with an implicit sense of tragedy through its silent panels.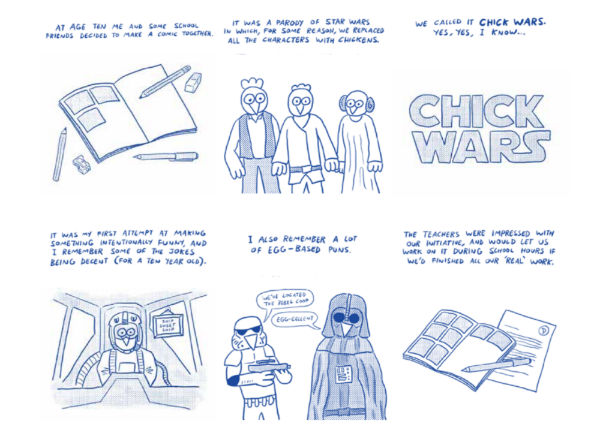 As ever, though, it's when he's embracing his knack for the autobio that Stone is at his very best. A short on his entry point into comics (through terrible '90s X-Men comics that nonetheless entranced an 8-year-old) leads into a quite lovely anecdotal piece about those early attempts to replicate our favourite comics in childhood that many of us will relate to. The grand finale sees Stone visit the end of the world in a tale that focuses on some very human stories despite its overall cynicism.
Collections like this, of course, can feel quite disparate in tone but they serve an incredibly important purpose as well as showcases for the multiplicity of approaches to the form and subject matter that talented newer voices like Stone are capable of. It's something of a portfolio piece that underlies not just his evolution but his versatility on multiple levels. Those at ELCAF this year need to pick up both this and Stutter to get a good grounding on a small press artist who genuinely understands what comics and comics alone are capable of in storytelling terms.
Joe Stone will be exhibiting at ELCAF. You can visit his site here, his online store here and also follow him on Twitter and Instagram. Joe also has a Patreon here.
For more on ELCAF 2019 visit the festival site here and follow them on Twitter here.