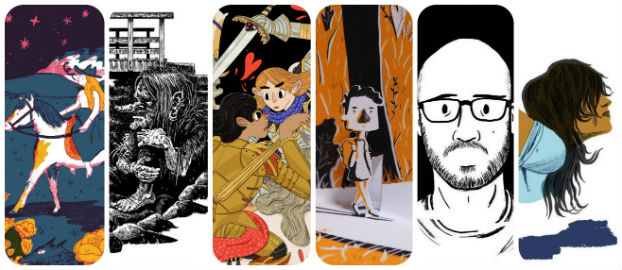 It's that time of year again when we showcase the work of six up-and-coming artists as part of our annual 'Six Small Press Creators to Watch' initiative – half a dozen exciting UK-based creative voices who we'll be following throughout the year at Broken Frontier, spotlighting in interviews and reviews of new work, and also providing mentoring opportunities off the site as well.
This is never an easy choice to make. For this fifth year, though, I really wanted to take this programme right back to basics and choose six small press creators who didn't necessarily have the benefit of relatively major profile-raising comics publicity in 2018 and were nearer the beginnings of their sequential art journeys. As I say, always a hard decision, but don't doubt that we'll be covering some of those small pressers who have already made the step up since last year – in terms of competition, awards, prize or published recognition – in great depth across the year anyway.
From that perspective, only one person on this list was covered at Broken Frontier before last summer, some of the creators are entirely new to BF and some have yet to even self-publish their first print comic! Their styles, subject matter and approaches to the form may be diverse and very different to each other but what they all have in common is an inquisitive eye when it comes to the possibilities of the medium and an instinctive command of its language.
So, without further ado, I'm delighted to announce our 2019 'Six to Watch' artists! We'll be following up with initial reviews of their work over the next few weeks and if you want to investigate their practice further then I've linked to their sites, online stores and social media wherever possible.
Aleesha Nandhra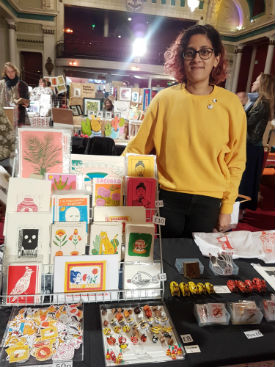 Illustrator Aleesha Nandhra's deeply resonant slice-of-life comics work first came to my attention in the pages of street press anthology OFF LIFE back in 2016 with a short story about grief that had an immediate impact on me. Last October I looked in more depth at Aleesha's hauntingly fragmentary Thinking in the Dark, a zine series that portrays "the thoughts and feelings that come to mind when you can't sleep at night."
Aleesha's comics work is powerfully connective in its visual eloquence, juxtaposing atmospheric imagery with affecting commentary to create visual poetry that speaks to us of shared and recognisable experiences. These mini-narratives are subtle yet potent, and show an ability to communicate with her readership on the most instinctive level.
Outside of comics Aleesha's rich and varied practice has seen her shortlisted in the 'Design' Category of The World Illustration Awards 2018 and contribute the April 2018 Google Doodle celebrating the 148th anniversary of Dadasaheb Phalke, the creator of the first silent film in India in 1913.
You can visit her site here, her online store here and also follow her on Twitter and Instagram.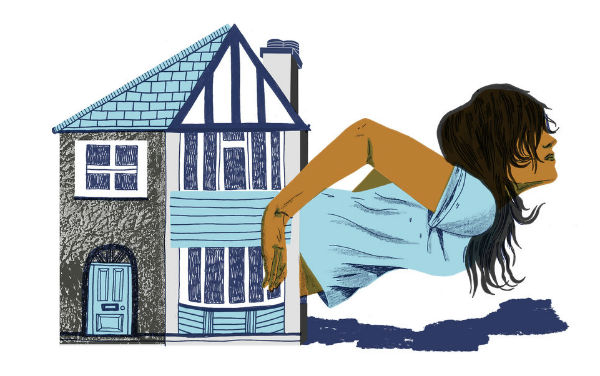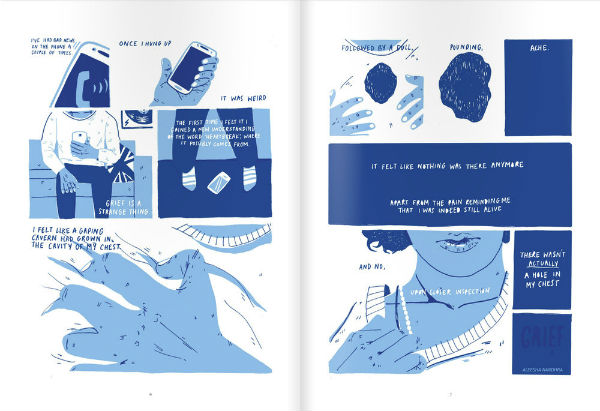 Anna Readman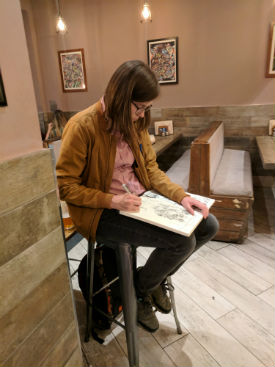 Anna Readman is an artist making her first appearance at Broken Frontier today! The intricate and elaborate composition of Anna's often moody visuals has a hypnotic quality to it that immediately caught my attention on social media.
Every illustration is full of hidden details that positively insist the reader lingers over each image, absorbing every last element of their often unsettling but enticing qualities. An occasionally playfully meta flourish to her comics underlines her acute understanding of comics as a unique medium.
There are examples of Anna's comics and illustration on her online portfolio site including her Hidden Trolls zine and Strangers in Everyland, a minicomic capturing scenes from Cormac McCarthy's Suttree. 
You can visit her site here, download/buy her work on Gumroad here and also follow her on Twitter and Instagram.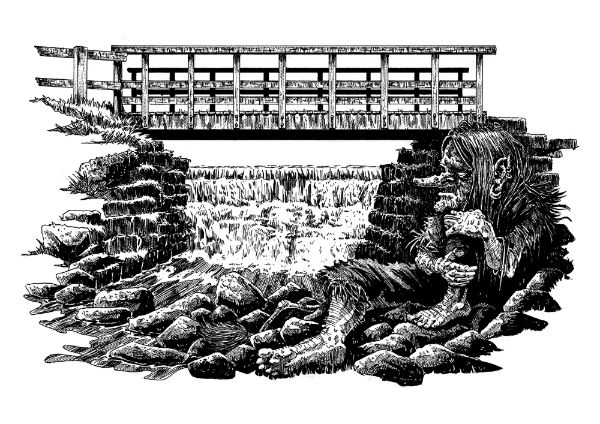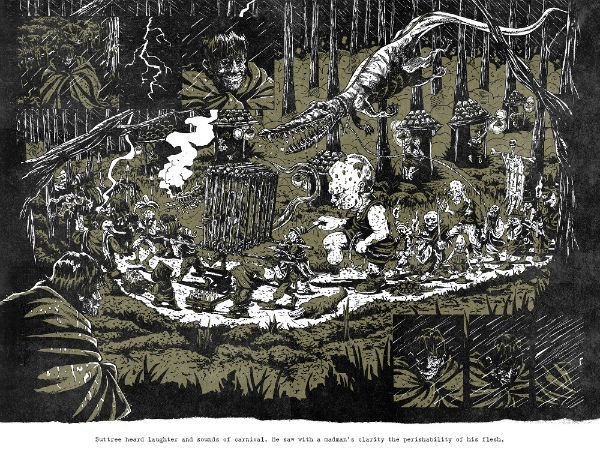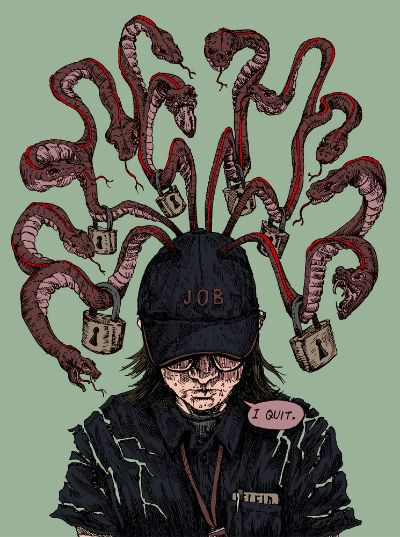 Barbawk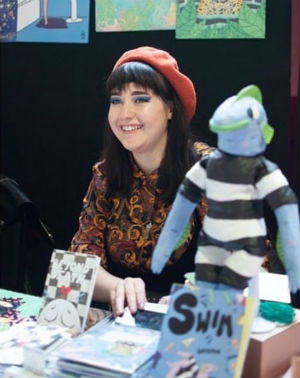 Last October, when I reviewed Comic Book Slumber Party's anarchic fantasy anthology Escape from Bitch Mountain, I singled out the work of Bristol-based illustrator Barbawk (aka Abi Bailey) as being of particular note. Her inventive subversion of page structure and sequential pacing immediately stood out, and her accessible cartooning style has an instant appeal to the reader.
Another creator in this round-up who intuitively grasps the specific storytelling tools of the form, Barbawk's work often employs anthropomorphic animal characters to tell very relatable slice-of-life/autobio stories, with her use of both lettering and colour adding extra dimensions to the tone of her strips.
Look for a review of her minicomic Swim later this month at BF. You can visit her site here, her online store here and also follow her on Twitter and Instagram.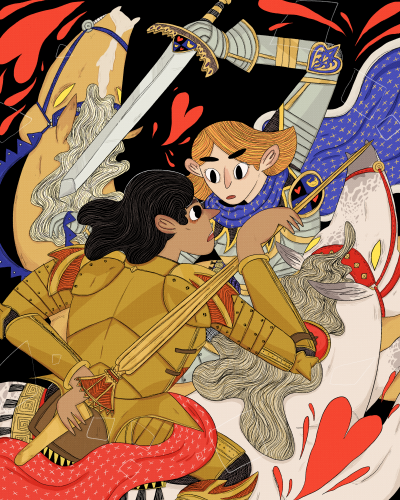 Joe Stone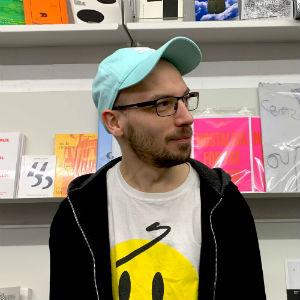 Joe Stone had something of a burst of coverage at Broken Frontier last summer. Firstly he was one of the creators we shined a spotlight on as part of our South London Comic and Zine Fair coverage. But later in the year he published his autobio comic Stutter, a very personal account of living with a speech impediment and one that, quite frankly, redefined "breakout comic".
Stutter was not only reviewed on the site here but was also our Thought Bubble 'Debut Comic of the Festival' and one of our 2018 'Ten UK Small Press Comics You Need to Own!'. Apart from his own minicomics output Joe also makes an invaluable contribution to the small press community leading the London Work In Progress comics group and self-publishing their first anthology Work, giving an invaluable platform to new creators.
You can visit his site here, his online store here and also follow him on Twitter and Instagram. Joe also has a Patreon here.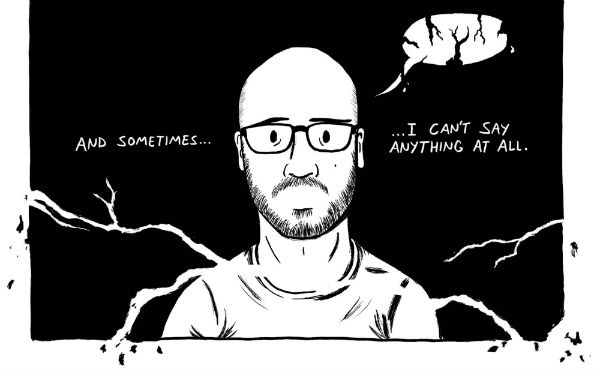 Laurel Pettitt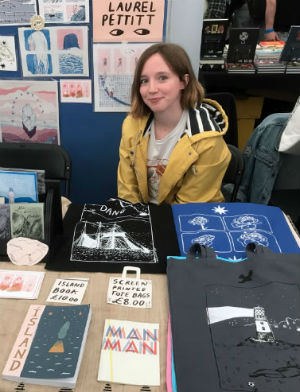 If you attended ELCAF or Thought Bubble last year you may have already picked up some of Laurel Pettitt's work. Laurel was also a guest artist at one of our Gosh! Comics and Broken Frontier Drink and Draws in 2019 and I reviewed her zine Quiet Moments back in July – a truly evocative collection of short sequential scenes that spoke to the reader on a profoundly human level and ensured the deepest of empathetic connections between audience and page.
After a successful crowdfunding campaign Laurel also published Island, a scrapbook-style travelogue/graphic memoir following a holiday in Iceland that encapsulates her quirky and distinctive storytelling in all its likeably cross-media presentational delivery. You can see an extensive preview of Island here. Whether it's her engaging autobio or expressive illustration, Laurel has an ability to make a reader feel instantly invested in her narratives and linked to events on the page.
You can visit her site here, her online store here and also follow her on Twitter and Instagram.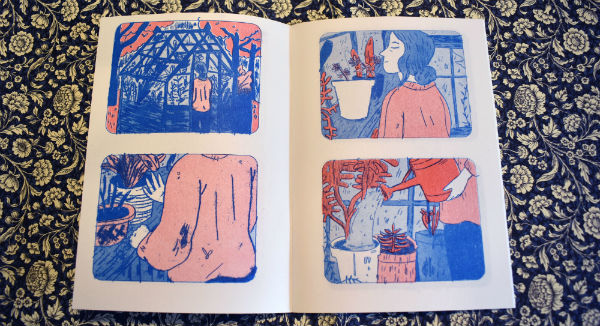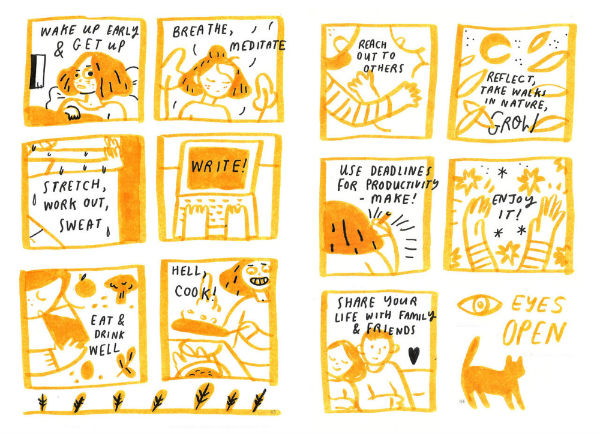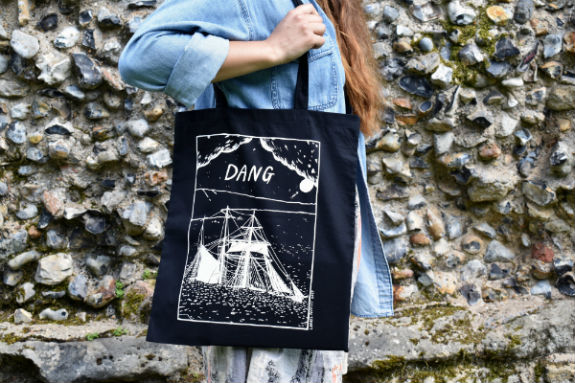 Olivia Sualdea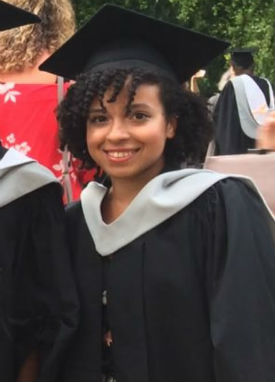 It's especially pleasing to be able to feature an artist here this year who is yet to self-publish work. But if you've been following Olivia Sualdea's social media feeds you will know exactly why her name is on this list. From sequential art to physical diorama her posts are indicative of a truly exciting and emerging new voice in comics and illustration.
Olivia's expressive cartooning and gorgeous use of colour to create mood and enhance theme, alongside an occasional line in highly effective visual metaphor, really marks her out as a genuinely inspiring up-and-coming prospect. One I hope we can take to entirely new and much deserved audiences over the course of 2019!
You can find out more about her work here and also follow her on Twitter and Instagram.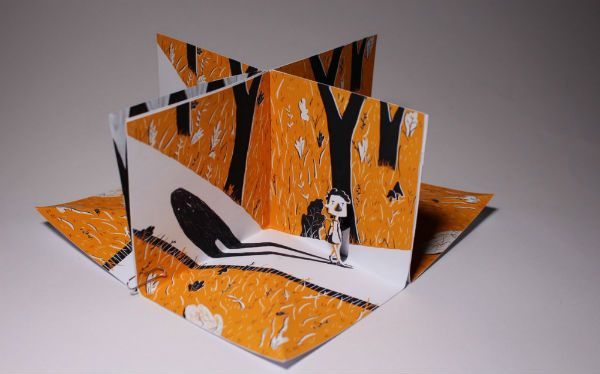 For regular updates on all things small press follow Andy Oliver on Twitter here.
Article by Andy Oliver