ELCAF FORTNIGHT!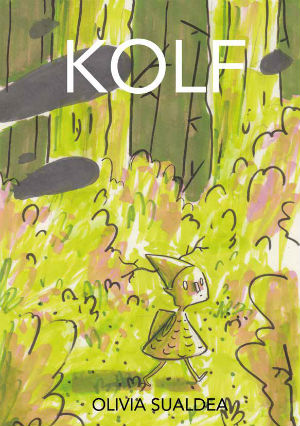 When I selected artist Olivia Sualdea for this year's Broken Frontier 'Six Small Press Creators to Watch' programme it was a decision made based entirely on her social media output. Unusually for the 'Six to Watch' initiative she had no work yet in print with her comics to date consisting of short work seen on Twitter and Instagram. Such was the power, though, of her often resonant cartooning, alongside her gorgeous employment of colour to create mood and enhance theme, it was obvious there was something very special blossoming here. Ultimately, it was her ability to pull on the heartstrings with a deeply affecting use of visual metaphor that really stood out.
This year's ELCAF sees Sualdea tabling at her first festival with debut print comics (alongside plenty of other illustrative goodies) as she takes the first steps to realising that potential in front of the eyes of a wider audience. Kolf is a magical tale set in a mysterious woodland that centres on the strange elf-like creature of the title who lives in a hollow high up in a tree. Observing mysterious black spectral entities in the forest from afar, Kolf's investigations will lead to encounters with witches, subterranean dwellers and a reality-altering, temporal experience as we explore this odd but enchanting world along with him…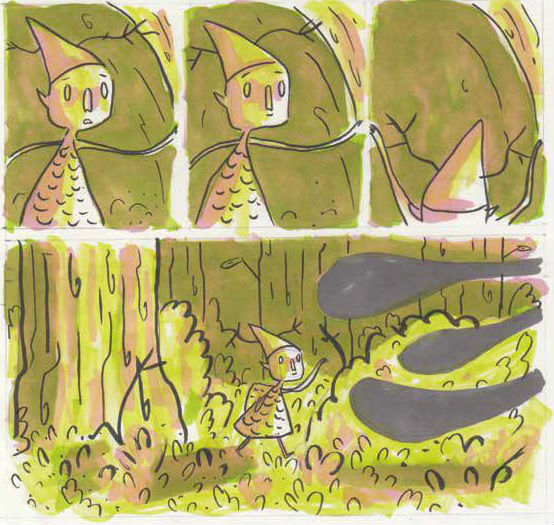 There's a true art to telling a story without words and engaging and retaining the reader's attention throughout and Sualdea achieves this with inventive page layouts that constantly adapt to the needs of her story. Usually tightly packed with irregular panel formations that give a sense of motion and movement to her character's exploits, her pages will sometimes break down into more expressionistic and freeform presentation in key sequences – the spectral creatures, for example, floating around the page in the spaces between panels or our elven protagonist's apparent intoxication in another segment seeing multiple iterations of them cavorting across a panel-less double-page spread.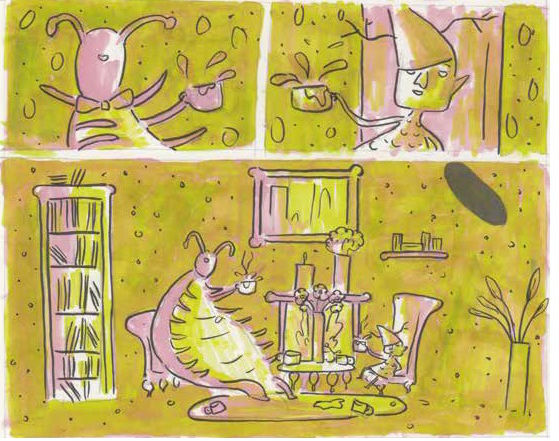 Colour is always a huge part of Sualdea's work and here its delicate greeny-yellow and pastel purple hues adds a sense of the otherworldly to Kolf's environment. There's a lot here that is left to the reader's imagination to fill in; the fun of the story being that we are actively invited to interact with the narrative and interpret events from our own perspective. But there's something very allegorical here in an existential way as Kolf broadens his horizons, interacting with a wider plane of existence and perhaps discovering something about himself in the process. The final section, in particular, has an eerie poignancy to it as the story flows into an almost cyclical denouement.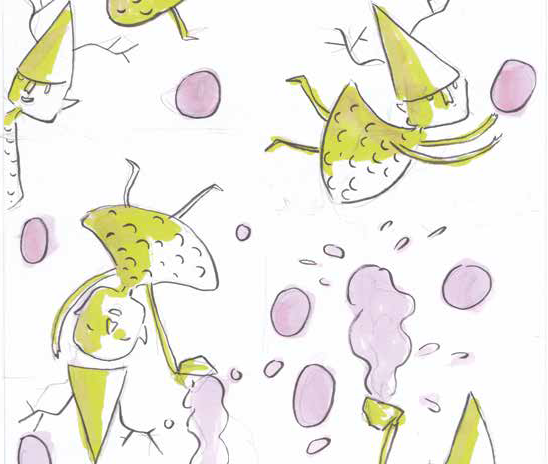 ELCAF represents the chance to discover the work of many artists who may be unfamiliar to its audience for the very first time. In the case of Olivia Sualdea, though, it's also an opportunity to meet the creator as she makes her first major entry into the UK small press community. Make sure to catch her over ELCAF weekend and discover for yourselves just why we've been pushing her art so strongly at Broken Frontier this year!
Review by Andy Oliver
Olivia Sualdea is exhibiting at ELCAF. For more on her work visit her site here and also follow her on Twitter and Instagram. Olivia will also be a guest artist at this week's Gosh! Comics and Broken Frontier Drink and Draw.
For more on ELCAF 2019 visit the festival site here and follow them on Twitter here.