THOUGHT BUBBLE 2022! When I chose Anna Readman to be one of Broken Frontier's 'Six to Watch' artists in  2019 it was based solely on a few short pieces on her website, and on largely illustration work rather than comics. A gamble you might think given that our annual artist showcase initiative is one of the marquee events of our calendar year. But you'd be wrong. From the offset I could instantly see the potential in Readman's work with that instinctual sense that has served me so well in the last decade at BF. Since then I've gone on to make grand statements about my belief in her practice and I stand by them 100%. That she's been recognised as a voice of the future by the 2000 AD team only underlines those claims.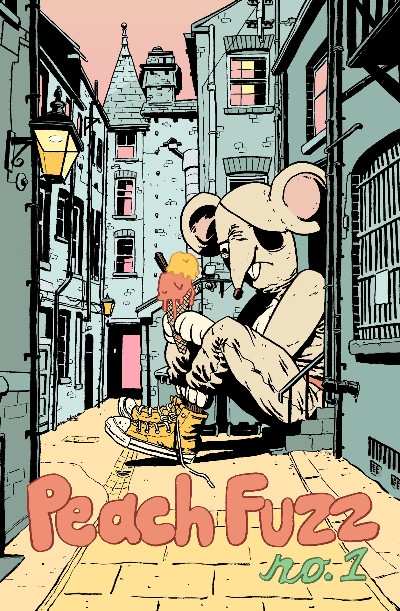 Peach Fuzz is Readman's new release for Thought Bubble; a collection of three main strips alongside some other smaller entries. The main features feel incrementally like a gradual yet strangely enticing descent into the maudlin and the inescapable. There are elements of slice-of-life comics to them but, as broad and wide-ranging as that categorisation is, it feels oddly restrictive in this particular case. The stories herein are, indeed, about everyday people and unremarkable lives but they're soaked in a potent melancholy; as if something dark and brooding is waiting for us just below the narrative surface.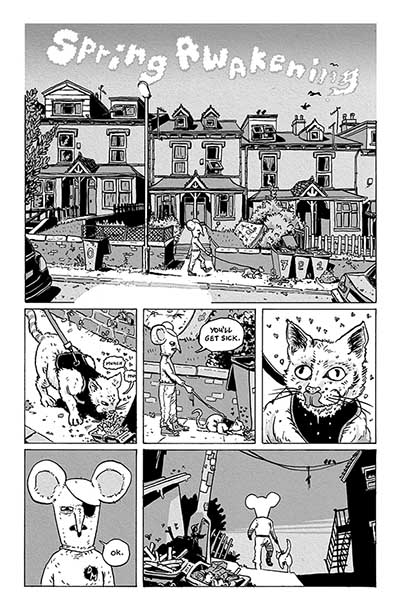 In 'Spring Awakening' – a truly bleak coming-of-age story – we meet young Davey who, having moved to a new town with his mother, quickly embarks on a quest to find his missing cat Steve. Wearing a home-made Halloween Danger Mouse costume that makes him look like the seediest and most disturbing incarnation of the world's greatest murine secret agent his search leads him to a local student house party and a formative meeting with free spirit Carrie.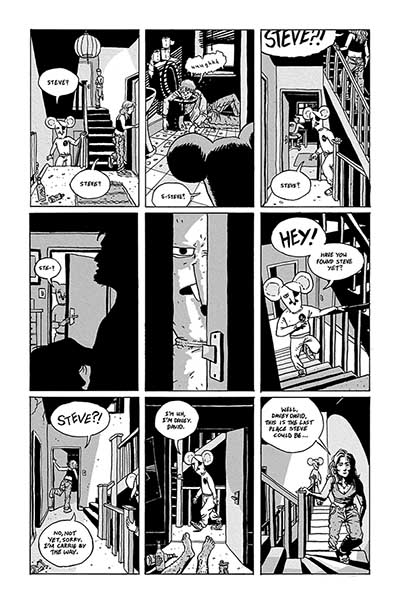 Readman's almost-but-not-quite-a-rites-of-passage-story touches on themes of identity, loneliness and human connection but it's also a near-absurdist character piece, with a narration style that is so dry in its wit that in places it's positively arid. Each panel is packed with detail with Readman constantly toying with page structure and storytelling tools – perspective and sound effects that cross panels creating a very real feeling of place, space and moment for example, or body language conveying extremes of mood and emotion with an instinctive eloquence that dialogue never could.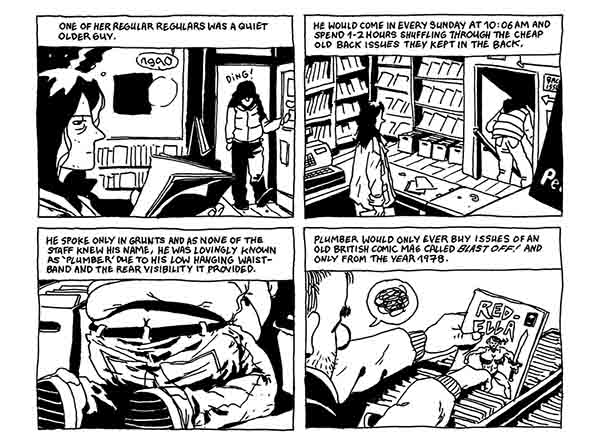 In the second main tale 'Plumber' a comic shop salesperson's random act of kindness towards a socially bumbling collector of an obscure 1970s British weekly comic pays off with unexpected dividends. If you're expecting a feelgood short though the deadpan humour of Readman's multi-punchline denouement may make you think again. The quiet but precise panel to panel pacing here is perfect in evoking not just the world of a bored staff member counting down her hours but also one moment of touching poignancy. 'Plumber' also has one of the finest depictions of an old school comic shop you will ever see; somehow capturing that incongruous blend of depressingly dank surroundings and potential comicky Aladdin's caves that such locales always seem to embody.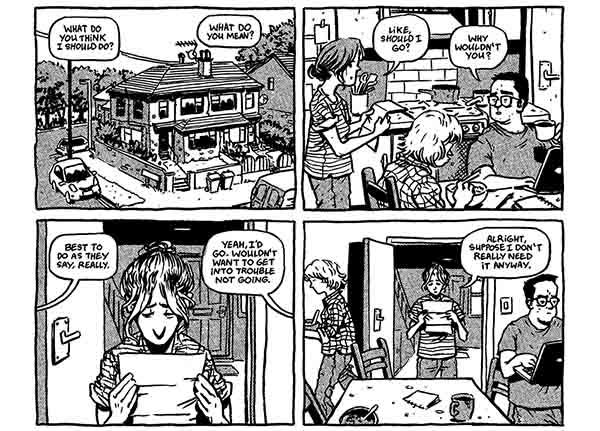 The big finale is the Kafka-esque nightmare of 'That's the Way It Is' set in a contemporary world where state-sanctioned body part removal for unknown reasons is a simple fact of life. Like some kind of brutally violent jury service some citizens are never sent letters to report in for this process while others are frequently selected. One such case is the protagonist of this third story who, as time goes on, becomes ever more physically diminished by her legal obligation. Like Josef K's plight in The Trial this is an account more about being trapped in an oppressive system, of having no control and no answers, rather than an EC-style horror short with a cynical but neat wrap-up. Indeed this strip becomes ever more claustrophobic as it proceeds with tighter panels and alarming perspective ensuring it positively reeks of nihilistic inevitability as it reaches its conclusion.
A rather cool thing about Anna Readman's work to date is that pretty much all of it is a discrete entry point into her storytelling. Regardless, Peach Fuzz is a no-holds barred, absolute must-buy at Thought Bubble by an artist who is not just a practitioner of the form but a committed student of its potential as well. Stick it somewhere near the very top of your Harrogate shopping list!
Anna Readman • Self-published
Anna Readman is at Table 16B in the Redshirt Hall at Thought Bubble 2022
Review by Andy Oliver