Part of the 2000 AD 'Regened' initiative that provides accessible, all-ages, one-shot issues with complete-in-one stories every few months, Prog #2206 of the Galaxy's Greatest Comic is a heady mix of the old and the new. It looks back to the venerable weekly's rich past but also looks forward to its future with the debut of a creator we have no doubt will be a star of tomorrow. Five short stories serve as both introduction to the characters and concepts that have made 2000 AD the British comics institution it is but also provide a taster to its signature blend of dark humour and idiosyncratic sci-fi.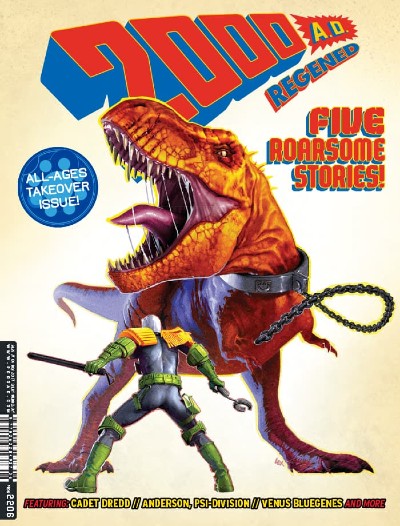 The opening Cadet Dredd story 'Tooth and Claw', for example, is perfectly pitched to entice new readers and appeal to the established fans. Set in Judge Dredd and his clone brother Rico's days at the academy it follows a group of cadet judges on a mission outside of the environs of Mega-City One involving dinosaur farms, rogue mutant gangs and giant robotic weaponry. Michael Carroll's story is an object lesson in how to embrace continuity without alienating new readers, packed full of references to the Dredd mythos and further developing his fractious relationship with brother Rico, but in a way that never intrudes on the enjoyment of the first-time reader. Nicolo Assirelli's dynamic visuals in the battle scenes will certainly grab the attention of the potentially younger target audience here while Gary Caldwell's colours capture not just the bleakness of the Cursed Earth but also some quieter, brooding character moments between Dredd and Rico.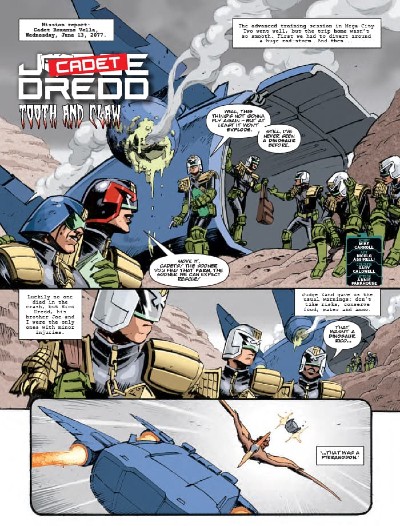 The big draw for us at Broken Frontier is this prog's second story featuring the Alan Moore character Abelard Snazz (and his sycophantic robot sidekick Edwin), last seen in 2000 AD around 37 years ago! The Man with the Multi-Storey Mind appeared in just half a dozen stories in the early '80s, a character whose intellect may have been on genius levels but whose plans always went disastrously wrong. His return may be noteworthy but it also marks the 2000 AD debut of 2019 Broken Frontier 'Six to Watch' creator Anna Readman, an artist I described as "the future of British comics" here at Broken Frontier when I reviewed her short comic Area 07. Those wanting to read Readman's thoughts on her practice should check out this interview at BF last year.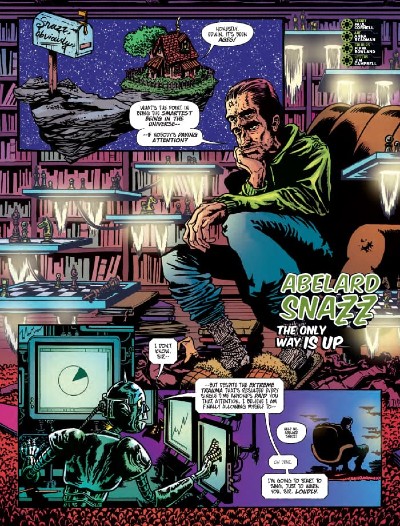 Those fearing a diluted take on Snazz after all these decades will be reassured to hear that writer Paul Cornell captures the spirit of the character with great aplomb – it's exactly the kind of bleakly farcical comedic sci-fi that the success of 2000 AD was founded on its early years as Snazz and Edwin's schemes to help the citizens of a subatomic world in their "war on bigness" spiral out of control in typical Snazz fashion. Cornell's story is witty, likeably self-referential and cleverly constructed to build up to a cracking punchline. But it's Readman who steals the show (and indeed the whole issue) with her panel-to-panel storytelling. When I reviewed her comic Area 07 it was clear how skilled she was at playing with perspective to dramatic effect. Here she does similar but in a humorous vein with her visual characterisation and depiction of the near slapstick dimension-warping scenes being key to the strip's success. Pippa Bowland's colours also positively pop off the page here, emphasising the bizarre qualities of the fantastic realms the characters travel through.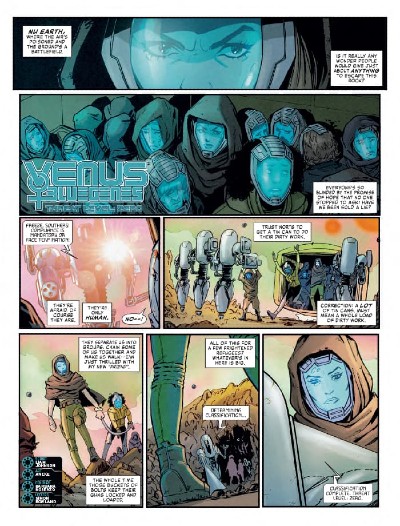 Writer Liam Johnson, a winner of last year's Thought Bubble 2000 AD new talent search teams up with artist Aneke with a Venus Bluegenes story that takes us back to the future war environment of Rogue Trooper. Again, Johnson neatly distils the essence of this world into a handful of pages, telling the new reader all they need to know about it without overt exposition. Contemporary issues are paralleled as Venus investigates the plight of Souther refugees kidnapped by Nort forces with Aneke's art and Barbara Nosenzo's colours underlining the sheer bleakness of their plight. Karl Stock also writes a cracking Future Shock 'For the Man Who Lives Everywhen', a time-travel parable with the chronal chaos of events brought to vivid life by Tom Newell's visuals.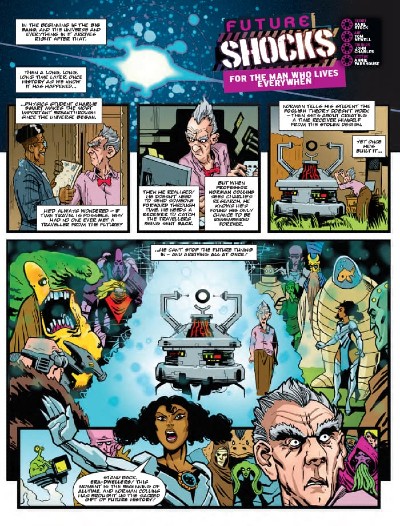 Rounding out the issue is a Judge Anderson story written by Cavan Scott with Anderson dealing with a case of psychic possession that may not be quite what it seems. This entry does have ties to a previous storyline but it still works as a standalone tale, with the casual brutality of Mega-City One underlined in both its denouement and the injustices suffered by its innocent citizens (always one of the most resonant aspects of Anderson and Dredd's world). Paul Davidson's art reminds us of that juxtaposition of the mundane and the bizarre that Mega-City One embodies as urban sprawl and tentacular otherworldliness converge. Len O'Grady's colours are particularly effective in bringing one page of shocking revelation to life.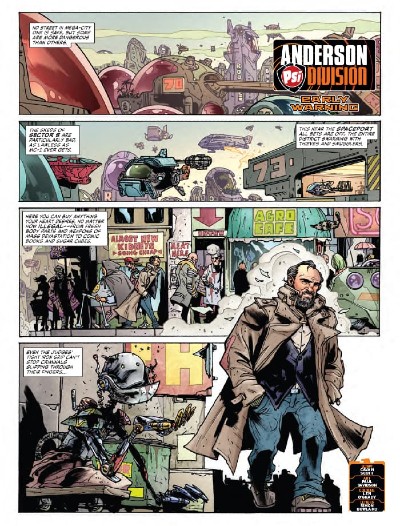 This is the most solid of these Regened issues to date and genuinely acts as an excellent entry point into the worlds of 2000 AD for the uninitiated. But it's Anna Readman's art that is the absolute highlight here. As I said back in the early part of 2019 at Broken Frontier Readman is a major emerging talent in comics. If you want to join her comics journey from near the beginning then Prog 2206 is worth the price of admission for her contribution alone.
Mike Carroll, Paul Cornell, Liam Johnson, Karl Stock, Cavan Scott (W), Nicolo Assirelli, Anna Readman, Aneke, Tom Newell, Paul Davidson (A), Gary Caldwell, Pippa Bowland, Barbara Nosenzo, John Charles, Len O'Grady (C), Annie Parkhouse, Jim Campbell, Simon Bowland, Annie Parkhose (L) • Rebellion, £4.99
Review by Andy Oliver