Inspired by cult B-movies like Them!, early 2000 AD serial Ant Wars will be collected by UK publisher Rebellion in early 2018, bringing the bug-based horror favourite to an entirely new audience of readers. Written by the prolific Gerry Finley-Day and illustrated by a number of artists associated with the early days of 2000 AD, Starlord and Tornado – Jośe Ferrer (Robo-Hunter), Lozano (M.A.C.H.1), Pena (Planet of the Damned) and Azpiri (Black Hawk) – Ant Wars plays on our primal fears of the insect world with an edgy underlying ecological twist.
The story originally appeared in 2000 AD #71-85 way back in 1978 and has been reprinted a handful of times over the years, including in Eagle #217-231 (1986), the Quality reprint series Scavengers for the US market in the late '80s and 2000 AD Extreme Edition #4 in 2004. There was also an Ant Wars cameo appearance in 2000 AD's Armoured Gideon serial in the mid-'90s.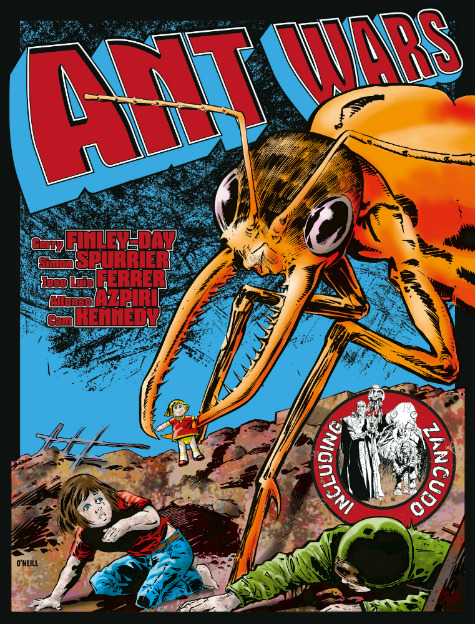 This compilation also includes Simon Spurrier (Godshaper, The Spire) and the legendary Judge Dredd artist Cam Kennedy's related Zancudo tale from the Judge Dredd Megazine in 2005. Ant Wars is a perfect complementary package to Rebellion's ongoing Treasury of British Comics volumes and we're delighted to give the exclusive cover reveal for the book today at Broken Frontier above, as well as some classic Ant Wars imagery below to whet your appetites for February 2018…
TITLE: ANT WARS CLASSIC COLLECTION
RELEASE: FEB 2018
PAGECOUNT: 112
CREATORS: Gerry Finley-Day, Simon Spurrier, Jose Luis Ferrer, Alfonso Azpiri, Cam Kennedy
SYNOPSIS:PEST CONTROL ISN'T GOING TO FLY WHEN THE BIG BUGS BITE BACK!
When military personnel spray an untested insecticide on ants in the Brazilian rainforest, the colony mutate into super-intelligent creatures with a taste for human flesh! As the terrifying army head closer towards civilisation, Captain Villa and a young forest native race ahead in the vain attempt to warn a thoroughly unprepared world! Also includes Zancudo – bonus story by Si Spurrier and Cam Kennedy!
COMICS MOST HIGHLY ANT-ICIPATED CLASSIC RETURNS!
Classic cover art by Kevin O'Neill left and Azpiri right
For more on the worlds of 2000 AD visit their site here, follow them on Twitter here and visit their online store here.