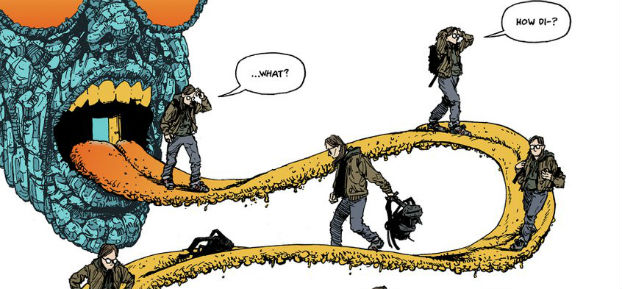 If you're following her social media accounts then you will be well aware that the gradual reveals of new work-in-progress from our 2019 'Six Small Press Creators to Watch' artist Anna Readman are rapidly becoming the most eagerly anticipated posts of Comics Twitter/Instagram. A few weeks ago here at Broken Frontier I reviewed her Cormac McCarthy-inspired zine Strangers in Everyland and described her as "one of the most promising emerging talents I have ever covered in all the years I've been writing at Broken Frontier". Her latest minicomic Area 07 only solidifies that belief and bolsters my conviction that we have a major new comics talent on our hands here.
Area 07 is a five-page strip available for download or to view on Readman's site, and captures the essence of an experience that many of us will empathise with – that strange feeling of returning to the family home after living away from it for an extended period. It's a sensation that no doubt a large proportion of her audience will remember as being particularly acute on a return from university; suddenly the wholly familiar takes on a slightly detached aspect, recognisable and yet incongruous, unchanged and yet off-kilter.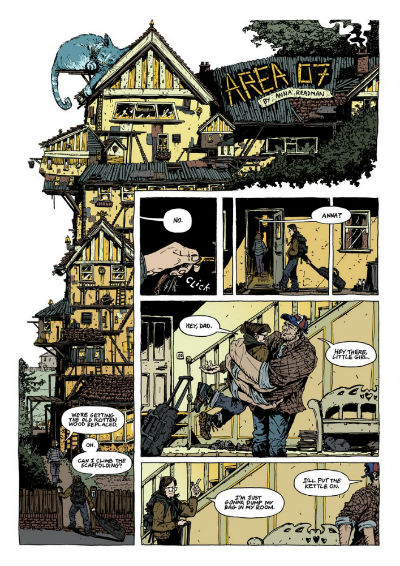 It's that strange discombobulation that Readman looks to recreate in Area 07 and she does so by turning the identifiable comforts of home into visually grotesque parodies of themselves. The family house becomes a dreamlike architectural re-imagining with everything, including her father's friendly hug, turning into an exaggerated version of itself. As events progress we move further and further into the realms of fantasy metaphor. Readman's brother, leaving for a trip to the pub, becomes a disproportionate troll-like entity, suddenly seeming far too large for the confines of the page and even straining against the edges of the panels he inhabits.
As she continues to explore these new/old environs we descend into a world that becomes increasingly fantastical and not a little bit bizarre with every successive image. Events come to a head in her childhood bedroom when echoes of the past come to the fore leading to a humorous finale that reminds us that there is a two-way relationship to the changes portrayed.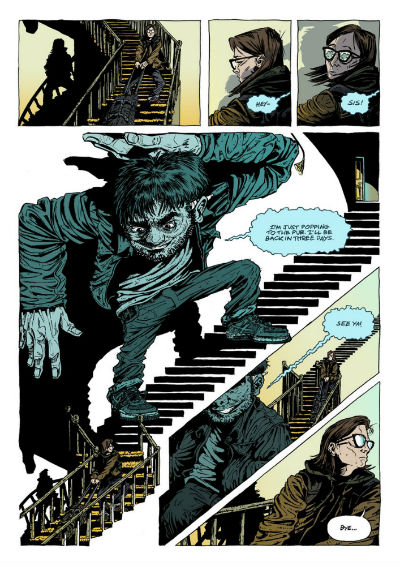 There are a number of moments within Area 07 that highlight something about Readman's previous work that caught my attention when I was drawing up my shortlist of names for this year's Broken Frontier 'Six to Watch' – her occasional meta playfulness with the structure of the form and a willingness to make its manipulation part of the actual storytelling process. She does it to particularly great effect at the end of this strip in a neat single image that sees panel and speech balloon conventions becoming symbolic metaphors in themselves.
From those gloriously detailed pages that practically beg the reader to dwell on their intricacies to her imaginative representational mindscapes, through to her inventive and mind-bending page layouts Readman's Area 07 is a brilliantly evocative story, Perhaps ironically it embraces the bizarre and the surreal to remind us of the universal realities of a rite of passage that we all experience. Ultimately though all my praise for her pages proves irrelevant, any critical analysis redundant, when presented with work that speaks for itself so eloquently.
We told you Anna Readman was a creator to watch in 2019 and we meant it. Take note all. We have a true creative phenomenon breaking out here and she's barely even begun her comics journey.
For more on the work of Anna Readman visit her site here. You can download a PDF of Area 07 from Gumtree here or read it on her site here.
You can also follow Anna on Twitter and Instagram.
For regular updates on all things small press follow Andy Oliver on Twitter here.
Review by Andy Oliver