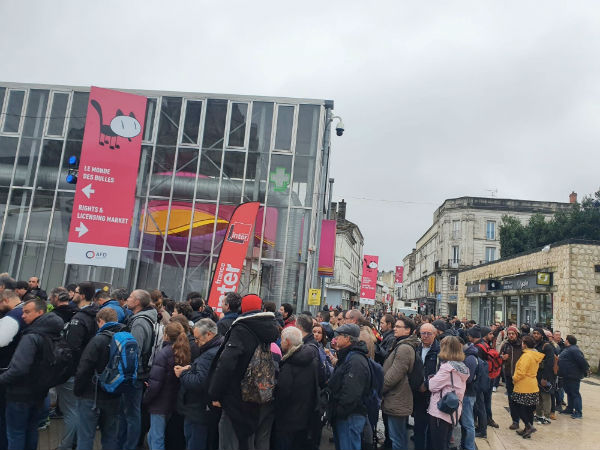 With the Angoulême buzz still at the forefront of the comics world's collective consciousness we welcome 2019 Broken Frontier 'Six Small Press Creators to Watch' artist and Hackney Comic + Zine Fair organiser Joe Stone back to the site today with this special festival report on the Angoulême experience…
Rumour has it that the Angoulême International Festival of Comics is one of the best comic events in the world. I'd heard murmurings of how good it was for years; a huge celebration of sequential art where the quality of the creators was unmatched and the after-hours parties were the stuff of legend. So this year, me and my partner in crime Lara decided to go and see it for ourselves, along with our friend Nora Goldberg (the former co-host of the Gosh/BF Drink and Draw) who had been a number of times before.
But for all the rumours and hearsay, and despite Nora acting as our experienced tour guide, even on the day we set off on our trip to this medium-sized town in southwest France I still didn't quite know what to expect.
When we arrived at our destination on Thursday evening and got off the train the first thing I noticed was a huge statue of Le Fauve — Angoulême's adorable cat mascot — positioned prominently on the platform. The presence of the festival was immediately unavoidable.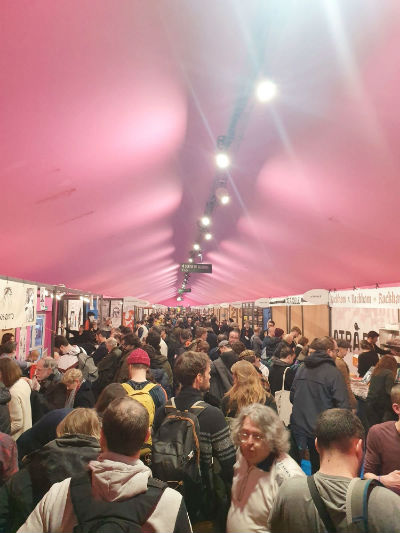 This continued everywhere we went. In the town of Angoulême, the festival is all consuming. Comics are everywhere, with events popping up in shops, churches and even people's houses, clearly branded signs directing you to the nearest exhibition or exhibitor tent hanging from every street corner, and placards for newly released books stuck to nearly every bollard and street lamp. The dedication to the event from the entire community is a sight to behold, with seemingly every local business getting in on the action through promotions, window displays or comic-themed signage on their premises.
After some dinner, drinks and an awkwardly miscommunicated taxi journey (where me and Lara learned that it would have been really useful if we'd learnt to speak some French before we went to France) we decided to get some rest before the next three days of consuming comics culture.
Our plan for the first day was to tackle the numerous exhibitions held throughout the town, starting off with a trip to the Musée d'Angoulême. Every year this museum hosts the work of two prolific artists, and this time it was the turn of Manga artist Yoshiharu Tsuge and iconic American creator Wally Wood.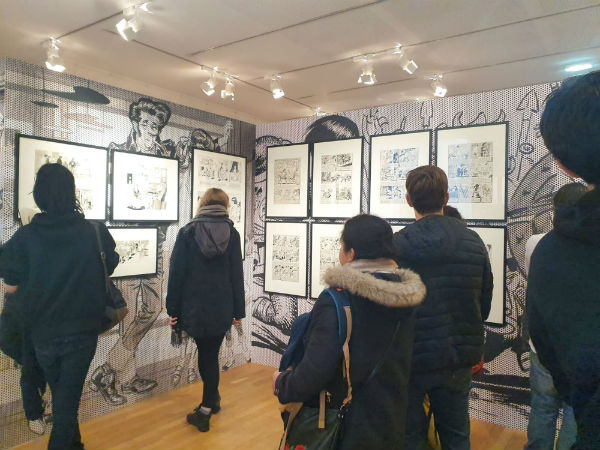 I wasn't familiar with Tsuge's work, and was astonished by his obvious talent. A huge selection of his original art was on display, charting his career from the 1960s to the 80s, all full of lush, detailed backgrounds and an incredible sense of composition. The Wally Wood retrospective was equally impressive, showing his incredible range and ability across multiple genres and styles. The only let down was that it ended by showing some of his more crude, smutty work which felt very much of its time, and seemed like an odd way to conclude the exhibition considering what a talented storyteller he was. We were also somewhat hampered by our inability to speak French again here, as all the captions were obviously in the native language of the town.
After a fairly long walk down a very steep hill we had a quick look around Spin Off, a zine fair for small press creators and publishers which apparently started as an unofficial event but has now been accepted as part of the festival at large. We also bumped into our first familiar face of the weekend as the London-based Decadence Comics had a table there.
Spin Off was conveniently just around the corner from one of the places I was most eager to see: Le Musée de la Bande Dessinée — The Comic Book Museum. This vast and impressive building was frankly breathtaking in how openly it embraced and championed comics as an artform, just as viable and important as painting or sculpture. It was here that I really learnt to appreciate just how essential comics are to French culture, and how large the gulf between the way France and the UK views them is.
The main event here was an exhibition of Lewis Trondheim's work, another artist I didn't know much about. The enormous show was almost overwhelming in simply how much art it managed to fit in, and his output was inspiring both in its quality and volume. The icing on the cake were the additional comments and cartoons dotted throughout, hand-drawn in sharpie by Trondheim himself directly onto the walls. Even with my very limited understanding of French I could appreciate their instant wit and charm.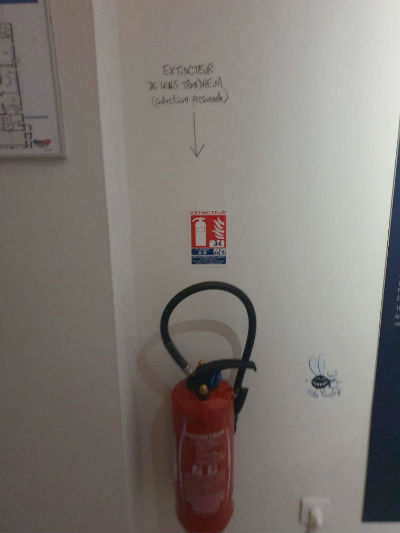 The museum in general was a highlight of the entire trip for me, especially the massive room delving into comics history throughout Europe and the rest of world (a mint-condition copy of Action Comics #1 being a rare treat) where I could have spent several hours more. But we didn't have time for that, there was still so much else to see and do at the rest of the festival!
While heading to our next destination we stumbled entirely accidentally across a tiny exhibition called 'The Comics Crypt', which was in a near pitch black room which we had to navigate with the help of small torches. Luckily it was housed right next to the Musée du Papier (Museum of Paper), which held a fantastic exhibition on the work of Catherine Meurisse, a cartoonist widely known in France for her work with satirical comic magazine Charlie Hebdo, but one who I once again had not heard of. Meurisse's art was stunning, with a clear, sharp sense of humour and a wonderful loose style. Despite not being able to understand the speech bubbles it was obvious what a natural storyteller she was, and I hope that more of her work gets translated to English in the future.
As if that wasn't enough exhibitions for one day, we managed to squeeze two more with a quick look at the work of Cécile Bidault and a walk around the Cosmographie show which featured a bevy of upcoming international artists.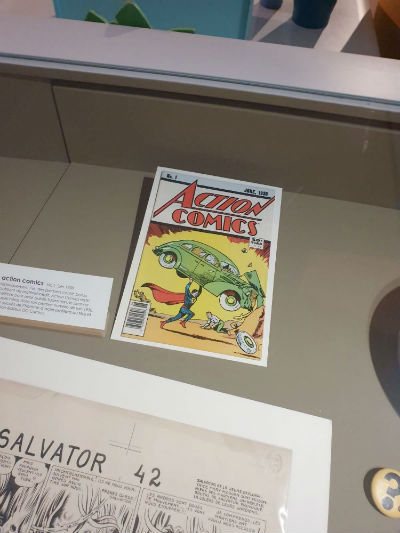 We briefly got some much-needed downtime to digest all of the art we'd seen before we headed in for our first big party of the weekend courtesy of event sponsors ComiXology, where we managed to meet a few more familiar faces and mingle with some great comic creators. Plus there was lots of music, dancing and an open bar (thanks ComiXology!). We eventually got back to our apartment around 3.30am.
On the Saturday we decided to visit the various tents to check out the exhibitors and buy a few things, with a quick detour beforehand to see a few of the smaller pop-up exhibitions around the town. There were two tents I particularly wanted to visit: Le Nouveau Monde, which was the home of some of the larger independent French publishers, and BD Alternative where we'd find, predictably, lots of very good looking alternative comics. There was a heavy international feel to the BD Alternative tent in particular, with work on offer from various countries across Europe and beyond including Coin-Op from the States, Lök Zine from Italy and the UK's very own Breakdown Press. I picked up something by new favourite Lewis Trondheim and a book from German publisher Luftschacht. Both me and Lara were actually thankful we couldn't speak French at this point, or else we would have parted with a lot more cash.
We also checked out a few of the other tents, including Espace Para-BD which mainly sold original comic art, and the gigantic Le Monde Des Bulles which hosted dozens of artists doing signings for the major French publishers. Each individual stall in here was the size of a book shop, with an almost excessive amount of product on display. To look through it all would have taken the entire day, so we went to a pub instead before taking a look around an exhibition of artwork from Yukito Kishiro's Gunnm (better known as Battle Angel Alita in the UK).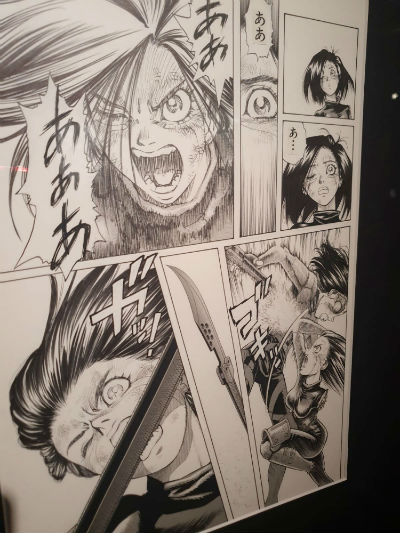 Besides the main festival and official proceedings, there are a whole series of separate events going on which we discovered via a map handed out in a small exhibition in the back of a shop, so Saturday evening's entertainment had us exploring some of these more off-the-grid activities. After trying and failing to get into a Drag King show held in someone's front room we stumbled across the 'Off Off' Party, which we think was in someone's basement/wine cellar (tastefully converted into a dance floor complete with fully stocked bar, DJ and projector). I sung along to the Smashing Pumpkins far too loudly, a Belgian man slapped me and then accidentally spilt wine all over me, and there were some very questionable dance moves thrown, but aside from that we had a very good time. We followed this by a trip to the Mercure Hotel, where most of the publishers and their guest artists stay, and enjoyed a very long, drunken and philosophical debate with some comic pros. We eventually got back to our apartment around 4.00am.
On our last full day we took a trip down to Manga City — a large tent full of artists and publishers working in (you guessed it) Manga. I picked up an interesting looking anthology from a Hong Kong-based publisher and we saw some more great looking comics. We followed this with a brief trip to another exhibition, this time on work of French cartoonist Antoine Marchalot, before I headed back to Le Nouveau Monde to get my hands on a book I'd seen the previous day and regretted not buying… only to find it had entirely sold out, and I'd forgotten the name of the author, publisher and, indeed, the book itself — my brain clearly turned to mush from overstimulation by this point. We all eventually reconvened at the Spin Off venue again to make a few more last minute impulse purchases and unwind to the ambient soundtrack spun by the resident DJ while we lounged around on big comfy cushions drinking beer and trying not to fall asleep.
We capped things off with drinks and dinner shared with friends both old and new, before getting ready to leave the next day on what turned out to be a very long and slightly delayed train journey back to London. At least we had some comics to read.
While me and Lara would have no doubt enjoyed ourselves just wandering around aimlessly and taking in the sights, we benefited greatly from the fact that we went with Nora. Not only had she been several times before and knew her way around, but also speaks fluent French, seemingly knows everyone in the entire global comic industry, was more than willing to introduce us and talk us up to said entire global comic industry, and also has great taste in comics, restaurants and things to do. We couldn't have hoped for a better travelling companion.
Despite the language barrier, the dedication Angoulême has to the art and craft of comics is unrivalled in my experience. I hope as the medium grows in prominence and status in the UK that we can build an audience that would be willing to accept comics in the same way over here. Until then, trust me when I say the rumours are true and you should go and experience it for yourself!
For more on Angoulême visit their site here. 
You can visit Joe Stone's site here, his online store here and also follow him on Twitter and Instagram. Joe also has a Patreon here.