Four top collectives of women creators are hitting Angoulême this week – Ladies' Night from the US, FEMSKT from Finland, and Comic Book Slumber Party and Laydeez do Comics from the UK – banding together for the festival as the International Girl Gang!
Broken Frontier regulars will, of course, recognise some of those groups from coverage here.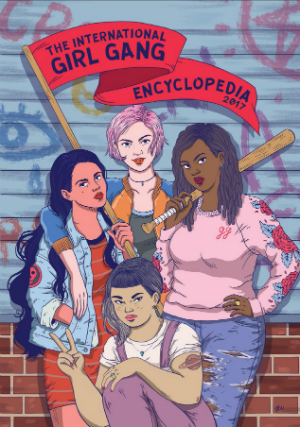 Comic Book Slumber Party have featured on the site in regular previews and reviews of their anthologies like Fairytales for Bad Bitches and Greasy's Guide to Nookie. And, of course, CBSP's Alice Urbino was one of our very first 'Six Small Press Creators to Watch' in 2015 and a Broken Frontier Small Press Yearbook contributor.
We've maintained close links with the London Laydeez do Comics group at BF as well. Indeed last year we officially broke the news of that first Small Press Yearbook and announced the names of the six women who made up our 2016 incarnation of the BF 'Six to Watch' creators at a special Broken Frontier edition of Laydeez. Wallis Eates, one of the London Laydeez co-ordinators, was also recently nominated for a 2016 Broken Frontier Award for her one-shot Fear of Mum-Death and the Shadow Men.
All four groups will be taking part in a series of events that include a panel discussion, an exhibition and new book debuts (The International Girl Gang Encyclopedia, the new Ladies' Night anthology (right, cover by Jenn Woodall) and this week's Broken Frontier 'Comic of the Week' Comic Book Slumber Party's Deep Space Canine).
While this spread of programming probably won't be enough to fully exorcise the ghosts of last year's much publicised festival issues it's certainly a welcome step in the right direction from the Angoulême team. The Ladies' Night crew have shared their own press release below which gives full details of all the International Girl Gang happenings this week alongside previews of the International Girl Gang Encyclopedia and Deep Space Canine…
International Girl Gang Press Release
Founded in 2012, Ladies' Night is a monthly event hosted by Graham Crackers Comics in Chicago for female-identifying creators and fans to discuss their love of sequential art.  Since forming, the group has annually published the Ladies' Night Anthology, a collection of comics by new and emerging creators.
International Girl Gang Encyclopedia pages spotlighting Ladies' Night and CBSP
We are pleased to announce that as a part of an Angoulême and Hoffman Estates twin city cultural exchange, we have been tasked with the job of hosting the ultimate Ladies' Night at the 44th Angouleme International Comics Festival, the third largest comics art festival in the world.  Joining forces with Comic Book Slumber Party (UK), FEMSKT (Finland), and Laydeez do Comics (UK), we have formed a cabal of female creators from around the world, resulting in the International Girl Gang.
Work from Laydeez co-ordinator Wallis Eates and an intro to the FEMSKT collective
The International Girl Gang will host a series of feminist-focused events at the festival including:
An art exhibition at Angouleme Conservatory running from the 26th to the 29th of January.  This exhibit features the work of 20 artists from around the globe, including Rachael Ball, Jenn Woodall, Alice Urbino and Taina Hakala.
A panel hosted by Eisner-winner Sarah Lightman on Friday, January 27th at 10am in the Brassens Amphitheatre in the Angouleme Conservatory.  Guests on the panel include Hannah K Chapman, Lauren Burke, and Johanna Romola. This will not be just another women in comics panel.  We plan on discussing our feminist agenda for taking over the comics industry.
Interiors from Deep Space Canine by Lucy Haslam and Jenn Woodall
The worldwide premiere of The International Girl Gang Encyclopedia, a 44-page, full color zine featuring the work of over 30 creators from our organizations.  Festivalgoers will be able to pick up their copy at stall F25 in the Alternative Comics Space.
Debuting at the festival, Comic Book Slumber Party's third volume – Deep Space Canine, and Eat It Up, the fourth book from Ladies' Night Anthology.  These will be for sale at stall F25 along with publications from FEMSKT and Laydeez do Comics.
Twitter links:
Ladies' Night here
Laydeez do Comics here
FEMSKT here
Comic Book Slumber Party here