As public relations crises go, the publicity surrounding the 2016 Angoulême Festival's failure to include a single woman creator on its prestigious Grand Prix award shortlist was something of a benchmark moment. One year on from those events, four respected feminist creative collectives – Ladies' Night from Chicago, the UK's Laydeez do Comics and Comic Book Slumber Party, and Finland's FEMSKT – banded together as the International Girl Gang to take an alternative message to this venerable festival. 
Today at BF we're very pleased to present three perspectives on the IGG's time at Angoulême as Megan Byrd of Ladies' Night, Wallis Eates of Laydeez do Comics and Hannah K. Chapman of Comic Book Slumber Party explain the initiative and give us accounts of their festival experiences… 
(Top photo: The International Girl Gang Encyclopedia, 2017 featuring work from Ladies' Night, Comic Book Slumber Party, Laydeez do Comics, and FEMSKT. Photo credit: Megan Byrd).
Megan Byrd of Ladies' Night 
In many ways, the International Girl Gang came together as a direct result of the unfortunate tone-deaf events of the 2016 Angoulême Comic Festival. The city of Angoulême has been a sister city with Hoffman Estates, a town right outside of Chicago, for the past 20 years. Shortly after last year's festival, the Mayor of Angoulême along with the sister city committee, made a visit to the States. They specifically wanted to meet with members of the local Chicago comic community, and Ladies' Night was included.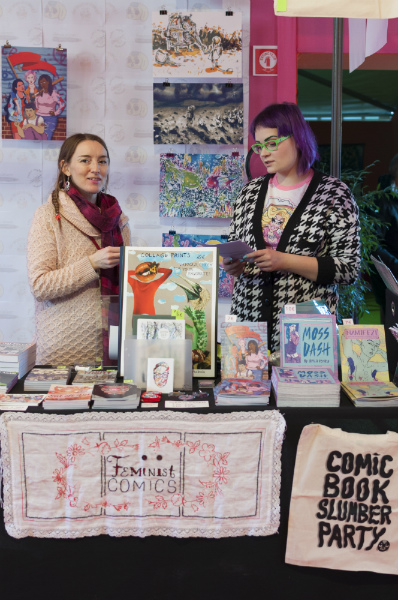 Taina Hakala (left) and Apila Pepita of FEMSKT overseeing sales at the International Girl Gang stall at Angoueleme. Photo credit: Megan Byrd
Upon hearing about our focus on providing opportunities for women-identifying creators to make comics, the twinning committee suggested we create a formal cultural exchange between our group and the city of Angoulême. Much credit should be given to them for recognizing the need to feature more women at the festival, and we were happy to be a part of this initiative. We put together what seemed at the time a very ambitious concept, The International Girl Gang. We knew we could accomplish a lot more if we teamed up with other feminist-focused comic organizations, and also make more of an impact by featuring our varied approaches. We had several ideas for how we could be a part of the festival – an exhibition, a panel, workshops, a stall, and a collaborative comic anthology. We never imagined that they would say yes to all of our ideas!
As part of the cultural exchange, two members from each of our organizations, Ladies' Night, FEMSKT, Laydeez do Comics, and Comic Book Slumber Party, were hosted by members of the twinning committee. They worked directly with the festival to facilitate our appearances, and I hope that the support we received from the community is recognized by the festival organizers as worth continuing to do in the future.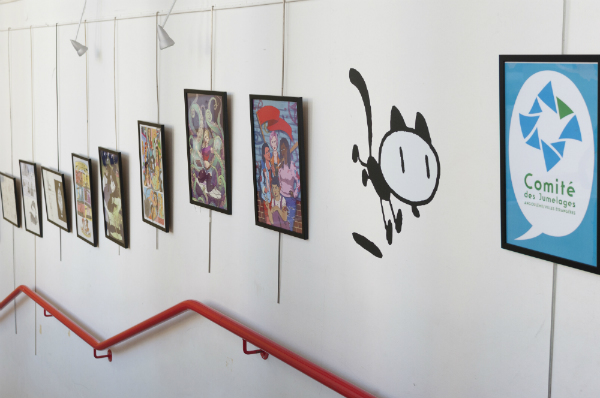 The International Girl Gang art exhibition, chiefly coordinated by Hannah K. Chapman of Comic Book Slumber Party. Photo credit: Megan Byrd
So many within the comic community are slowly beginning to recognize the problems surrounding representation of women and other marginalized groups, but very few organizations follow that admission with action. The city of Angoulême took it upon themselves to actively contribute to solutions by providing support and a platform for our collaboration, setting an example for others to follow.
Megan Byrd is the Editor-in-Chief of Ladies' Night Anthology. She is a former comic retailer employee and is currently a photographer / occasional comic blogger. With Mjolnier, she moderates the monthly Ladies' Night meetings at Graham Crackers Comics in the Chicago Loop.
Lauren Burke writes The World Ends with Us, I'm Not OmniGirl, and P.I. Jane for Caliber Comics, and has been published in various anthologies such as Womanthology.  She is a publishing professional, and editor for Ladies' Night Anthology.
Wallis Eates of Laydeez do Comics
"It's been a real cock-up," I said to The Independent last year.  This cheap and shiny thrill was in reference to the controversy of last year's Angoulême Festival, and its announcement of a 30-strong all-male longlist for the Lifetime Achievement Grand Prix. With no women's names on the list, the European advocacy group BD Égalité called for a boycott, and several of the said men pulled out in sympathy. The festival then sort of backed down, but made a load of sexist comments at the same time. I'll say it again, it was a real cock-up.
While I continued to snigger at my puerile comment, great things started to happen on the other side of the Atlantic. The Chicago-based discussion group for female-identifying comics creators and fans, Ladies' Night  (represented by Lauren Burke and Megan Byrd), were approached by the Hoffman Estates and Angoulême Sister Committees Commission with an invitation to attend the festival.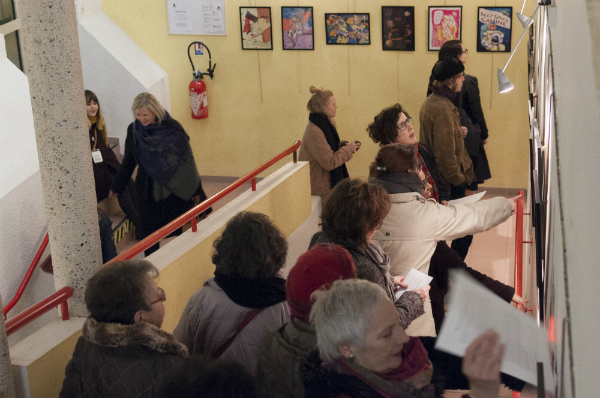 The opening reception of The International Girl Gang art exhibition. Photo credit: Megan Byrd
It's important to be clear here – it was NOT the Angoulême Festival Committee behind this. Lauren and Megan not only delighted in this opportunity, but they wanted to share it with other feminist comics organisations across the globe to form a power group. That's when we at Laydeez do Comics were contacted, along with the Finnish group FEMSKT, and fellow Brits Comic Book Slumber Party. Of course, we all rolled our sleeves up and punched the air!
Thus was International Girl Gang was born…
Before the actual festival itself there was a gargantuan amount of organising, that, If I'm totally honest, I watched unfold in awe and just did as I was told. It resulted in IGG having the following at the festival: an exhibition that we all contributed to; a zine with a page in it from all of us; a stall stacked with graphic novels, zines and other merchandise from everyone involved; a panel about sexism in the comics industry chaired by Laydeez co-founder Sarah Lightman (editor of Eisner Award-winning and Broken Frontier Award-nominated Graphic Details: Jewish Women's Confessional Comics in Essays and Interviews); and finally, a study day led by the other Laydeez co-founder Nicola Streeten (Billy, Me & You) where most of us gave a short presentation.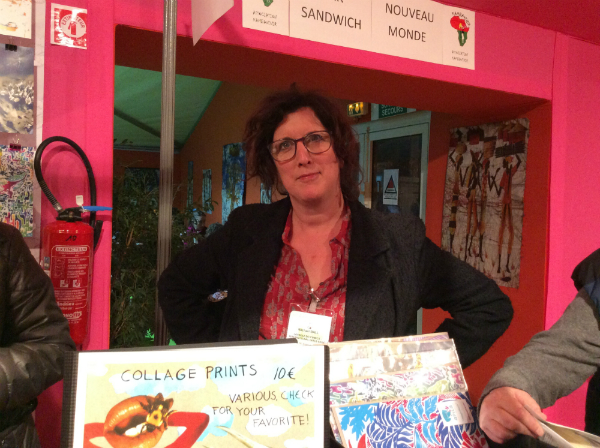 London Laydeez do Comics' Rachael Ball – creator of 'The Inflatable Woman'. Photo credit: Wallis Eates
I'm really cocky when it comes to packing though, and I did all mine with no problems and got on the Eurostar to Paris on the Friday of the festival. When I got there, I met up with Nicola who had sugar essentials, and her daughter Sally who I think has had a haircut and she now looks like a cool drawing by Diana Annual artist, David Matysiak (unlike some, we dig all genders).
Then came Lou Crosby,
The Leeds lead lady,
Cos Lou leads Leeds Laydeez,
Does that Louise.
I said that like that because Lou's a poet.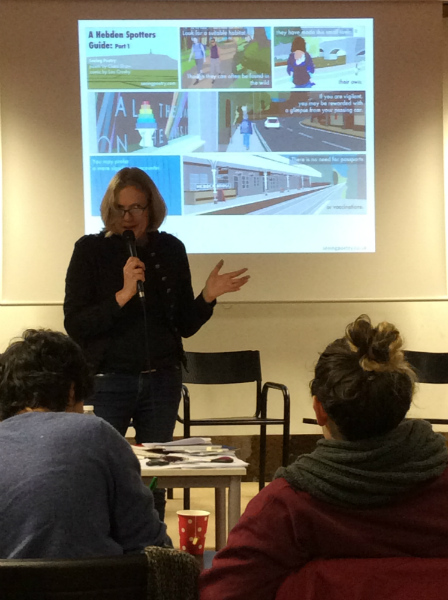 LDC's Louise Crosby talking comics poetry at Angoulême. Photo credit: Wallis Eates
Then we all got some grub and went to Angoulême. There's a story about not being able to get into our lovely Air BnB for ages because not a single one of us could work the key, which I won't talk about. While this story wasn't unfolding, Sarah arrived with news! She said that the panel that morning had been so packed they had to run it twice to save turning people away. Of this scenario, Birmingham Laydeez co-ordinator and attendee, Charlotte Bailey, said:
"The two hours promised got condensed into an hour so that the second lot of people could rotate in, meaning that the panel did the same presentation twice (and the room was filled both times! Yay!). Because everything got squashed (and because of the French translation required after every sentence) some of the most interesting bits got cut off at the end, such as the percentage of women getting published by certain publishers, but we still managed to note the exemplary publishers with more equal representation of women comic artists & writers."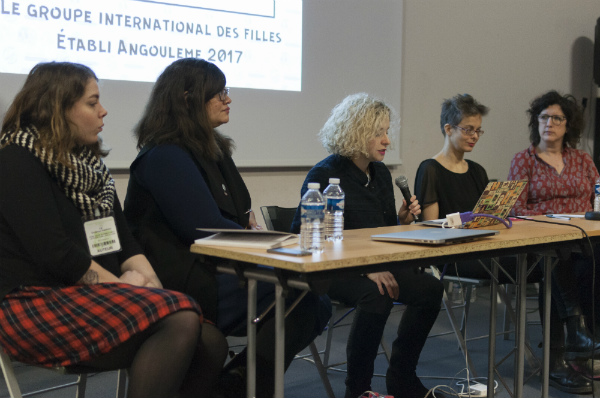 The panelists of Feminism in Comics: Crunching the Numbers, a panel moderated by Sarah Lightman. From left, Hannah K. Chapman (Comic Book Slumber Party), Lauren Burke (Ladies' Night), Sarah Lightman (Laydeez do Comics), Johanna Rojola (FEMSKT), and Rachael Ball (Laydeez do Comics). Photo credit: Megan Byrd
FYI – the highest percentage of women published is by Jonathan Cape, and that is at 35%, and the lowest is Marvel, with a miserly 4%. (Information courtesy of Fionnuala Doran of Teeside University. However, not all noteworthy publishers were on this list, including Myriad Editions).
Sarah's observations were that the room was way too small for the demand, and everyone present said the audience were hungry for this topic. Next year, the Angoulême Festival organisers really need to recognise this if they are at all going to redress the damage made last year. A bigger room for our kind of thing, please!
Talking of rooms, we managed to get in eventually, thanks to the woman next door who understands keys. Then my first taste of the festival followed, as I went with Lou down to visit the International Girl Gang stall. The main exhibition hall was bursting and oozing with comic stuff and people. Cut-outs of characters everywhere, and loads of delicious shapes and colours. Walking down a row of stalls is not unlike passing through a bunch of panels, if you think about it. So it was a bit like being in the comic of all comics.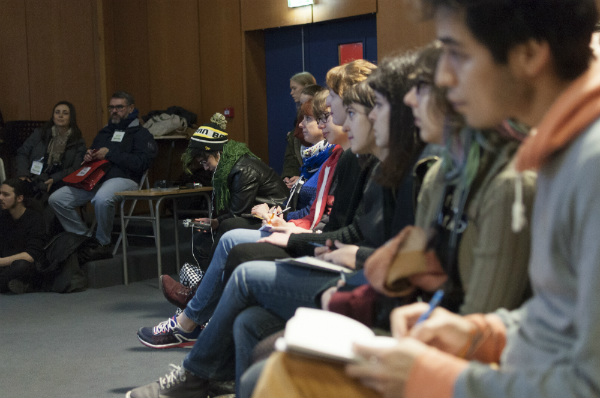 The audience of the panel Feminism in Comics: Crunching the Numbers; the space provided was too small for the awaiting audience, so the panel was shortened and presented twice in order to reach a wider audience. Photo credit: Megan Byrd
Right down at the other end were our lot. It was great to finally meet Lauren and Megan, and also there was Charlotte with London Laydeez co-ordinator, Rachael Ball (The Inflatable Woman) and further extensions of our crew Una (Becoming, Unbecoming), Kate Evans (Red Rosa, Bump), and her mother who was having her 70th the next day!
We were very happy to hear that the stall had done remarkably well, Charlotte noted that "some people walked away with their arms filled with comics from our table, what a lovely sight." While Rachael was highly amused by the several young boys who were well into her badges of a "depressed middle-aged woman." See – don't ever think you know your audience. Just do your work.
We gathered together further down the hall and enjoyed shots of liquorice vodka, courtesy of our Finnish friends, FEMSKT, by their Kuti Kuti stall. This prepared us for the night ahead of much merriment. Corinne Pearlman of Myriad Editions joined us for food, and then Charlotte and Una turned up and filled us in on the Drawing Concert that had taken place that night. Comic Book Slumber Party's Alice Urbino (one of Broken Frontier's first crew of 'Six Small Press Creators to Watch'), took part in this, wowing the audience with her quick off the mark drawing skills, inspired by a live orchestra.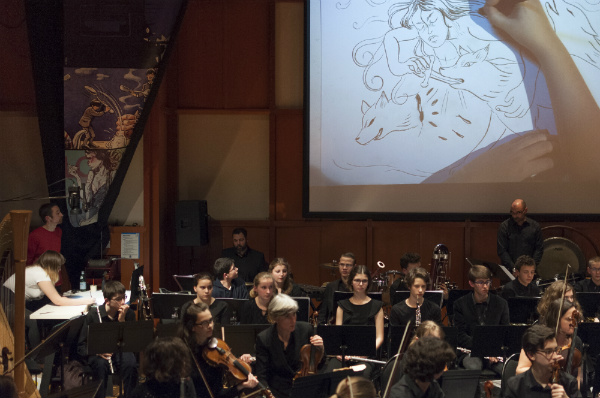 Alice Urbino of Comic Book Slumber Party was invited to represent the International Girl Gang at a live drawing concert. Photo credit: Megan Byrd
On this, Lauren added "My absolute favorite part of the week was the Drawing Concert.  We had the opportunity to send one artist to the concert and many of our creators put themselves forward.  Ultimately, it was Alice Urbino who was chosen.  Not only did she SLAY onstage while the Games of Thrones soundtrack was played live by an orchestra, but she was fully supported by her fellow IGG members.  No one was salty that they weren't chosen, you know?  They were too busy cheering for Alice like proud mums and toasting her success on social media.  That swell of camaraderie was exactly what the comics community needs more of, and it just made me so happy and proud to be a part of the International Girl Gang."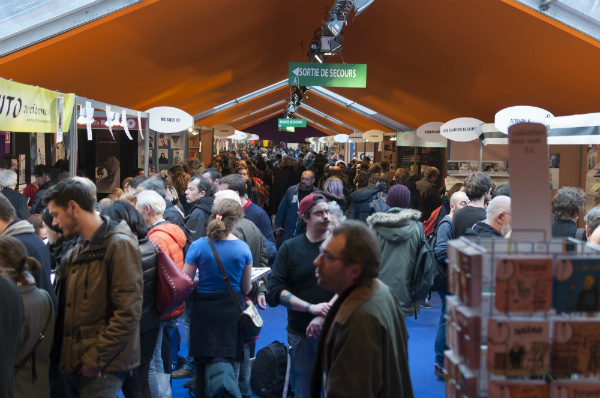 A view of the busy Nouveau Monde tent for alternative comics. Photo credit: Megan Byrd
After some wild disco-dancing in the author's area, 'The Hall of Mirrors' (I was personally responsible for filling up this here hall with my inspiring moves, btw), we all bundled home to find Sarah and Nicola busy baking feminist literature into cakes for the next day's events. "They will eat feminism", said Sarah. Then Rachael, Charlotte and I all got into the one massive bed that was so comfy I can barely bring myself to remember it, for I shall surely know nothing of its like ever again.
Saturday, like any great cake, was jam-packed and full of feminism. Nicola kicked off the study day with a presentation about her PhD, arguing that women's comics have come about because of a structure put in place by feminism, and was followed by Johanna Schipper –  comic artist, teacher at ÉESI and member of the Group of Female Comics Creators against Sexism who discussed in depth the scandal of Angoulême last year. Fascinating talks, but I definitely came away knowing that there is still so much work to be done.
However, the latter part of the afternoon was when members of IGG did short presentations of their work. This part of the whole trip was my personal highlight as I learned about the inspiring work being produced by these amazing women, both in terms of content and application to the community and industry.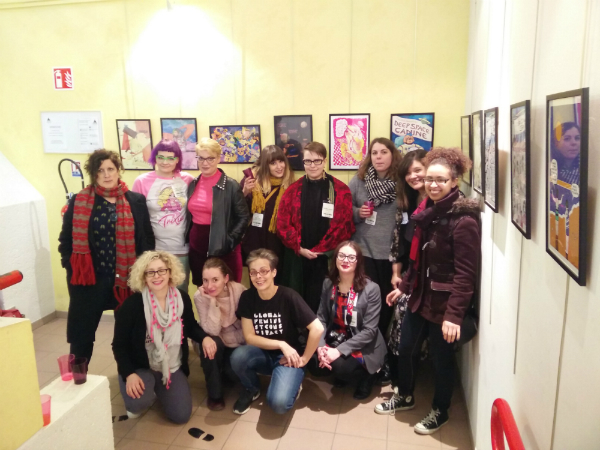 The assembled masses of the International Girl Gang! Photo credit: Wallis Eates
Charlotte Bailey gave a moving talk about how comics brought back her mojo, siting some challenging times in her life; Rachael Ball discussed her journey through breast cancer to the creation of her graphic novel, The Inflatable Woman; Louise Crosby recited some of her own poetry about the lesbian-spotting that happens in Hebden Bridge: Megan Byrd described how Ladies Night Anthology is a gateway for women creators to get into the industry; Hannah K Chapman talked about the brilliant work coming out of the Comic Book Slumber Party group – I really want to get my hands on Greasy's Guide to Nookie; Pen Mendonça revealed some fascinating work around single motherhood and graphic facilitation; Hanna-Pirita Lehkonen shared her work as a webcomic artist with us; Emmi Valve was my favourite with her irreverent delivery about the comics she does, a lot of them about sex; and finally Taina Hakala recited a poem in Finnish with some beautiful artwork on slides. OH! I nearly forgot me – this is the third draft and I've only just realised that! I did a talk on how making autobio comics has lead me into facilitating others to share stories, including prisoners and survivors of brain injury.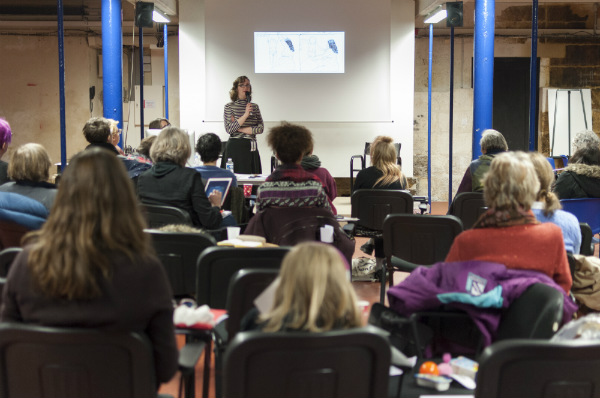 Wallis Eates gives a presentation during the Study Day at the art school École Européeanne supérieurs de l'image, Angoulême (EESI). This event, organized by Laydeez do Comics, featured an entire day of feminist comic discussions and workshops. Photo credit: Megan Byrd
This pretty much wraps up my first Angoulême experience (barring more booze and cake). Unfortunately, I didn't really get to see much of the festival itself, but then again, until it truly addresses the problems with gender bias in the industry and stops contributing to them, I'm not sure I can properly look around with that much joy, to be honest. Rachael mentioned that all the amazing murals that were dotted around were all by men, barring one that was done by the only woman Grand Prix winner, Florence Cestac.
But in the face of all this is us, and plenty more like us. The International Girl Gang and our tremendous reception from the public and other comic artists was more than inspiring. We've got each other's backs and we're not going away. Yes, sexism in comics is obviously symptomatic of the bigger picture of sexism in general, but one theme that kept recurring this weekend was the notion of space and creating it, being in it, and leading it. With that, give us whatever sized picture you got, and we'll make it a mere panel in the bigger story of how we overthrew the patriarchy. That graphic novel will be a hit when it comes out, just you watch…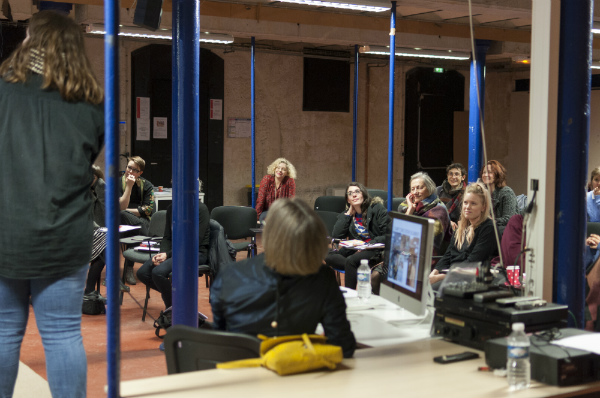 A view of the audience as Hannah K. Chapman gives a gives a presentation during the Study Day. Photo credit: Megan Byrd
Hannah K. Chapman of Comic Book Slumber Party
Getting to go to Angoulême for a week was one of those insane life experiences that you don't quite think are real. It was a weird mix of being insanely stressful and fun at the same time. One of the best moments was when Alice performed in the drawing parade. She won't believe you if you say it to her but she's great and what she did that night was great and everything is great, OKAY ALICE? She also doesn't watch Game of Thrones so some of the magic of the music was lost on her I think – I was in the middle row full on ugly crying with happiness. Oh, and hanging out with friends was good. We drank beers and went to the Valerian Exhibition and spoke faux French (café NO lait!!!). We met a bunch of continental CBSP fans too which is exciting because it means we are spreading like a disease.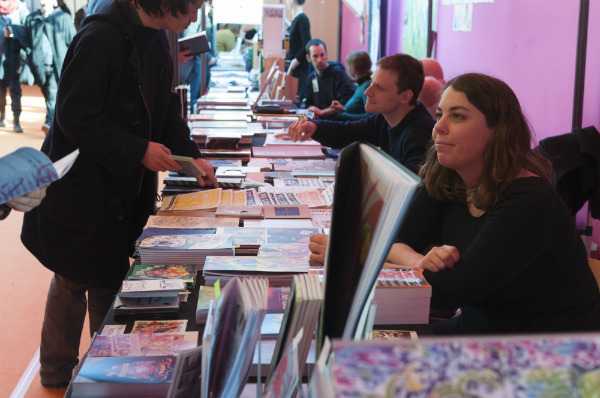 Hannah K. Chapman of Comic Book Slumber Party at the International Girl Gang stall. Photo credit: Megan Byrd
I bought a tonne of books, some in French and some in English, and my favourite was probably Valentine Gallardo and Mathilde Van Gheluwe's book but the most interesting was this mad anthology from Flûtiste which you read from left to right for the first half then flip over and read from right to left and it tells the story of one war but from both sides. Genius! But it's all in French and it's taking me a while to translate it.
I'll be honest, sales were no different to what we'd expect to get at a show in the UK but the outgoings were a LOT more. We also had a lot less stock with us because we were sharing a table. It's really thanks to the Twinning Committee between Chicago and Angoulême (who were bloody great) that we were able to go at all. We're super thankful.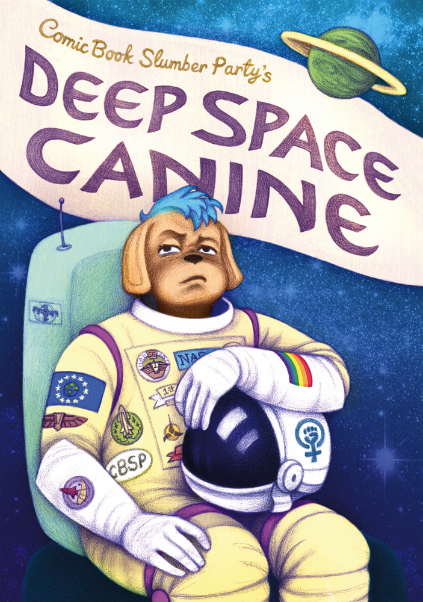 (You can read a review of CBSP's Angoulême launch book Comic Book Slumber Party's Deep Space Canine here at Broken Frontier).
You can also read coverage of the International Girl Gang in the online Ink Magazine. You can see the full article here.
For further information on the International Girl Gang
Ladies' Night's site is here and they are on Twitter here
Laydeez do Comics' site is here and they are on Twitter here
FEMSKT's site is here and they are on Twitter here
Comic Book Slumber Party's site is here and they are on Twitter here