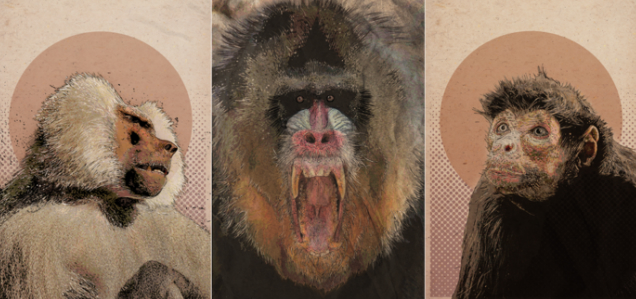 The Beast Wagon Kickstarter, Julia Scheele's new fashion illustration blog, John Paul Kamath's Graveyard Orbit #2 launch and more feature in March's round-up of what the great and the good of the small press scene are up to, both within and without the world of comics…
'Beast Wagon' Kickstarter Launches and Reaches Target Within 48 Hours!
We first mentioned Owen Michael Johnson, John Pearson and Colin Bell's Beast Wagon project last November when it was about to be previewed at Thought Bubble in Leeds. Described as "One Flew Over The Cuckoo's Nest with talking animals…", the Kickstarter for the first issue was launched last Saturday at London's Orbital Comics with accompanying exhibition and performance piece.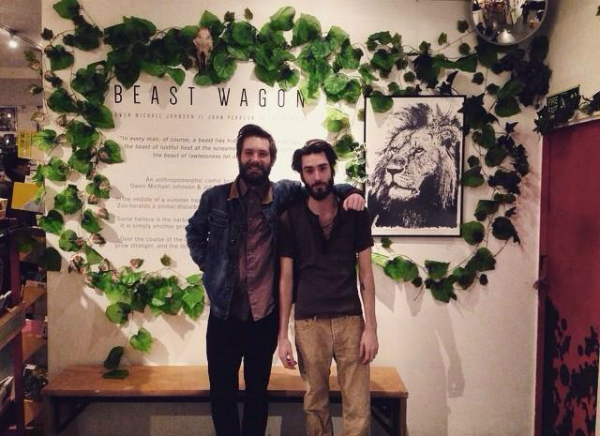 John Pearson and Owen Michael Johnson at the Beast Wagon exhibition at Orbital Comics
Within just two days of the crowdfunding campaign officially beginning the book had already reached its target. A phenomenal achievement by anyone's standards. There's still plenty of time to back Beast Wagon here, though, and given that Johnson was nominated for a British Comics Award for Raygun Roads last year and I also enthusiastically reviewed the opening issue of his series Reel Love here in 'Small Pressganged', this tale of order breaking down within a zoo environment is well worth your consideration.
Julia Scheele's 'Pencilled Skirts' Fashion Sketch Blog is Live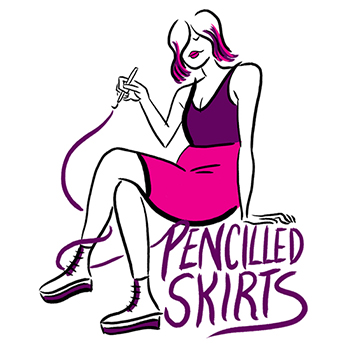 Julia Scheele of so many comics reviewed here over the last year or so – including Metroland, I Don't Like My Hair Neat and The Heroines Zine – has a new project online, the wittily named style and fashion sketch blog 'Pencilled Skirts'.
Julia describes the origin of the project in very simple terms: " I just felt like starting to document when I wear something I feel happy with. Or sometimes even something I wear at home that is so disgusting that it just needs to be put to paper. Plus, it is fun to draw couture!"
Fellow contributors include Lizz Lunney, Clarice Holt and, Jess Milton, one of my 'Six UK Small Press Creators to Watch in 2015'. Visit the blog as it continues to grow here.
Howard Hardiman – Solo Exhibition of Drawings
When: 21st March to 3rd May
Where: Dimbola Lodge, Isle of Wight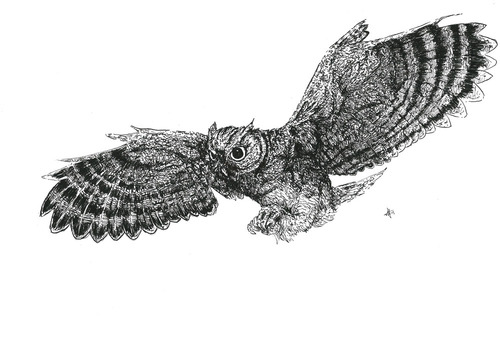 I reviewed Howard Hardiman's The Lengths on a number of occasions on the old Broken Frontier site and choose it as one of my annual 'Ten UK Small Press Comics You Need to Own' round-up for 2012. Soaring Penguin Press collected The Lengths in a hardback compilation in 2013 for those wishing to check out Howard's gritty tale of dog-headed male prostitutes. Howard will be exhibiting a selection his of nature drawings at the Dimbola Lodge on the Isle of Wight from the 21st March to the 3rd May. There's also an exhibition preview and artist talk on the 20th March.
Here's what Howard has to say about the exhibition and the Dimbola gallery space: 2015 is the bicentenary of the birth of Julia Margaret Cameron, one of the most influential and creative of the early photographers. I will be showing ink drawings taken from nature, responding to photography as one way of learning to look. They're having a major rehang, so it's definitely worth visiting to see their new galleries and the impressive surprises they have in store for this year.
Graveyard Orbit #2 Launch at Orbital Comics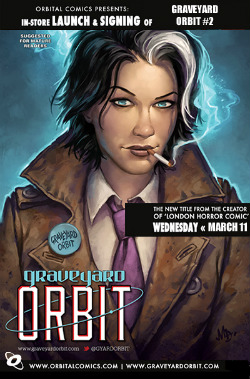 John-Paul Kamath of self-published UK anthology London Horror Comic fame will be launching the second issue of his Graveyard Orbit series – an ongoing series of one-shot multi-genre tales – on March 11th next week at London's Orbital Comics.
I said of the first issue of Graveyard Orbit last year here at Broken Frontier: "You can always count on a John-Paul Kamath story to find a different slant on any given subject and this near vindication of the super-hero fanatic treads a different path than the usual snide portrayal of that side of fandom that we're all – myself included – capable of lapsing into on occasion. A good-natured romp with subtler underlying themes, this is a strong start for Graveyard Orbit."
The second issue is described in the following terms: "In issue 2 we meet Jane Silver, a chain-smoking supernatural problem solver, with a mission. Offered early parole in exchange for resucing hostages from a haunted circus tent, Jane goes up against forces comparable to her own abilities. Part Die Hard, part Scooby-Doo and part Hellblaz— er, okay, i've said enough."
The first twelve customers will get a limited edition print and John Paul will, of course, be on hand to sign copies. More details here.
Jessica Martin's Picture Palace
Jessica Martin's solo exhibition was covered in last month's round-up but since then there's been a rather nice further promotional image released, so a quick reminder of the event…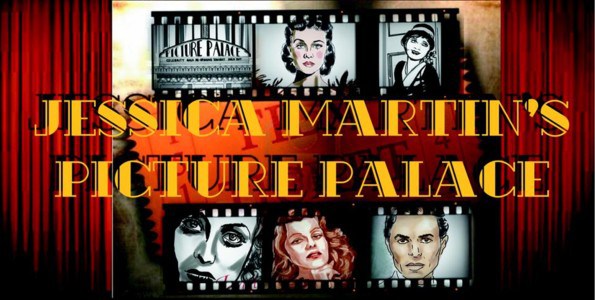 When: 2nd March to 31st March
Where: The Radlett Centre, Hertfordshire
Myriad First Graphic Novel Finalist, two-time selected artist in my annual 'Ten UK Small Press Comics You Need to Own' round-ups in 2013 and 2014, and upcoming debut graphic novelist with Elsie Harris Picture Palace from Miwk Publishing later this year. Jessica Martin's whirlwind comics journey continues apace with an exhibition of her work at the Apthorp Gallery in the Radlett Centre!
Here's what the gallery have to say: Jessica Martin, an established actress and emerging writer and comic book artist, presents her exhibition Jessica Martin's Picture Palace, in the Apthorp Gallery. The exhibition will feature a display of original pencil and ink work for her comics and limited edition prints of her film star portraits, as well as copies of her comics 'It Girl' and 'Vivacity'.
Quick links

The next Laydeez Do Comics in London on March 16th includes guest speaker Owen Pomery whose Between the Billboards (below, one of my 2013 'Ten UK Small Press Comics You Need to Own' choices) will be collected by Avery Hill Publishing this year. Karrie Fransman is among the other guests attending.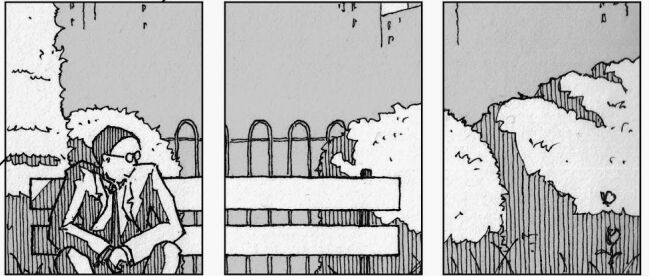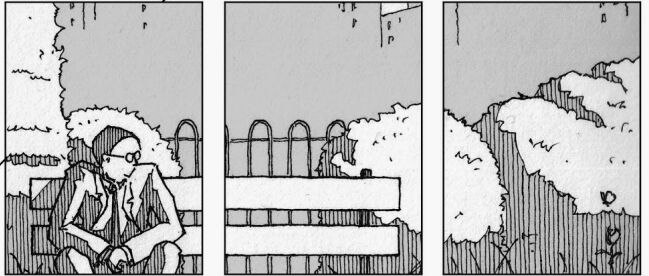 Saturday March 14th sees the third Sheffield Zine Fest to be held at Electric Works from 11am to 6pm. You can find out more about the event and the contributors involved on the fair's site here.

For regular updates on all things small press follow Andy Oliver on Twitter here.