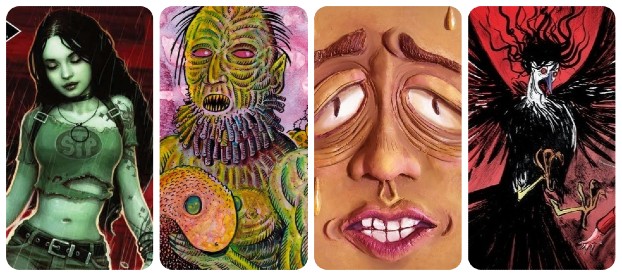 With Halloween imminent what better way to celebrate the spooky season than with some fearsome, fight-filled horror comics from the UK small press scene. All of these comics are either still in print or available digitally. We've also provided links to online stores and past Broken Frontier coverage to tempt you into picking up some of this top-notch work, ranging from all-ages supernatural adventures to adults-only psychological terror…
Vicious Creatures by Sarah Gordon
Creator description: Vicious Creatures is a collection of horror comics that I (comic creator and artist-about-town Sarah Gordon) have been working on for a couple of years. They are short, bloody little tales, exploring the darker side of being human (with some magic, a couple of ghosts, and several crows added for good measure).
Broken Frontier soundbite: Gordon's own brand of graphic melancholy creates something unique out of the recognisable standards of the horror genre. Vicious Creatures is already one of my absolute favourite horror comics collections.
Read the Broken Frontier Review here
Buy online here (£16.00 print/£10.00 digital)
A Pocket Chiller edited by Douglas Noble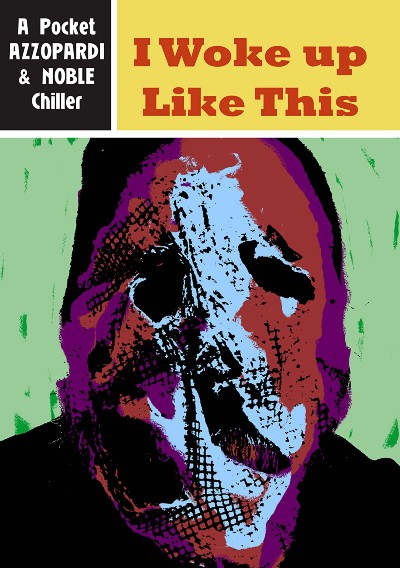 Publisher description: The nightmares that won't let you sleep, now available everywhere you go.
(Series of digital experimental horror one-shot comics published by Strip for Me including work by Douglas Noble, Sean Azzopardi, Olivia Sullivan, Fraser Geesin, Chris Reynolds and Claire Napier)
Broken Frontier soundbite: This series has become one of the most consistently rewarding horror comics currently being published.
Read the Broken Frontier reviews here
Buy online here (£1.59 each digital)
Cindy and Biscuit by Dan White
Creator description: A violence-prone, fearless little girl and her loyal best friend, who regularly save the world from disgusting aliens, tussle with giant werewolves and have adventures in outer-space.
Or do they?
Broken Frontier soundbite: A plea to publishers: Please someone out there pick up this genius all-ages offering, collect it and bring it to the far wider audience it's owed!
Read the Broken Frontier reviews here
Buy online here (Various bargain digital collections at different price points)
Hell-Hued: The Carmine Issue edited by Beatrice Mossman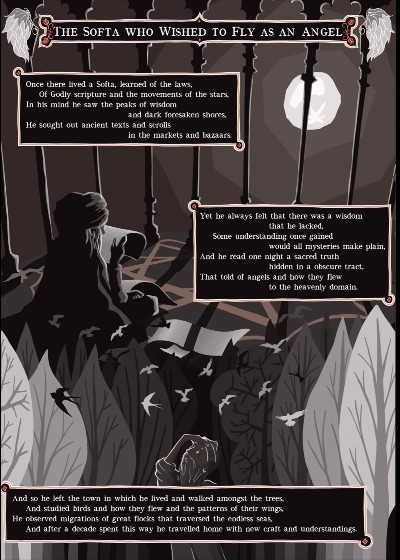 (Art from Richard Butterworth's story)
Creator description: Welcome to the spooktacular first issue of Hell-hued, a zine where each issue is inspired by a certain colour – the theme of this issue being 'carmine red'. This horror zine is packed full of illustrations, comics, poetry and fiction, which together explore every inch of the genre from body horror to dark fairy-tales… So, there is something to feed every horror fan's gruesome appetites!
Broken Frontier soundbite: A compilation of varied storytelling approaches to its subject and one that is rooted in a DIY culture/zine ethos of publication.
Read the Broken Frontier Review here
Buy online here (£5.00)
London Horror Comic by John-Paul Kamath and Company
Creator description: Publisher and writer John-Paul Kamath's ongoing love letter to horror anthologies of the 50s and 70s, such as EC Comics Tales from the Crypt and Warren Publishing's Creepy and Eerie magazine, but with modern twists, settings and cultural commentary thrown in and wrapped perfectly within a blanket of thrills and child-like madness. Each book contains complete and self-contained stories – you don't need to have read past issues to catch up with who's who or buy the next issue to find out what happens next.
Broken Frontier soundbite: For genre comics fans LHC remains a reliable exercise in escapist fare in the tradition of the very best classic US horror anthologies of yesteryear.
Read the Broken Frontier Review of #8 here
Buy online here £9.00 per issue
The Deeper You Go Into the King's Wood by Sammy Ward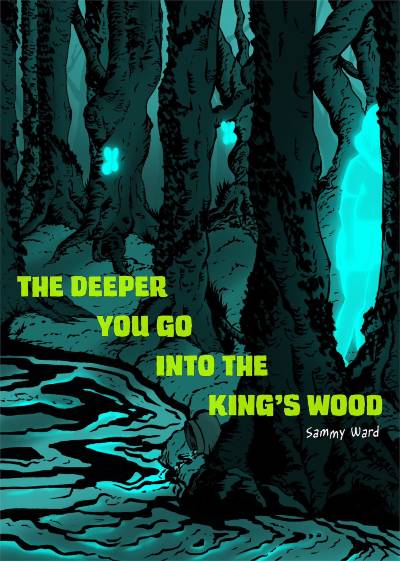 Creator description: A silent comic taking you on a journey through the idyllic King's Wood; however, the deeper you go the more unsettling it becomes. Dare you delve into the King's Wood?
A digital comic book consisting of 8 black and white pages inspired by the King's Wood in High Wycombe, England.
Broken Frontier soundbite: Ward's detailed interior art is as impressive as that cover, creating an environment in the King's Wood that is claustrophobic and oppressive; one that gives the normally recognisable and innocuous a forbidding and menacing edge.
Read the Broken Frontier Review here
Buy online here (£1.80 digital)
Malty Heave #2 by Phil Elliott and Robert Wells
Creator description: Malty Heave #2 is a 28 page B&W comic (plus colour covers) by me and Phil Elliott. Phil and I have each contributed a 12 page strip, inspired by horror comics like Creepy and Eerie, and in addition to our strips we have 4 pages of guest pin-ups by Russell Mark Olson, Mark Stafford, Paul Harrison-Davies and Stephen Bissette (!!!).
Broken Frontier soundbite: Fondly sending up a certain decades-old bastion of fantasy magazine publishing (the clue is in the anagrammatical title) Robert Wells and Phil Elliott's Malty Heave makes a welcome end-of-year return with a horror-themed issue that refuses to take itself even remotely seriously. 
Read the Broken Frontier Review here
Buy online here (£5.00)
Babyface by Alice Urbino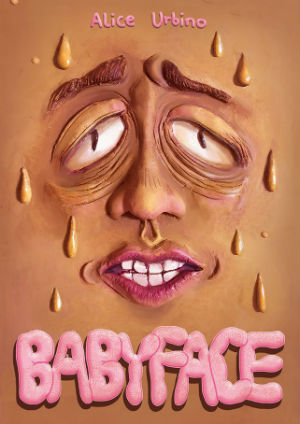 Creator description: A Body-Horror/ Slice-of-Life comic about a girl named Dew and her struggle to manage life with a crying mutated face growing out of her neck.
Broken Frontier soundbite: The true beauty of an Alice Urbino comic is her ability to present work that is superficially dark and visually grotesque, yet so poignantly human and empathetic at the same time. It is genuinely a quite remarkable quality.
Read the Broken Frontier Review here
Buy online here (£8.00)
Sightings of Wallace Sendek by Douglas Noble and Sean Azzopardi
Creator description: On a cold, bright December morning in the 1970s, the rock star Wallace Sendek vanished. Since then, he has been seen dozens of times around the world, by old fans and strangers to his work. His silhouette is etched in the lines of every map, his shadow at the corner of the street, reflection in every window.
Wallace Sendek has disappeared; this is record of his sightings.
Broken Frontier soundbite: One of the greatest horror comics you will ever read.
Read the Broken Frontier Review here
Maleficium by EdieOP

Publisher description: Maleficium is the story of Huxley Leighton-Lomax; an aspiring wizard who should know better than to feed the dark forces that lurk in the corners of his home. Will Huxley know enough magic when it's up to him to save the day?
(All-ages)
Broken Frontier soundbite: Here we have characters we fall in love with from the very beginning, a threat that plays on fears we can all empathise with, and an adorably feelgood factor despite the occult overtones of the subject matter; all wrapped up of course in that signature and slightly unworldly artistic style.
Read the Broken Frontier Review here
Buy online from Avery Hill Publishing here (print £11.99) and here (digital £5.00)
Article by Andy Oliver