With the UK and Ireland's Small Press Day remaining an online event this year I took to Twitter again to write one-tweet reviews of your small press comics with the hashtag #SPDBFREVIEW. Designed as a fun way to give brief feedback to as many artists as possible while introducing their work to wider audiences, it proved even more popular than in 2020. Advertised as running between 10am and 6pm BST the demand was so great that I ended up working through to 10pm!
Some of that extra interest no doubt came from an unexpected (but very welcome!) influx of interest from the US this year with SPD taking on an international flavour for 2021. The idea was that artists would choose four pages of their small press comic and tweet them out with a short description, a link to their online store and the hashtag #SPDBFReview. I then quote-tweeted in reply with a brief one-tweet review of the comic.
The work submitted under that #SPDBFReview hashtag spotlighted the diversity of the medium in terms not simply of genre but of approach and style. Autobiography, socially relevant comics, experimental and alt work, and the more traditionally genre-based material all featured. Just like last year it was also an introduction to a number of new artists whose comics I will no doubt be exploring further in the weeks to come with the aim of providing coverage on the site.
As advertised when we announced the event, part of the process was to also pick six creators to get some "official" space on Broken Frontier. In the spirit of the day I have elected to choose work that was self-published (rather than micropublished) by creators who have never or rarely featured on BF before. There's a page or two from each below plus relevant links to find out more. As I said last year do check out the rest of the hashtag here on Twitter for even more top self-published work! Enjoy, follow some new artists on social media, and maybe pick up a comic or two while you're at it…
Noor by Ny Ali (Nytastic)
A wordless comic based on the Brothers Grimm fairy tale 'The Seven Ravens'. It follows Noor, a Muslim girl, on a quest to find her seven brothers who have been turned into ravens.
One-tweet review: This is immediately intriguing in delivery. "Silent" storytelling is a particular skill and it takes a confident artist to communicate narrative without exposition or dialogue. Love that final panel of page 4 which is pure "language of comics"!
Follow Ny on Twitter. Online store here.
Scavengers, Curse of Ymir by Sammy Ward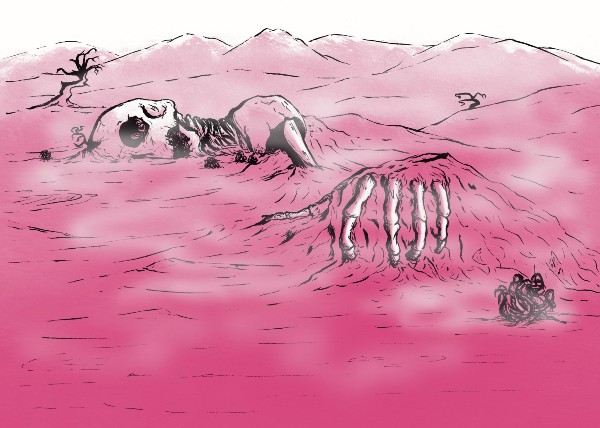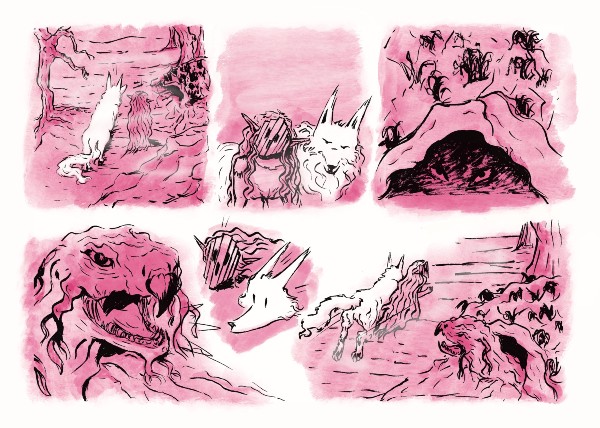 From Sammy Ward's store description: "Scavengers is a fantasy comic book, illustrated in a dungeon crawl style, following Druid, the goblin and Wolf, the hmmm… Wolf. It's inspired by Norse mythology as well as ttrpgs."
One-tweet review: Well we're certainly digging up some treasure chests of priceless sequential art today aren't we? Again, never underestimate the specific skills needed to carry a story forward without dialogue or narration. And those dreamy visuals are simply gorgeous. 
Follow Sammy on Twitter here. Online store here.
Untitled Short Comic by Yetunde Ekuntuyi
A short comic that is part of a larger ongoing graphic medicine project about mental health.
One-tweet review: This really grabbed my attention. There's an elegant (and eloquent!) simplicity here that is so, so powerful. And the colour choices are incredibly impactful. Another larger project that I really want to see more of! 
Follow Yetu on Twitter here. Online store here.
The Catalogue of Tiredness by Jessika Green
A short comic looking at the effects of insomnia.
One-tweet review: Graphic poetry is a growing area of comics that has piqued my interest over the last few years. This is one of my faves today for #SPDBFReview. It's so relatable with entire narratives embedded in single visual metaphors. Need to investigate this further for sure!
Follow Jessika on Twitter here. Online store here.
Jumping Mouse by Ali Hodgson
Part of Ali Hodgson's graphic-novel-in-progress "depicting the journey of how letting go into our deepest fears can set us free."
One-tweet review: This is beautifully illustrated. The visual metaphor, the quieter moments where an image says far more than words ever could, the symbolism and the subtle but expressive physical characterisation. I look forward to seeing more of this!
Follow Ali on Twitter here.
Puzzle by Jed McPherson & Akiro Tea
A collaborative short story told without words.
One-tweet review: This is a delight! The subtle colouring (and the way it shifts so suddenly to cater for the change in tone), the expressive cartooning, and the feelgood nature of the strip. An object lesson in short storytelling and building reader rapport in the briefest of spaces.