This past Saturday, to celebrate Small Press Day in a very Broken Frontier way, I took to Twitter  to write one-tweet reviews of small press comics with the hashtag #SPDBFREVIEW. Ostensibly the fun ran between 10am and 6pm but in reality so popular was the initiative that I didn't finish up until 9pm. Given that so many of you submit work for Broken Frontier reviews, and we can only ever cover a small number of the requests, this was a chance for artists to get a BF shout-out and some short feedback on their comic.
What was posted on the day ranged from scatological slapstick to deeply affecting pieces on loss and bereavement. With each artist providing just four pages of their comic on Twitter for my consideration it was also a challenge for me to provide an economical soundbite in a very small word count. Some of the work resonated with me profoundly, some of it I will follow up on for future coverage at BF, and admittedly some of it was perhaps in the more obvious genre fiction field than I normally cover here. But that was rather the point – to cover the breadth of comics content being self-published in the UK and give it all a deserved moment in the Small Press Day spotlight.
Part of the exercise was also to pick six of the submitted comics for some official space on Broken Frontier in this round-up article. These are the six I chose with my original tweet from the day and the pages posted. They're presented below in chronological order and each project features at least someone who has never been featured on BF before. Do check out the rest of the hashtag here on Twitter for even more top self-published work! Enjoy, follow some new artists on social media, and maybe pick up a comic or two while you're at it…
Giant by Mollie Ray
Mollie Ray's graphic-novel-in-progress.
One-tweet review: "We're off to a top start! Telling a story without words and obvious exposition is the purest comics craft. There's an almost lyrical quality to the sense of movement, perspective and passage of time across panels here. I want to see far more of GIANT!"
Visit Mollie's website. Follow Mollie on Twitter and Instagram.
Greetings from Bubbletown by Josh Knowles and Sofie Dodgson
A "sci-fi edu-adventure comic" by Josh Knowles with colours by Sofie Dodgson
One-tweet review: "Now this has been on my radar for a while and we'll be doing more on it soon at BF. For now drink in the sheer sense of invention in Josh's magical pages brought to such vivid life by Sofie Dodgson's enchanting colours."
Visit Josh's website here. Follow Josh on Twitter and Instagram. Visit Sofie's website here. Follow Sofie on Twitter and Instagram.
The Belles by Jane Sayer, Claudio Munoz Cabrera, Dave Cooper and Rob Jones
"LGBT adventure in old Victorian England."
One-tweet review: "The dialogue here is cuttingly sublime! And just look at how much of the characters' relationships are defined by expression and visual cues. The intro image is a clever way of establishing scene and setting before the intensity of the dialogue too."
Buy online here and follow the comic on Instagram here.
Blaster Bunny by David S Livens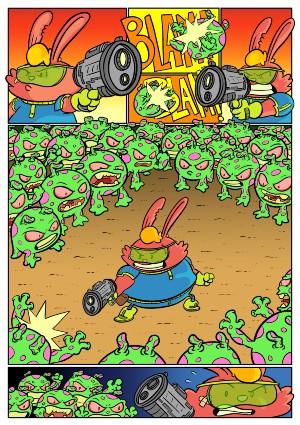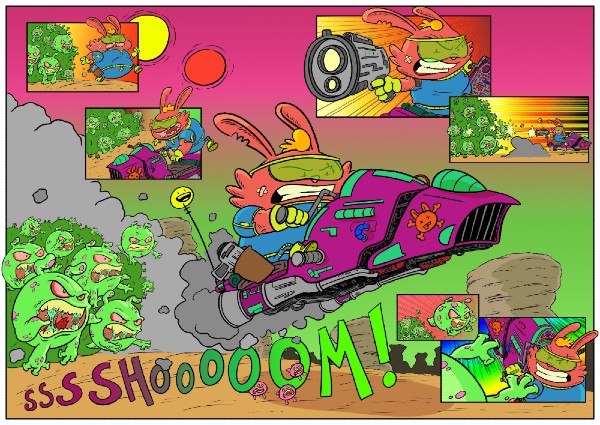 David says of Blaster Bunny: "I'm not published but have been drawing for about 20 years, and am just now venturing seriously into comics." It's his first foray into sequential art.
One-tweet review: "The energy of this one positively bursts off the page! Again see how vital lettering effects are in carrying the action and expanding on it in involved sequences like this. That near dayglo colouring also gives this a hypnotic vibrancy."
Visit David's tumblr here. Follow David on Twitter here.
HustlerbyName Comics by Glenn Hustler
A project "exploring people's experiences with addiction, aiming to bust some stigma and raise money for charity."
One-tweet review: "Something I've said on many occasions is comics have a unique power to communicate personal experience on a profoundly empathetic level. This strip is heartbreaking in multiple ways with the uncomplicated but expressive art adding to its humanity."
Follow Glenn on Twitter here. Available to read and support online here.
x,y,z by Iqbal Ali and Aleksandar Bozic
"Weird things start happening as Abn, a socially isolated Asian kid in an all-white school, triggers something."
One-tweet review: "Most of today's #SPDBFREVIEW tweets have concentrated on visual storytelling but here it's narrative that grips me as much. Compelling protagonist, suitably unpleasant antagonist and a mystery I want to see play out."
Visit Iqbal's website here where you can sign up to read the first issue for free. Follow Iqbal on Twitter here.