SMALL PRESS DAY IS COMING!
The UK and Ireland's inaugural dedicated day of celebration of self-publishing, micropublishing and DIY Culture is nearly upon us. This week at Broken Frontier we're breaking down events on the day region by region to give you handy bite-sized guides to the multitude of events scheduled on July 9th. Today we continue with the South East and South West of England and all the shop signings you can look forward to there on the big day…
We'll be collating all our SPD event guides here over the next few days.
Dead Universe Comics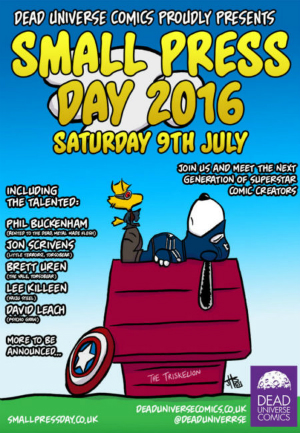 The Aylesbury shop has small press creators Phil Buckenham (Metal Made Flesh), Jon Scrivens (Torsobear), Brett Uren (The Vale), Lee Killeen (Kaiju Steel) and David Leach (Psycho Gran) in attendance between 10am and 5pm.
Full details on Dead Universe's Small Press Day here
Dave's Comics
The Brighton-based shop will be hosting sketchings and signings from 10am with a guest list that includes Jenny Clements (The Moth and the Flame), Anaseed Man (Gart) and  David Gedge, Terry De Castro and Lee Thacker (Tales from the Wedding Present).
Frog Bros Comics and Books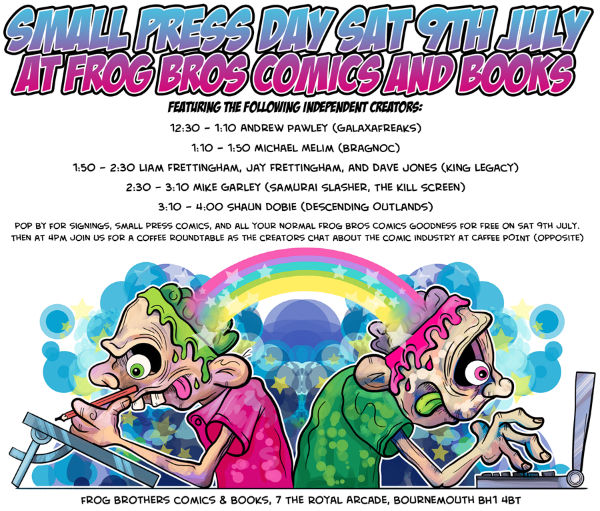 The Bournemouth store have creators Andrew Pawley (Galaxafreaks), Michael Melim (Bragnoc), Liam Frettingham, Jay Frettingham & Dave Jones (King Legacy), Mike Garley (The Kill Screen) and Shaun Dobie (Descending Outlands). There's also a question and answer session on breaking into the industry planned for later in the day.
Full details on Frog Bros' Small Press Day here
Dorset Youth Association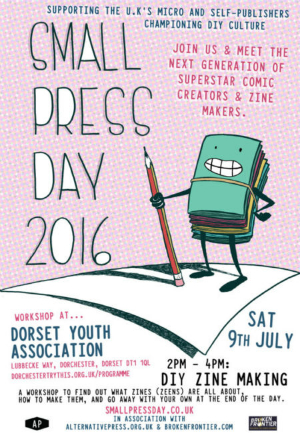 And finally, underscoring the vital DIY culture ethos of the small press, there's a Zine Making Workshop at Dorset Youth Association from 2pm–4pm on July 9th. The event is described as a way to "celebrate Small Press Day by finding out what zines (zeens) are and how to make them. Bring your ideas and any old magazines, newspapers or artwork you wish to use and go home with your very own zine by the end of the day."
You can find more information on the event here
 Dark Side Comics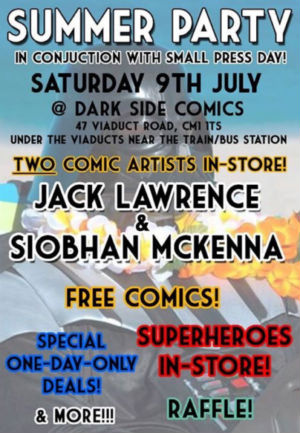 The Chelmsford shop is tying in Small Press Day with its own Summer Party events. Creators Jack Lawrence and Siobhan McKenna will be in the store on the day.
Full detail on Dark Side Comics' Small Press Day here
For more on Small Press Day visit the official site here and you can also follow the Twitter account here.
For regular updates on all things small press follow Andy Oliver on Twitter here.