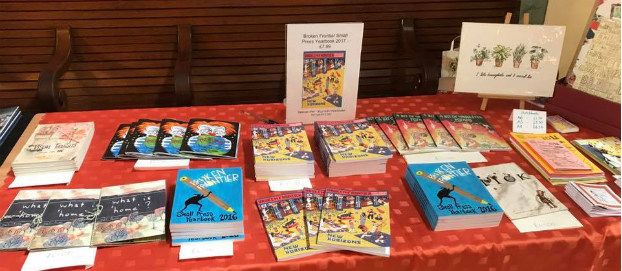 After several weeks of being involved in events and projects outside of the site – chairing or sitting on panels at ELCAF, Gosh! Comics Process and the Cartoon Museum; co-organising Small Press Day; publishing and launching our new Broken Frontier Small Press Yearbook – you might think a day of Broken Frontier tabling at the inaugural South London Comic and Zine Fair would only add to our burn-out levels.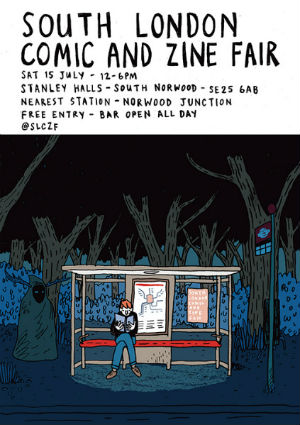 If anything, though, it was the exact opposite! Graphic novelist and small press activist Gareth Brookes's new comics event was such a positive, inspiring and vibrant day of celebration in South London that it actually recharged our batteries and provided the perfect coda to the Spring/early Summer comics season.
We have a few short weeks now until the late Summer/Autumn calendar of events begins with Safari Festival but I'm sure everyone in attendance at SLCZF will be hoping it becomes a regular fixture in the years to come. Certainly, myself and my BF tablemate Jenny Robins had a very successful day of pushing the Yearbook, comics from BF 'Six to Watch' creators and work from BF staff.
Gareth will be talking to us very soon at the site about the day and the ethos he was trying to create but suffice to say SLCZF was a welcome return a more grassroots-oriented type of fair and one that had a very local flavour. Rather than my usual repetitive rabbiting on about such dos I'm going to let the thoughts of some of those there on the day do the talking (via Twitter).
Pay particular heed to the words of Nobrow artist Andy Poyiadgi (Lost Property) who pretty much sums up the success of the day in one Tweet.
Dave White of Avery Hill Publishing was similarly impressed.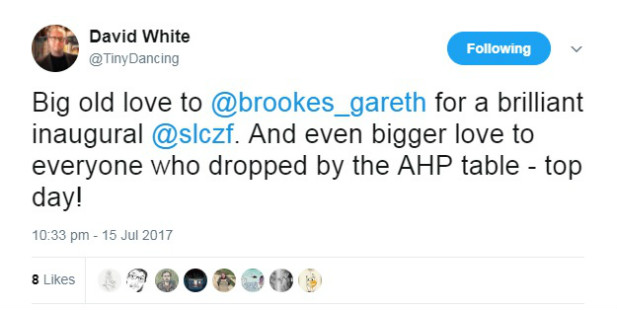 SLCZF is the only event we're planning on tabling at this year at BF but we couldn't have asked for better!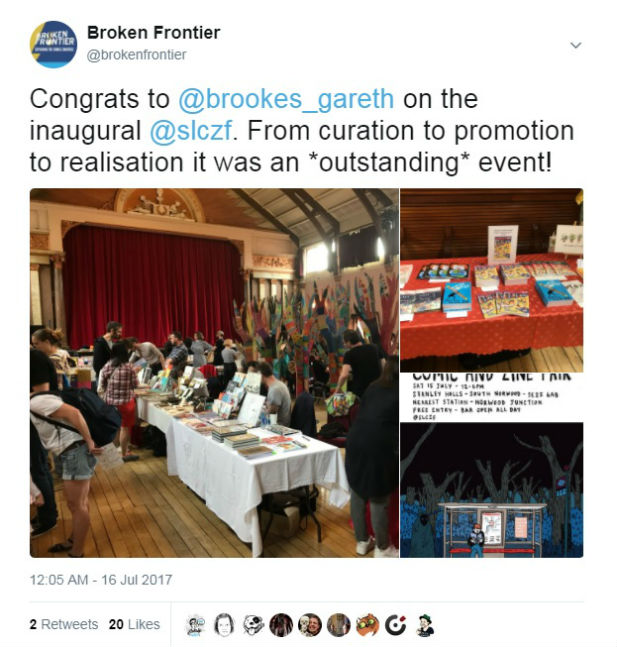 A very contented Amber Hsu (Tiny Pencil) and Richy K. Chandler (Lucy the Octopus)…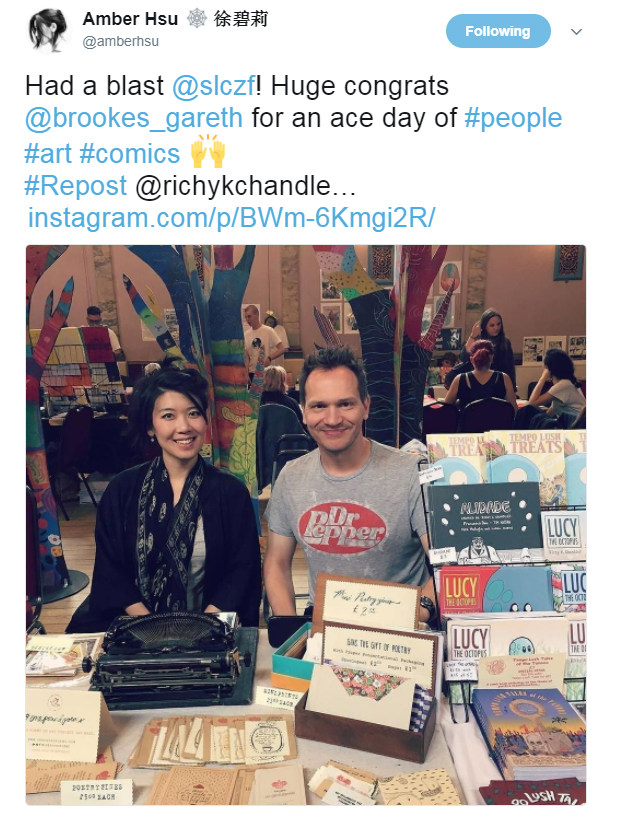 The ever prolific Elizabeth Querstret (Walks with LuLu) was similarly impressed…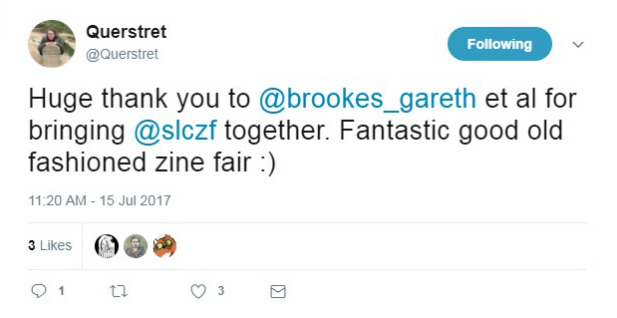 As were top micropublisher Good Comics…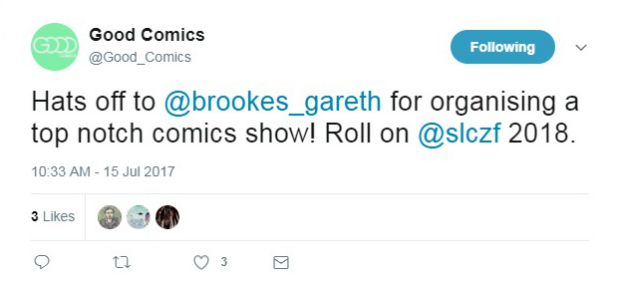 Dalston Comic Club captured the buzz in this Tweet.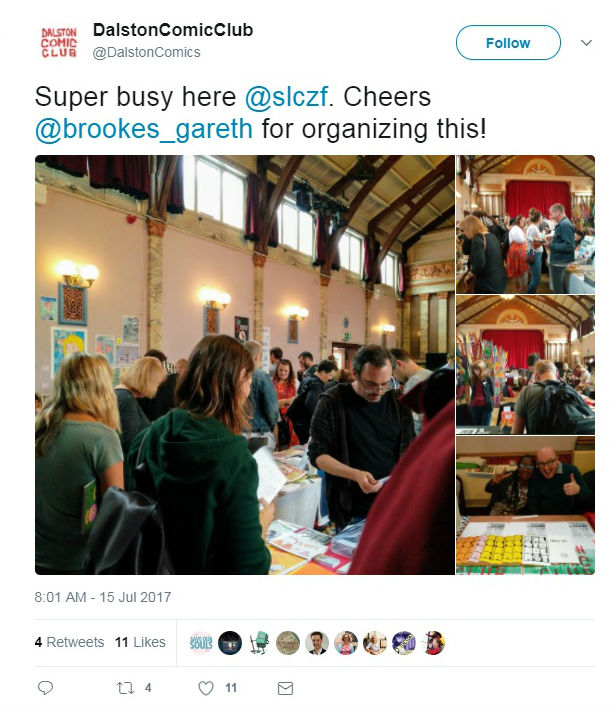 And maybe the ultimate accolade for a show that prided itself on local talent!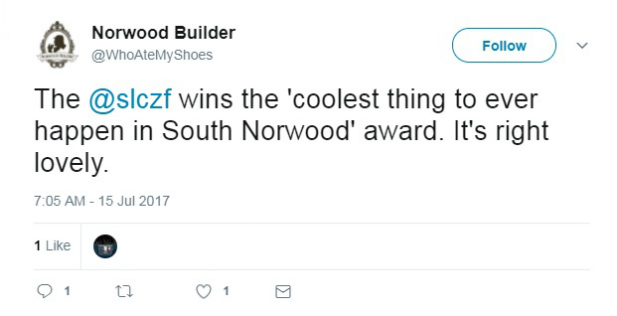 Finally, this happened. I'd ignore him if I were you. He's just looking for attention…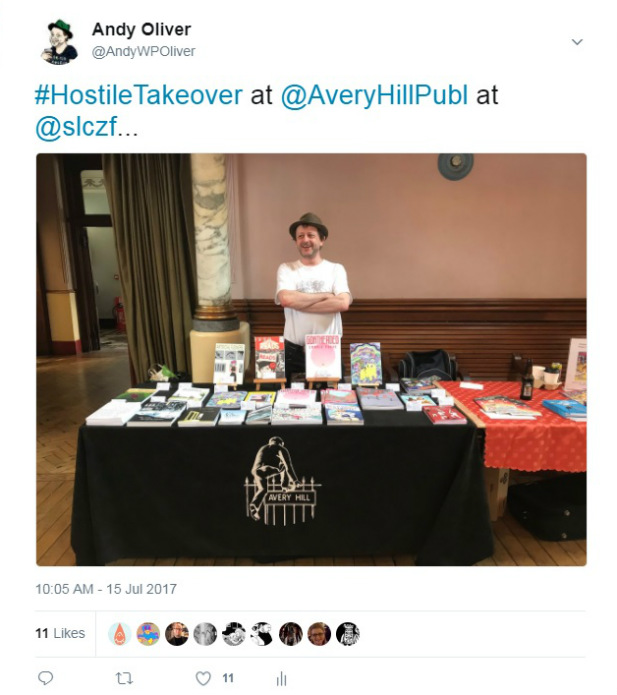 Roll on 2018 indeed. Congratulations to Gareth and his team of volunteers on a wonderful day of comics community in London.
Which brings us to our next piece of big news at Broken Frontier. Last week we were delighted to announce on social media that BF Staff Writer EdieOP has become the site's new Operations Editor with responsibilities for content management and development.
Edie is, of course, also the British Comic Award-nominated creator of the fantastic all-ages graphic novel Maleficium (which you can buy online here!) and her enthusiasm for the site since she joined our ranks at the beginning of the year has been infectious.
We couldn't be happier to have her here channeling that eager energy into her new role. Welcome to the BF editorial team Edie – you're going to be amazing!
– Andy Oliver, Broken Frontier Editor-in-Chief, July 17th, 2017
For regular updates on all things small press and Broken Frontier follow Andy Oliver on Twitter here.