EdieOP is one of the most exciting new talents in UK comics publishing, producing endearingly mischievous narratives that lurk on "the sunny side of sinister". We're rightly proud that her work got its first major comics exposure here at Broken Frontier in our regular 'Small Pressganged' column and, since then, she's been picked up by acclaimed micropublisher Avery Hill. Her first full-length graphic novel Maleficium was published by AHP at the end of last year.
We caught up with Edie to ask about her route into comics, reactions to Maleficium and what we can expect from her contribution to the BF anthology…
EdieOP is contributing to the Broken Frontier Anthology, created to celebrate the magic of creator-owned comics. Check our Kickstarter campaign and please share it with your friends on social media using #BFanthology. You can find Edie on Twitter here.
You're one of the newer, up-and-coming faces on the creative scene to be a part of our anthology project. For those unfamiliar with your work could you give us a short history of your comics journey so far?
Well my work started when I was still in university at the University for the Creative Arts, I was studying Illustration and always veered toward the narrative aspect of it. During my second year I created 7 Blows to the Head [reviewed here at Broken Frontier]; a short zine about seven reasonably serious head injuries I've sustained over my time to take to a convention that then ignited my enthusiasm for creating comics.
Samples from Seven Blows to the Head, Jonah and Dangerfun
After that I kind of felt like I knew what I wanted to do with narrative illustration and it gave me the confidence to move from reportage illustration into my own stories. This is when I then created Jonah (a story about the dangers of not feeding your fish!) [reviewed here at Broken Frontier] and Callisto Close (a slightly dark story about growing up). After I graduated I kept on with zines including DangerFun [reviewed here at Broken Frontier] and other shorter comics until I finished my first full length graphic novel: Maleficium [reviewed here at Broken Frontier] published with Avery Hill which leads me up to where I am now. The not-so-brief-history of EdieOP!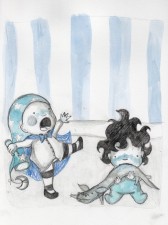 You have one of the most distinctive artistic styles in British comics – both childlike and gleefully sinister. Tell us a little about the visual tone of your work and the different media you work in…
I used to work in whatever I could get my hands on and whatever I was in the mood to work with which is still a little bit true, I mostly work in watercolour, pencil and ink now. I'm an art materials hoarder and buy stuff all the time but always end up using it somehow. The watercolour is possibly what gives it the children's book look to my work, I was inspired by a huge amount of picture books when I started out and still am and I absolutely love painting.  It all goes a bit wrong and twisted when I start to create a story because I have a very dark sense of humour and watch a huge amount of horror films!
Since we last spoke at Broken Frontier your first full-length all-ages graphic novel Maleficium (above right and below) has been published by Avery Hill Publishing. How much has the overtly positive reception for your first graphic novel spurred you on in regards to more long-form work?
It's given me a huge boost, when I started out I never had the opportunity to work more than a couple of pages and it always made me question whether I was capable of longer form work. Maleficium gave me the confidence in my storytelling to start working on my biggest and baddest project yet!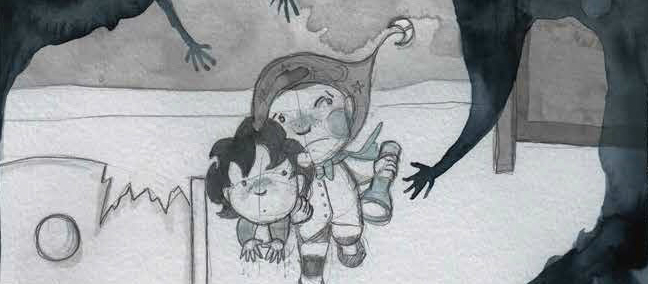 Given the critical acclaim for Maleficium – including a Broken Frontier Breakout Talent Award nomination – are you at all tempted to revisit the world of Huxley Leighton-Lomax in the future?
I love how much people took to Huxley and his world! Although in a weird way I feel like he's been through enough and I just want to leave him alone, there's only so many times you can throw a family down the stairs in your book before you start to feel a bit guilty! That and I think good sequels are a hard thing to accomplish and I wouldn't want to ruin it by creating something that paled in comparison to the first book, it'd be too much pressure.
What hints can you drop about what you have planned in your story for the Broken Frontier anthology?
Ooh, it's a bit weird. I'm still trying to mentally wrap my head around it and what I want to say. I can promise strange, abstract, macabre and advanced mathematics.
Above – EdieOP talks about her Broken Frontier anthology story!
On a similar theme you're currently also contributing short form stories for Avery Hill's Reads anthology featuring more mischievously dark characters in the EdieOP mould. Have you already planned out the personalities of your protagonists for the remaining issues or will you be taking a different storytelling approach?
The next character for Reads is a right so and so, he's probably going to be one of my most sinister characters yet! I generally only plan an issue ahead at a time because I don't know when inspiration might hit but I'm actually a bit worried about this one whether it'll be too dark so I need to have a chat with Avery Hill!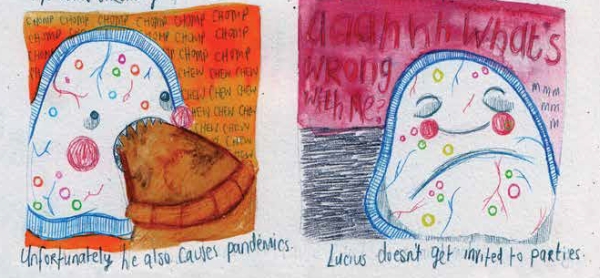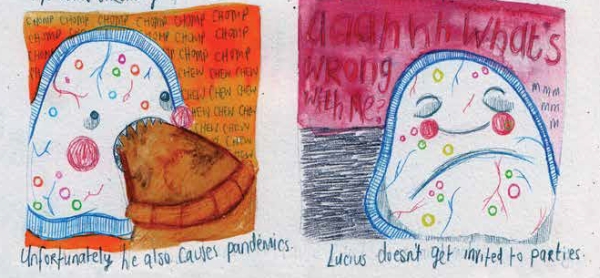 'The Story of Lucius Jellybean' from Reads Volume 2 #1
And, looking forward, what teases can you provide as to what other new work we can expect to see from you in 2015 and beyond?
As I mentioned I'm currently working on my biggest project yet, in terms of scale I'm three sketchbooks in already and I've not even started scripting.  I don't want to give anything away but anyone who knows my work might recognise a familiar character.
For more on the work of EdieOP visit her site here. You can order Maleficium online from Avery Hill Publishing here.