It was not without reason that plucky South London outfit Avery Hill Publishing were nominated by the Broken Frontier staff alongside the likes of Image Comics, First Second, Boom! and SelfMadeHero in the 'Best Publisher' category of our 2014 Awards. Without a doubt it was a banner year for AHP, a true mainstay of 'Small Pressganged' here at Broken Frontier; they published work by not just some of the most respected names on the UK small press scene like Simon Moreton, Gareth Brookes and Julia Scheele but also comics spotlighting the next wave of UK comics talent in the shape of artists like Gill Hatcher, EdieOP and Tim Bird.
Avery Hill have become renowned for a back catalogue of work that is both accessible and eclectic, and are one of the great successes of the rise of the micropublisher model in British indie comics over the last few years. This year's schedule of new projects from them was always going to be eagerly anticipated, then, and today's first of two major announcements about what's in store in 2015 does not disappoint. Old 'Small Pressganged' favourites Rachael Smith and Donya Todd feature, there's work from Daria Hlazatova that looks to be more in the spirit of the AHArts side of their line, and watch out too for Tillie Walden – a name I have no doubt is going to be huge in years to come…
The Rabbit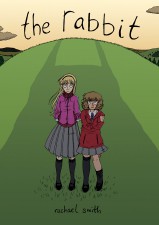 By Rachael Smith
146 pages, full colour. Release date: 28th August 2015
Eleanor and her younger sister Kathy have run away from school, from home and from all of their troubles. They may also be running from reality itself, as they seem to have acquired a new friend in the form of a talking cartoon bunny rabbit called Craig. As Craig grows bigger and bigger, the girls soon discover exactly what kind of creature has joined them on their adventure. Running away is not as easy as it seems.
Rachael Smith's follow up to the acclaimed House Party is a surreal and affecting coming-of-age tale that captures the wonder and vulnerability of youth. Both funny and sinister, familiar yet fantastical. You won't soon forget The Rabbit.
Buttertubs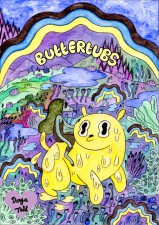 By Donya Todd
Release date: June 2015
Buttertubs is a dog who always wants to save the dudes and damsels in distress, but who always mucks it up on account of his inability to stop sweating butter. Running becomes flailing and crashing, everything he touches becomes greasy and strangely flammable, and even simple tasks become fraught with slippery danger.
His nemesis, The Hotdog Queen, needs to watch her back, his friend Hester is always trying to stop his foolish escapades, and there are many, many damsels in distress. All in a day's work for Buttertubs!
Yeah, it's Donya Todd…
The End of Summer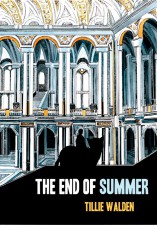 By Tillie Walden
Release date: June 2015
In a secluded castle, at the beginning of a winter that is predicted to last for three years, Lars is battling illness, boredom and the pressures of family life. Locked inside for the duration, he passes the time playing with his siblings and his giant cat, Nemo, while tensions within the family begin to simmer…
In her first graphic novel, Tillie Walden tells the tragic and moving story of Lars and his twin sister, Maja. Full of subtle and tender character moments and set in an exquisitely rendered castle, it's a hauntingly beautiful work that will no doubt be considered as one of the great debuts of 2015.
A is for Amos – A Musical A to Z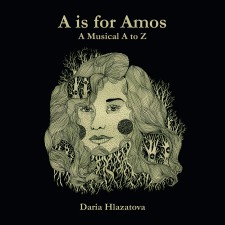 By Daria Hlazatova
Release date: 18th April 2015 (Record Store Day)
Taking its inspiration from childhood A to Z books, "A is for Amos" features subjects from the world of music, all hand-picked by Daria, and re-created in her astonishingly detailed and fantastic style. Bowie sits alongside Tchaikovsky. Zappa with Wagner.
Printed in full colour, seven inch format, "A is for Amos" is essential for music fans and art lovers alike.
Find out more about the publishing output of Avery Hill Publishing on their website here. 
For regular updates on all things small press follow Andy Oliver on Twitter here.