Behind the scenes at Broken Frontier over the last few weeks we've been beavering away on the nominations shortlists for this year's Broken Frontier Awards. This past weekend saw myself and BF's Operations Editor EdieOP tallying up the staff votes and formalising the final five nominees in each category ahead of the public vote later this month.
The Broken Frontier Awards are intended to be a celebration of the type of work the site covers over the course of the year and our own ethos of championing grassroots publishing and up-and-coming talent. But they also serve as a reminder that all uses of the medium – from hand-stapled, self-published zines with print runs in the dozens to the output of the big US serial comics publishers have a place at BF if they embrace the unique language of the form in intriguing, innovative or experimental ways.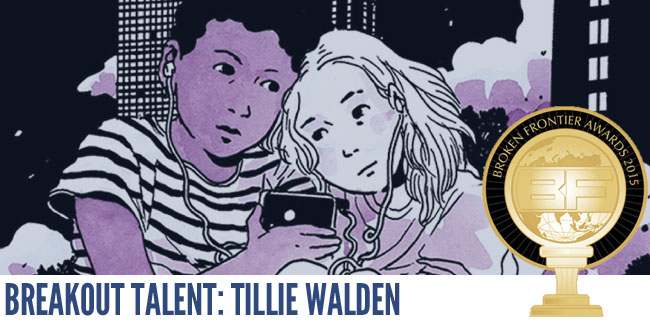 Tillie Walden has dominated the BF Awards over the last two years. Will that be the case in 2017?
This has been a year of huge change for us at Broken Frontier. Our founder Frederik Hautain left the site after 14 years and we also said goodbye to some long-serving team members. We brought in a number of new voices this year as well, though, and that's reflected in this year's nominations which will, no doubt, surprise some and delight others. As awards are prone to do…
You'll note also a few extra categories when the public ballot goes up this month. We've included a Best Graphic Non-fiction category to open up more recognition for some of the excellent work being produced in the areas of graphic memoir, journalism and medicine. We'll also have a Best Webcomic category and one for Best Collection of Classic Material.
And, vitally, I'm marking my first year as Broken Frontier's new site owner with the one category that won't be open to public voting – the Broken Frontier Hall of Fame. A section that will recognise an individual whose dedicated work in the medium has promoted, encouraged and (yes that word again) championed outstanding new creators in the field. We'll announce our first inductee when the Awards results are published in the New Year.

Image have won Best Publisher for the last five years. Will they finally be toppled in 2017?
Approaching this process this year I was struck by how the ever changing face of comics publishing makes some of our traditional categories harder and harder to define each year. Books that are announced as ongoing series retroactively become miniseries. Others that were solicited as miniseries become ongoing. Sometimes the latter even revert back to miniseries status. Questions of definition abound. One person's one-shot is another's graphic novel and vice versa. Where does stylised autobio end and out right fiction begin? What marks the official publication date of a comic if it was crowdfunded first and backers saw copies months before store distribution?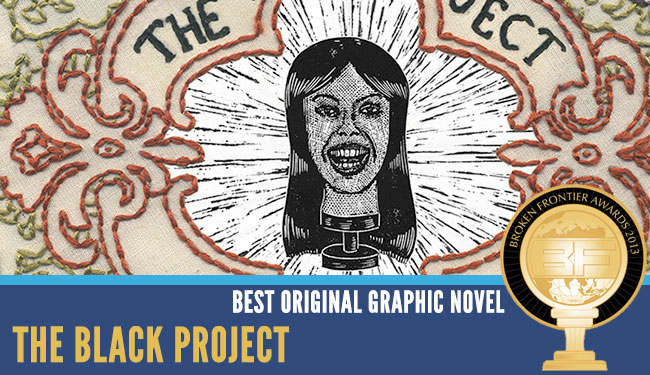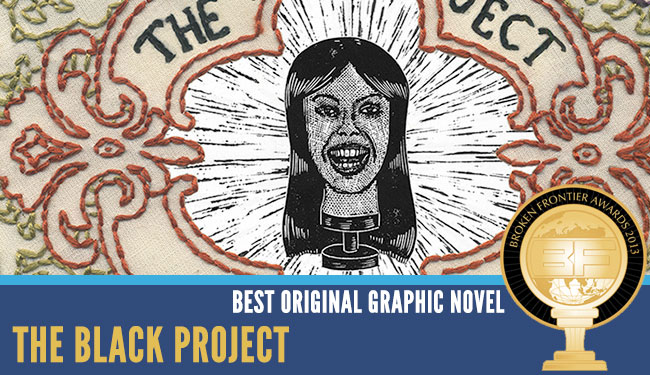 In that regard some of our categorisations may seem arbitrary and, doubtless, there will be the usual social media debate about what should and shouldn't have been included. That's the nature of awards. We do this every year, though, because we want to recognise just some of the work the Broken Frontier team have read and enjoyed over the previous twelve months and bring it to a wider audience. And we're looking forward to getting your input when the public ballot (which accounts for 50% of the final vote) goes live later in December and seeing which of our choices most resonated with you.
In the meantime below is a reminder of some of the winners from the last few years…
– Andy Oliver, Broken Frontier Editor-in-Chief, November 27th, 2017
For regular updates on all things small press and Broken Frontier follow Andy Oliver on Twitter here.
Best Writer
2013 – (Mainstream) Matt Fraction (Hawkeye) and (Independent) Brian K. Vaughan (Saga)
2014 – (Mainstream) G. Willow Wilson (Ms. Marvel) and (Independent) Darryl Cunningham (Supercrash: How To Hijack The Global Economy)
2015 – Jeff Lemire (Plutona)
2016 – Tom King (The Vision)
Best Artist
2013 – (Mainstream) David Aja (Hawkeye) (Independent) Fiona Staples (Saga)
2014 –  (Mainstream) Declan Shalvey (Moon Knight) (Independent) Farel Dalrymple (The Wrenchies)
2015 – JH Williams III (The Sandman: Overture)
2016 – Best Artist: Tillie Walden (A City Inside)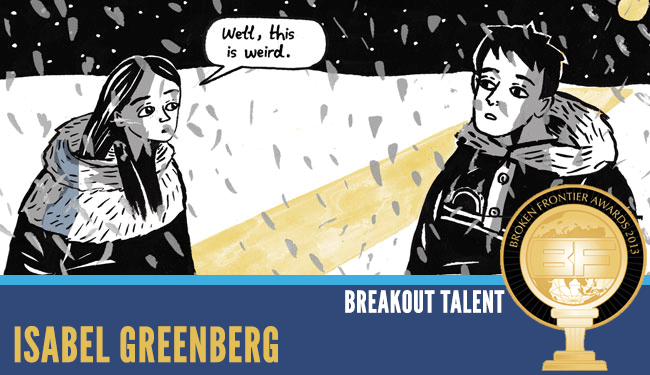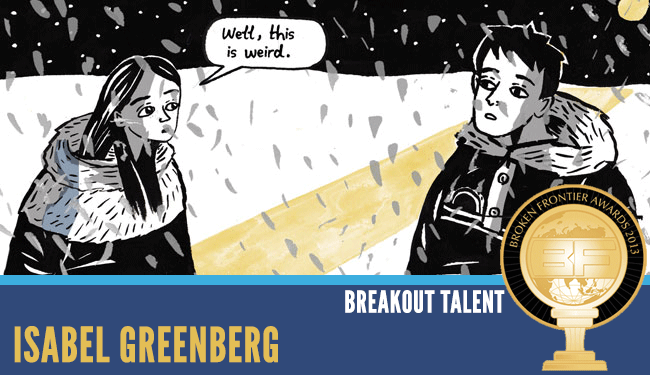 Best Colorist
2014 – Elizabeth Breitweiser (Fatale, The Fade Out, Outcast, Velvet)
2015 – Jordie Bellaire (Injection)
2016 – Jordie Bellaire (Injection)
Best Letterer
2016 – Jared K. Fletcher (Paper Girls)
Breakout Talent
2013 – Isabel Greenberg (The Encyclopedia of Early Earth)
2014 – Tula Lotay (Bodies)
2015 – Tillie Walden (The End of Summer)
2016 – Rozi Hathaway (Njálla, Ø)

Best Ongoing Series
2013 – Saga (Brian K. Vaughan & Fiona Staples, Image)
2014 – Lazarus (Greg Rucka & Michael Lark, Image)
2015 – Saga (Brian K. Vaughan & Fiona Staples, Image)
2016 – The Vision (Tom King, Gabriel Hernandez Walta, Jordie Bellaire et al., Marvel)
Best Limited Series
2013 – Trillium (Jeff Lemire, DC/Vertigo)
2014 – Bodies (Si Spencer, Tula Lotay, Phil Winslade, Meghan Hetrick & Dean Ormston, DC/Vertigo)
2015 – Lady Killer (Joelle Jones & Jamie S. Rich, Dark Horse)
2016 – The Sheriff of Babylon (Tom King, Mitch Gerads, John Paul Leon, et al., DC/Vertigo)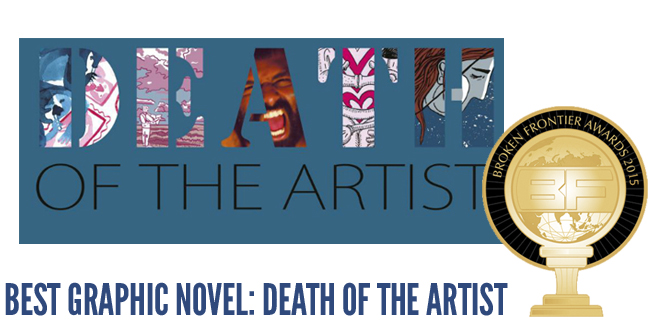 Best New Series
2013 – Lazarus (Greg Rucka & Michael Lark, Image)
2014 – Southern Bastards (Jason Aaron & Jason Latour, Image)
2015 – Midnighter (Steve Orlando, Aco & Stephen Mooney, DC)
2016 – Black Hammer (Jeff Lemire, Dean Ormston and Dave Stewart, Dark Horse)
Best One-Shot
2014 – Over Under Sideways Down (Karrie Fransman, Red Cross)
2015 – Lost Property (Andy Poyiadgi, Nobrow)
2016 – A City Inside (Tillie Walden, Avery Hill Publishing)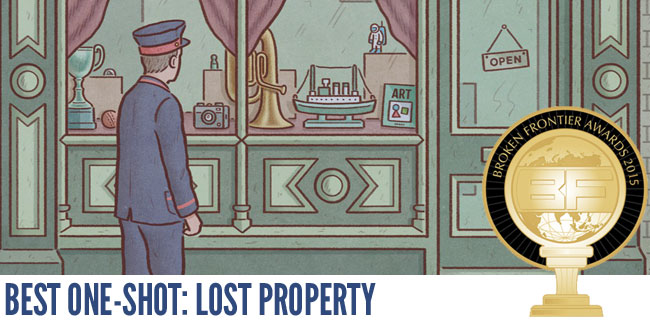 Best Graphic Novel
2013 – The Black Project (Gareth Brookes, Myriad)
2014 – This One Summer (Jillian Tamaki & Mariko Tamaki, First Second)
2015 – Death of the Artist (Karrie Fransman, Jonathan Cape)
2016 – Patience (Daniel Clowes, Fantagraphics)
Best Book on Comics
2013 – Comics Art (Paul Gravett, Tate Gallery)
2014 – Comics Unmasked (Paul Gravett & John Harris Dunning, British Library)
2015 – Drawn & Quarterly: 25 Years of Contemporary Cartooning, Comics, and Graphic Novels
2016 – CBLDF Presents: She Changed Comics (Edited by Betsy Gomez, Maren Williams and Caitlin McCabe, Image)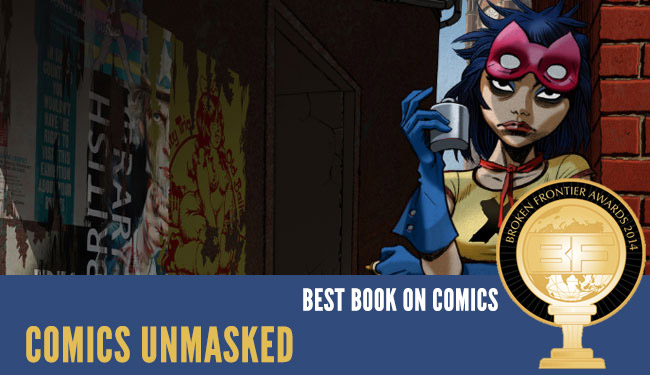 Best Publisher
2013 – Image Comics
2014 – Image Comics
2015 – Image Comics
2016 – Image Comics